You are here:
Country Profile - Rwanda
Women's Rights and conflict in Rwanda
In the aftermath of the genocide against the Tutsi in 1994, over one million people lost their lives over a period of 100 days.
An estimated 100,000-250,000 women were raped during the three months of genocide in Rwanda.  
Women accounted for around 70% of the population following the genocide, which led to a massive shift in the country's workforce.
Today, Rwandan women hold 64% of governing roles. The country is making strong progress toward achieving gender equality:
Marital rape was outlawed in 2009.   
According to a UN Women report, as of February 2021, 61.3% of seats in parliament were held by women.  ​​​​​
 91.7%  of Rwanda's legal frameworks advance gender equality, with a focus on violence against women. 
However, physical and sexual violence against women is still high in the country. 
41.5% of women experienced intimate partner violence in their lifetime, including sexual and physical violence.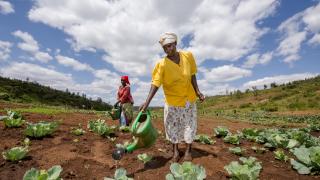 Our work in Rwanda
Since 1997, Women for Women International has trained women to advocate for their rights, and to use their economic and social power to change the status quo in their communities.
In 2021, local leadership in Rwanda led the process of establishing Women for Women Rwanda (WfW-Rwanda) as an independent sister organisation.
Through WfW-Rwanda, our Stronger Women, Stronger Nations programme supports women by providing peer support and training which enables them to generate income, save money for the future, and achieve economic independence to support their families. Women also receive the training and resources to understand and defend their rights and learn to influence decisions in their homes and communities. 
After women complete our year-long programme, we continue to support their journey to empowerment and self-sufficiency through advanced training. Tailored to the context and the needs of our graduates, our graduate support helps foster continued opportunities for women after they complete the Stronger Women, Stronger Nations programme.  We know that women may need additional tools to overcome the challenges they face, especially in starting and growing their businesses, after graduation.  By connecting women to financial services, advanced business and vocational training, and support networks, we increase opportunities to grow their businesses and unlock their full potential. 
Women's Opportunity Centre
Since 2013, the Urugo Women's Opportunity Center (WOC) has served as a resource to enhance women's entrepreneurship. Contributing to the Rwandan government's National Strategy for Transformation. The WOC integrates economic transformation, rural development, and productivity in a space of learning and renewal for women in the Kayonza area and beyond. The WOC is a hub for business, and positioning WfW-Rwanda graduates for success in their business ventures.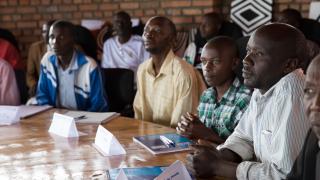 Men's Engagement Programme
Teaching men to become better allies
To further our mission of ending gender inequality, Women for Women - Rwanda also works with men in the community through our Men's Engagement Programme (MEP). Through the programme, local leadership uses a "training the trainer" approach to teach men about gender equality, women's rights and how to influence other men in their communities to enable an environment for women to reach their full potential and exercise their rights.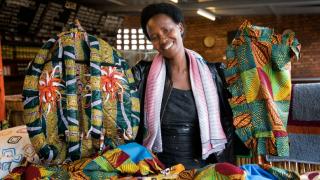 The impact of your support
Creating real change
68% of women reported that they were involved in decisions about household expenses, compared to 49% at enrollment.
13% of women participated in savings/self-help groups, compared to 2% at enrollment.
9% of women held a leadership role in any type of group, compared to 1% at enrollment.
Sophie Turner's visit to Rwanda
Meeting the women we serve
During her visit to Rwanda, our Ambassador, Sophie Turner saw first-hand how Women for Women International helps women survivors of conflict not just survive but thrive.
Inspiring stories from Rwanda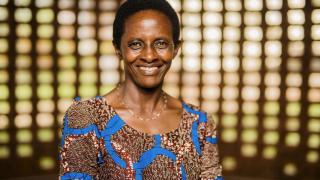 Christine knows what survival means. She was pregnant with her first child during the 1994 genocide in Rwanda. Faced with economic challenges after the death of her husband, she needed more than survival, she needed a future for her family.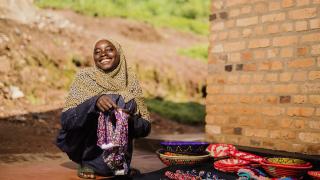 Through genocide, rape and the loss of two children, Euphrasie never lost hope. Read her story, from forced marriage to skilled beadworker and her family's breadwinner.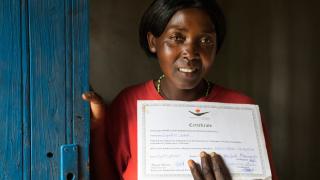 I was alone and had to take care of the children who were all very young at the time. I couldn't imagine them growing without their father around. He was the one who provided for them.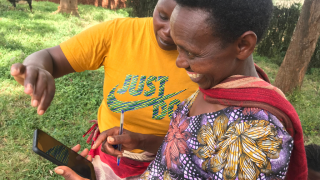 Across the world, women often have less access to technology, mobile phones and the internet compared to men. In fact, the majority of the 2.9 billion people who remain unconnected are women and girls. But evidence suggests that digital inclusion goes hand in hand with economic empowerment and gender equality.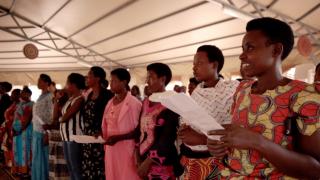 In remembrance of the International Day of Reflection on the 1994 Genocide Against the Tutsi in Rwanda. We reflect on how women have rebuilt their lives with the help and support of each other, finding friendships and community. In the aftermath of conflict, they have found hope.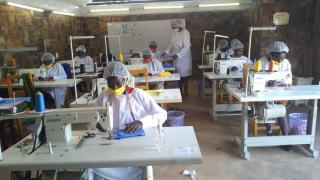 For the past few months during the COVID-19 pandemic, dozens of Women for Women International graduates in Rwanda have been putting their sewing skills to use as part of a local effort to provide more masks. As well as helping protect their local community, women are also earning an income despite the economic impacts of COVID-19.