You are here:
Conflict Response Fund
Working with local partners to respond to the critical needs of women survivors of war
WOMEN NEED SUPPORT MOST WHEN CAUGHT IN THE MIDST OF CONFLICT
Around the world, more countries are experiencing some form of violent conflict than at any other time in the last 30 years. From Afghanistan to Syria, Nigeria to Yemen, women suffer the most in a conflict. They are forced to flee their homes to escape violence and routinely face the threat of sexual violence in the form of rape, forced marriage, and sexual slavery. Increasingly, women and girls are targeted by the use of sexual violence as a tactic of war.  
We believe that stronger women build stronger nations and that with access to knowledge, resources, and a support network, one woman can transform her life, her family, her community, and even the world. 

Women for Women International primarily serves women survivors of conflict and war in eight countries where we've established dedicated offices and staff to deliver our year-long Stronger Women, Stronger Nations programme.  
We also recognise women need urgent support when caught in the midst of conflict.  
In 2018, we launched our Conflict Response Fund in order to act quickly and invest in women in emerging conflict zones around the world. Through a non-partisan approach and responsive grants, Women for Women International is able to track crises in real time, identify credible partners on the ground and allocate resources to meet the urgent needs of women survivors, no matter what side of a conflict they are on.
Current Conflict Response Fund Grants
Ukraine
The lives of millions of women in Ukraine have been shattered by the Russian invasion. Russia continues to attack residential areas, killing and injuring civilians. Over 11 million people have fled their homes, most of them women and children. This is the fastest-growing humanitarian crisis in Europe since World War II. 
We know that women and children often bear the brunt of war.  We are seeing women face racial discrimination and at risk of gender-based violence in this crisis. We have heard from our supporters that they want to contribute.
Through our sister organisation, Žene za Žene International, we have identified one of our first priority partners on the ground, "Bereginia" – Mariupol's Women's Association. A part of their team escaped the incessant bombing in Mariupol, one of whom is their Vice President, Kateryna. Our team met with her in Poland where she shared her harrowing 72-hour journey of fleeing from Mariupol.
Kateryna shared how the survivors that were evacuated from Mariupol spent weeks in shelters and cellars without access to water, heating or food and are severely traumatized from their experience. Some of the women have been raped and subjected to sexual violence.  
Through Berginia and HumanDoc Foundation in Poland, we are working to provide holistic and comprehensive care to 320 women and children evacuated from Mariupol. Services include a safe space for their rehabilitation, medical care including psychological and gynaecological consultations with doctors.  
Beyond their immediate critical needs, as they begin to adapt to a new life in a new country with their children, we are also looking to provide them with legal counsel, access to Polish language learning courses and vocational skills so they can become financially independent. 
Our goal is to raise $250,000 to respond to the needs of women affected by the war in Ukraine as part of our Conflict Response Fund. Learn more about our response here.
Myanmar
Some 700,000 Rohingya Muslims living in Myanmar were chased from their homes by the army and allied militias in 2017. Through our Conflict Response Fund, we're partnering with the Center for Social Integrity, to support Rohingya women and adolescent girls who remain in Myanmar access literacy, numeracy, and life skills. 
Tigray, Ethiopia
More than two million people are estimated to have been forced from their homes and thousands killed in a civil war that broke out in Ethiopia in November 2020, when government troops entered the region of Tigray. There have been widespread reports of human rights abuses, including the use of rape as a weapon of war.  
Through our Conflict Response Fund, we are partnering with Mums for Mums, an organisation on the ground in Tigray, to address the escalating violence against women. Together, we are supporting survivors of sexual violence by training community first-responders to focus on immediate needs, and by raising community awareness about the prevention of sexual violence against women and girls. 
Syria
In partnership with Women Now for Development, we are investing in opportunities for Syrian women and girls to rebuild their lives. To date, 417 Syrian women and girls have accessed educational and health resources, gained vocational skills to become self-sufficient and created social networks through CRF-funded safe spaces.
Past Conflict Response Fund Grants
Yemen
The civil war in Yemen left millions of its people displaced - and 76 percent of them are women and children. We partnered with local organisation Yemen Women's Union to raise awareness of gender-based violence and provide psychosocial support for women who have experienced GBV. Within the community, Yemen Women's Union formed protection committees and held awareness sessions that educated the community about gender-based violence and highlighted support programmes for survivors.
Bangladesh
The violent, genocidal actions of Myanmar's military have forced over 700,000 Rohingya people across the border of Bangladesh into makeshift communities, made up of mostly women and children. According to UN Women, almost every Rohingya refugee woman and girl has either survived or witnessed violence, much of it gender-based violence.
With local NGO Research, Training, and Management International, we invested in the women and girls who will be the future of the Rohingya community by providing them with training in useful skills that allow them to start small businesses or find paid work.
'Community mobilisation meetings' with Rohingya youth demonstrated why investing in women and girls' job skills helps rebuild Rohingya communities. Local leaders hosted events to address social norms and traditional practices that limit women and girls' participation in society and show they can be drivers of change.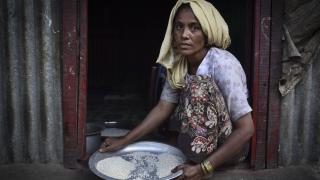 Since August 2017, Myanmar has forced over 700,000 Rohingya refugees, mostly women and children, into makeshift communities at the border of neighbouring Bangladesh. Our Conflict Response Fund, launched in May 2019, is helping Rohingya women to regain stability for themselves and their families.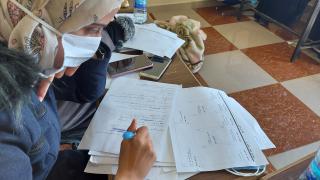 As the Syrian civil war enters its tenth year, women and children continue to be hit the hardest. Learn how we partnered with local organisation with Women Now for Development to launch a training programme to support internally displaced women in Idlib, Syria.