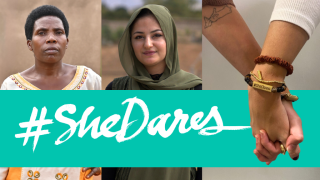 SUPPORT AND RECEIVE AN EXCLUSIVE BRACELET
#SHEDARES BRACELETS MADE BY WOMEN IN AFGHANISTAN AND RWANDA
Join the #SheDares global movement by supporting courageous women survivors of war who stand up for their rights despite the risks. 
Give a one-off gift of £25 or more or a regular gift of £15/month minimum and receive a limited edition #SheDares bracelet handmade by women survivors of war, as worn by Hillary Clinton, Priyanka Chopra, Alison Pill and many more incredible supporters.
Choose how often you want to give
Single Donation Form
Monthly Donation Form

Join the power up club
Increase your impact and join a community of like-minded people
Donate £7 or more per month to join the Power Up Club and get free access to virtual events, exclusive digital content, and opportunities to learn and connect, as well as practical ideas for meaningful everyday activism.
*UK and Europe based donors giving a one-time gift of £25 minimum or recurring gift of £15/month minimum, are eligible for a #SheDares bracelet while supplies last. Please allow 4-5 weeks for shipping.
Every #SheDares bracelet has been lovingly handcrafted by our programme participants in Rwanda and Afghanistan. Small imperfections, differences in shape, size and colour make each bracelet a truly one-of-a-kind creation. Thank you for understanding that handicrafts are never 'perfect' in the way mass produced products are. We hope you enjoy your bracelet and know that in wearing it you are connected to our global #SheDares community.