You are here:
Men's Engagement Programme
Working with men to achieve gender equality
Men, boys, women and girls need to work together to shift the unwritten rules that discriminate against women and restrict their freedoms.
Gender inequality is rooted in the widely held belief that men are superior to women, and that men are entitled to be in control of women in their personal lives, their communities and in society as a whole. Women for Women International first piloted a men's engagement programme in Nigeria, in 2002. Since then, we have worked with almost 21,000 men across six countries to support women's rights. We place a particular focus on training leaders in communities (including religious, traditional, military and civil society leaders) so that they can use their influence to help protect and promote women's rights and gender equality.
Men's engagement in Afghanistan
In Afghanistan we engage influential male community and religious leaders through a three-month direct training programme with classes every fortnight. The men discuss topics including women's property rights, violence against women, forced and early marriage, as well as women's right to education, work and political participation.
Positive attitudes
In communities where men's engagement activities are delivered, the women we work with have higher class attendance rates and increased value as decision makers within the family. In Afghanistan, 99% of sampled 2016 male graduates reported positive attitudes regarding women's role in family decision-making compared to only 24% at enrolment.
Because of the changes they see, women are requesting more and more male relatives enrol in our men's engagement activities.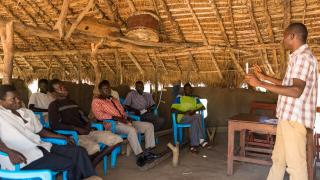 Opening dialogues
Through the programme, men are able to take responsibility for change and we see promising results in male graduates. Across our men's engagement activities in Afghanistan, Eastern DRC and Nigeria, men were 80% more active in supporting women's rights at graduation compared to enrolment.
More men have also reported developing dialogues in communities that bring men and women together to make decisions and create joint solutions.