GAPS Policy Advocacy and Communications Manager
Gender Action for Peace and Security (GAPS) is the UK's Women, Peace and Security civil society network.
GAPS was founded to progress the United Nations Security Council Resolution 1325 on Women, Peace and Security, and to hold the UK government to account on its international commitments to women and girls affected by conflict worldwide.
The GAPS Policy Advocacy and Communications Manager will support the coordination and development of the GAPS network and delivery of the GAPS strategy. 
Candidates with experience, talent and/or potential in: policy and advocacy; social media; using their communication and networking skills; working with civil society, government or a multilateral institutions; have a commitment to gender and women and girls' rights; have an interest will be welcome. Experience in peacebuilding, development, humanitarian and/or international relations as well as governance and monitoring, evaluation and learning will also be of interest.
This role will suit someone wanting to work with a dynamic and ambitious civil society network, and specifically work on international women and girls' rights and/or peace and security policy. Download the full job description. 
Proposed start date: February 2021
Working pattern: Full time, initially 5-6 months contract which will be reviewed towards the end of that period to assess if an extension is required
Salary: £33,949 pro rata
How to apply: Email a cover letter and CV to ukrecruitment@womenforwomen.org with subject heading "GAPS PAC Manager" 
Application deadline: 6pm, Thursday 7th January 2020
Top tips for people looking to work in women's charities
Brita Fernandez Schmidt, our Executive Director, shares top tips on how you can get involved in the third sector.
Featured blogs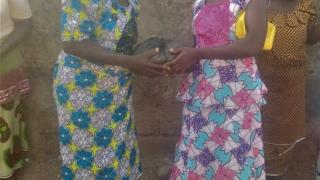 On World Kindness Day, a group of women in our programme in Nigeria show us how compassion can make the world a healthier, happier place.
We are thrilled to announce Clarissa Ward, CNN's chief international correspondent, as our newest Ambassador. Here she shares her advice for staying connecting and using your voice to create change.