Gender Action for Peace and Security (GAPS) Network Director
Gender Action for Peace and Security (GAPS) is the UK's Women, Peace and Security civil society network. GAPS was founded to progress the United Nations Security Council Resolution 1325 on Women, Peace and Security, and to hold the UK government to account on its international commitments to women and girls affected by conflict worldwide.
The GAPS Director will lead the GAPS network and delivery of the GAPS strategy. The role works closely with the GAPS Management Board, GAPS Policy Advocacy and Communication Managers, the GAPS Network Assistant, GAPS member agencies, partners and the All-Party Parliamentary Group on Women, Peace and Security (APPG-WPS).
Candidates with experience, talent and/or potential in policy and advocacy; social media; using their networking skills; working and building relationships with civil society, government or a multilateral institutions; have a commitment to gender and women and girls' rights; leading an organisation or part of an organisation; will be welcome.  Experience in women and girls' rights, peacebuilding, development, humanitarian and/or international relations as well as governance and monitoring, evaluation and learning will also be of interest. This role will suit someone wanting to lead with a dynamic and ambitious civil society network, and specifically work on international women and girls' rights and/or peace and security policy. Expertise on Women, Peace and Security and working to influence decision-makers is welcomed.
GAPS is hosted by one of our member agencies, Women for Women International UK. Women for Women International was founded in 1993 to help women survivors of war rebuild their lives, their families and communities. The UK office was established in 2006. The GAPS Director would be expected to work within the framework of GAPS and Women for Women International's core values, which can be seen here. Women for Women International UK is the legal employer of GAPS staff. As a result of COVID-19, this role will likely be home-based with some potential travel, including to the office depend on COVID-19 related restrictions.
Women for Women International UK is an equal opportunities employer and we positively welcome applications from all suitably qualified persons regardless of their religious beliefs or political opinions, sex, marital or family statuses, races, sexual orientations, ages or whether they are disabled.
All candidates must have the right to work in the UK.
Please see the full job description here.
Reports to: GAPS Management Board Chair who is the Executive Director of Women for Women International UK
Proposed start date: June 2021
Location: 49-51 East Road, London, N1 6AH (currently working remotely, hybrid working model when Covid restrictions allow)
Working pattern: Full time
Salary level: £53,560 per annum (based on Women for Women International UK's salary scale)
Application deadline:  6pm, 1st June 2021
Interviews: w/c 14th June 2021
Application process: Please complete the Application Form and Diversity Monitoring Form, and if you would like to share anything else to support your submission please do so with a short cover letter and send to ukrecruitment@womenforwomen.org . If you would like to submit your application another way, please contact us.
If you would like to learn more about this vacancy, we are hosting a Q&A session on Tuesday 18 May at 1pm. If you want to attend this session please email ukrecruitment@womenforwomen.org to 
Person Specification
Essential criteria
Ability to demonstrate having led a small organisation or part of an organisation, including ability to develop and implement an organisational strategy and led annual planning processes
Ability to demonstrate project and programme management and working with multiple partners
Ability to lead fundraising, including government, trust, foundation and multilateral agency applications
Ability to manage budgets, including from multiple donors
Ability to draft, review and sign-off policy, advocacy or research documents
Ability to build and maintain successful relationships with multiple stakeholders
Ability to work with a civil society, government, parliament or multilateral organisations
Experience of representing an organisation, including to deliver key messaging
Experience of line management
Knowledge and understanding of Women, Peace and Security frameworks and how they apply to the international community and Government policy and programmes
Knowledge and understanding of broader international frameworks and commitments relevant to gender equality and women and girls' rights
Familiarity with and/or work experience in or on a range of conflict or post-conflict contexts
Ability to lead donor reporting and donor relationships, including with governments, trusts and foundations and multilateral agencies
Excellent written and oral communication skills, including digital and online communications
Ability to demonstrate overseeing event organisation and planning
Attention to detail and ability to work independently across multiple workloads and with diverse stakeholders
Experience of working in busy environments, multitasking especially in a small team
Computer literate, including in Microsoft Outlook, Word, Excel and social media
Demonstration of sharing the GAPS values and principles[1]
Desirable criteria
Experience of monitoring and evaluation tools
Experience of working with or within a network and/or coalition
Experience of drafting communications plans for projects, events or policy documents
Knowledge of the EU's General Data Protection Regulation (GDPR) and compliance processes
[1] Our work is guided and informed by our commitment to and belief in: peace, participation, representation, non-violence, non-partisanship, cooperation, democratic decision-making, transparency, openness, intersectional feminism, anti-racism, equality, clear communication, learning, integrity and independence.
Talent Manager
The Talent Manager's role contributes to attracting, retaining and developing our talent in alignment with our global strategy, global policies and processes and in compliance with local regulations. The Talent Manager coordinates and manages full-cycle recruitment while delivering an exceptional candidate experience. They manage global talent programmes and initiatives to sustain employees' retention and development.
Duties & Responsibilities:
Ensure successful execution of staffing and recruitment plans in coordination with hiring managers for HQ and global positions
Determine the recruitment strategy and selection criteria for opened positions to hire the best candidates to serve our mission
Partner with Hiring Managers to ensure recruitment processes are aligned to our policies, values and principles
Manage communication between applicants, Hiring Managers and panel members to ensure quality of service
Liaise with the recruitment platforms services and professional networks, keep abreast of the best channels to reach the talent we need
Provide tools to teams on recruitment selection, talent review, ATS to make sure hiring teams are trained to hiring practices
Communicate on management and organisational-wide training programmes in collaboration with the offices HR Managers/HRPBs to respond to talent development needs
Adhere to Women for Women Internationa's Code of Conduct and Safeguarding Policies and report concerns, and to the organisational values: Empowerment. Integrity, Respect, Resilience
Salary level: Compensation will be aligned to the relevant market where the successful candidate is recruited. If hired in the UK, the salary range for this post would be £34,000 to £45,000 depending on the criteria outlined in the advertisement and job description.
Application Instructions: We will be reviewing applications on a rolling basis, please review the full job description and apply at your earliest convenience through this portal.
We are an equal opportunity employer and all qualified applicants will receive consideration for employment without regard to race, colour, religion, sex, national origin, disability status, protected veteran status, or any other characteristic protected by law.
Top tips for people looking to work in women's charities
Brita Fernandez Schmidt, our Executive Director, shares top tips on how you can get involved in the third sector.
Featured blogs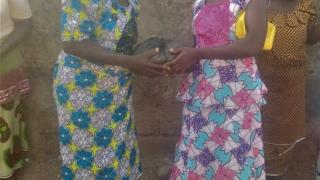 On World Kindness Day, a group of women in our programme in Nigeria show us how compassion can make the world a healthier, happier place.
We are thrilled to announce Clarissa Ward, CNN's chief international correspondent, as our newest Ambassador. Here she shares her advice for staying connecting and using your voice to create change.