You are here:
Country Profile - DRC
Conflict and women's rights in the DRC
The Democratic Republic of the Congo (DRC) has an extensive history of violence, brutal oppression by the colonial regime, and widespread violence amid the country's struggle for independence.
Ongoing small-scale conflicts across DRC followed between the 1960s-1980s. In the eastern region of DRC, civilians have grappled with war, civil strife, and rebellion since 1996.
Recent increases in conflict across Eastern DRC, between armed groups, government forces, and UN peacekeepers have again led to large scale displacement, civilians being caught in the crossfire, and increasing rates of rape. The long-standing and regular conflict perpetrates and deepens the impact of other crises, such as health emergencies (Ebola, cholera outbreaks) and natural disasters.
Women and girls suffer disproportionately from high rates of violence and extreme poverty, and services like healthcare, psychosocial support, security, and justice for survivors of violence are limited.
Women in the Democratic Republic of Congo
Our work in the DRC
Women for Women International developed our Stronger Women, Stronger Nations programme to build up women's knowledge and skills in the eastern region of DRC
Since 2004, our programming in DRC has supported and trained women in communities affected by conflict. Our training provides women with knowledge of their rights and the training to become decision makers at home and in their communities. Our Stronger Women, Stronger Nations programme also connects them with Village Savings Loan Associations (VSLAs), which allows them to deploy their skills and vocational training to generate income and save money while contributing to economic self-sufficiency for themselves and their families. 
We also expanded our health insurance projects to increase women's access to affordable healthcare through VSLAs. This project provides micro-insurance for women in VSLAs groups to enter into agreements with local healthcare providers and receive preferential rates. It acts as a type of accreditation, which allows women to earn and save capital to pay for healthcare. This project resulted in a 50% reduction in fees for women and their families seeking health services.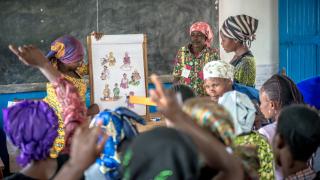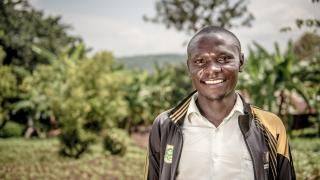 Men's Engagement Programme
Teaching men to become better allies
Male leaders, community members, and male family members of our programme participants also enroll in our Men's Engagement Programme, where they are supported to change their behaviour toward women's rights and accept a bigger role for women in their communities.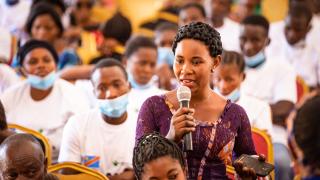 Change Agents Programme
Women advocating in their communities
As Change Agents, women are trained to advocate for their rights and inclusion and in their communities. Our advocacy in the region includes partnerships with local organisations, advocating for women's rights, and the establishment of an advocacy alliance to raise the voices of marginalised decision makers across the eastern region of DRC.
The impact of your support
Creating real change
98% of women report saving a portion of their earnings by the time they graduate, compared to 23% at enrollment.
93% of women report receiving earnings from income-generating activities by graduation, compared to 74% at enrollment.
82% of women report being involved in decision-making to work and earn money after graduation, compared to 48% at the beginning of the programme.
Data collected from Women for Women International programme participants in the DRC in 2022.
Land rights
The right to own land is one of the many issues faced by women in the DRC
Despite women's crucial role in agriculture, rural development and ensuring families are fed, women in the Democratic Republic of Congo are consistently discriminated against in accessing, owning and making decisions around land.
This film about marignalised women's access to land was made by women in Mumosho district, eastern DRC as part of a project funded by DFID.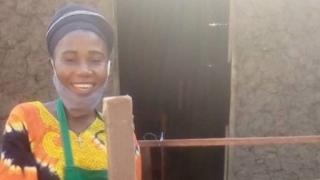 24 years old, proud mother, leader and trainer – Marie is changing the way her community treat people with physical disabilities, one soap bar at a time.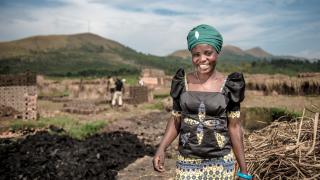 After graduating from our 12 month programme in the Democractic Republic of Congo, Cinama went on to start her own brickmaking business. She now shares her knowledge with other women and is looked up to as a role model.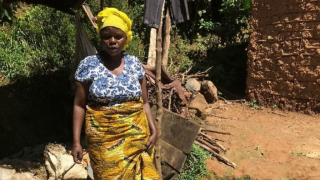 I used to depend on my husband totally to cover all expenses, pay children school fees and medical care - but now I am empowered.
Our Partnership with Bloomberg Philanthropies
Since 2008, Bloomberg Philanthropies has supported marginalised women in sub-Saharan Africa to gain new job skills, basic business training, life skills and a reliable support network. Bloomberg Philanthropies is currently supporting innovative programming to support women's economic development and leadership roles in their communities in DRC.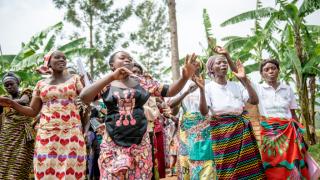 600 of our programme participants in the DRC have graduated from our 12-month social and economic empowerment programme. It was a chance for our programme graduates to reflect on their journey and share their achievements with their classmates, families and wider communities.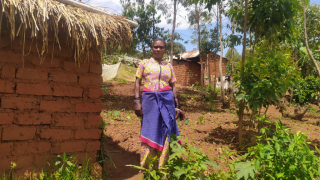 In the Democratic Republic of Congo, restrictive gender norms make it difficult for women to purchase land in their own name. Read Gorette, Furaha and Gentille's stories - three of our programme graduates who have defied the odds and now help other women to do the same.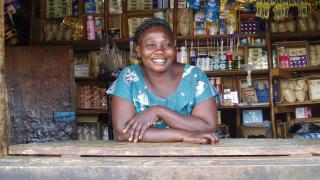 For millions of women in conflict-affected countries, starting a business is a necessity, not a choice. Our DRC team recently spoke to a number of women taking part in the training about how it has impacted their businesses and lives.