You are here:
Celebrating Graduation Day in the Democratic Republic of Congo
It's the season of exam results and school breaking up in the UK – and July was also graduation time for many of the women we serve in the Democratic Republic of Congo (DRC).
Last month saw ceremonies and celebrations across several communities in South Kivu, eastern DRC, where 600 women (24 training groups) graduated from our 12-month social and economic empowerment programme. These groups were part of a 5-year project funded by The Netherlands Ministry of Foreign Affairs' Funding Leadership and Opportunities for Women (FLOW) programme – which aims to strengthen marginalised women's self-reliance and tackle violence.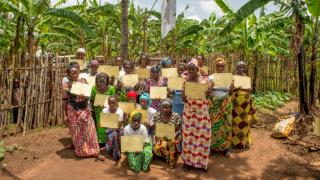 For our programme graduates, it was a chance to reflect on their journey and share their achievements with their classmates, families and wider communities. The audience also included some VIP guests, including local leaders, provincial government representatives and the Minister of Gender.
But the spotlight was firmly on the women and their success stories. Amidst the speeches, singing and dancing, we asked a few of them to share what they would take away from their year of training, and what the experience had meant for them.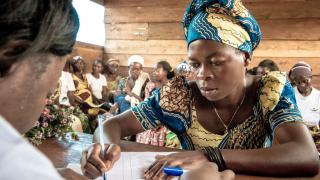 The monthly training stipend
The monthly training stipend (the equivalent of around $10) is a key part of the programme – it's a vital step for women who have often been excluded from earning income and making decisions on how money is spent. Many women save up their stipends to help them purchase resources to establish their businesses, as well as to help cover their household needs while in training.
Our Impact
Recent programme data from DRC – collected through participant surveys – shows the impact of our training in measurable terms: women reported increasing their monthly earnings from an average of $16.72 at enrollment to $49.70 at graduation, and again to $60 one year after the programme. And at graduation, 11% of participants reported running for a leadership position in their communities, while 62% run one year after completing the programme.
We're profoundly grateful to The Netherlands Ministry of Foreign Affairs for their transformative investment in the women we serve in the DRC.
As this cohort of 600 women moves on to the next phase of their journey, there are many more women waiting for an opportunity to build self-reliance and create change for themselves and their communities.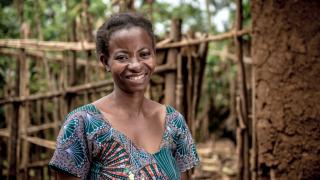 Help us reach our goal
We desperately need more sponsors to help fund their training. Could you sponsor a woman through our training programme over the next 12 months, and give her a life-changing opportunity?
*These images are from a previous graduation ceremony in one of the communities funded by the Dutch Government's FLOW programme. They are being used to represent the women quoted in this article, who were interviewed at their graduation in July 2018.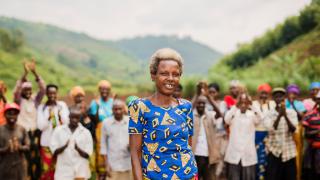 This World Humanitarian Day, we are reminded of our shared responsibility to support those caught up in global crises. Find out three ways you can exercise your humanitarianism from our Executive Director, Brita Fernandez Schmidt.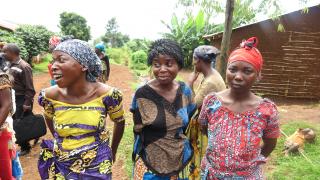 Anne Smith shares her experience of visiting the DRC to see the impact of the Salisbury Rotary Club's sponsorship of 25 women through our one-year programme.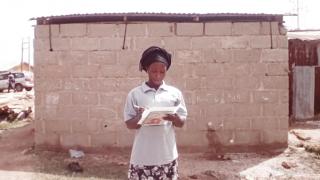 "I saw my husband dying. It was very painful to watch," shares Rose. She has lost her husband, her community, and her home to violent conflict, but nothing can stop Rose from rebuilding her life.