You are here:
Marie - Democratic Republic of Congo
My name is Marie
24 YEARS OLD, PROUD MOTHER, LEADER AND TRAINER. MARIE IS CHANGING THE WAY HER COMMUNITY TREATS PEOPLE WITH PHYSICAL DISABILITIES - ONE SOAP BAR AT A TIME.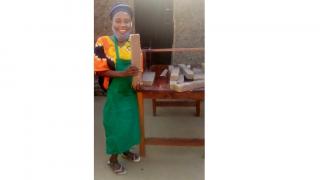 My name is Marie, I am single, 24 years old, and mother of a 2-year-old boy. I live with him and my family.
My family is poor, and food is scarce. In addition, I am a person living with a disability. I move with difficulty and only by leaning on my crutches.
One day I heard that Women for Women International was going to enrol women in its programme in Luberizi. I rushed in but found that they had already finished registering in our village, Rwenena. I took the courage to go and meet them even though I was not on the lists, hoping that there might be a woman absent so that I could take her place. And this is what happened!
I started the programme while I was already two months pregnant and the boy who got me pregnant refused to recognise it – he was just ashamed that everyone knew he had made a girl with a disability pregnant. It is in these conditions of disappointment and total despair that I followed the programme which allowed me to discover, as we progressed, many things that I did not know before, such as women's rights and rights for people living with disabilities. It encouraged me because before I was living in loneliness, I felt neglected and worthless in our community.
At Women for Women International, I was accepted by the members of my group, and I was elected as the group's secretary.
I chose soapmaking as my profession because I knew it would allow me to support myself and my baby. That's why I learned this trade with love. At the end of the training, I started producing soaps myself from home and selling them to the neighbours and other members of the community.
Because of the quality of the soaps I produced, my clientele grew.
This is how saponification became my occupation, which provides me with all the necessities for me and my child and I also manage to make financial and material contributions to my family. This has changed the way I was considered before and has given me a certain consideration within my family.
Today I am a saponification consultant at Women for Women International. It is a source of pride for me, given my physical condition, to start training my female colleagues to leave the poverty in which they languish.
My journey and especially my success will serve as a lesson to the members of my community so that they will never again neglect a person based on their physical condition while forgetting their innate skills and abilities.
Wow, me, disabled, serving my community. Thank you Women for Women International.
Marie is one of 1,200 women from the Democratic Republic of Congo's South Kivu Province who are enrolling in our year-long Stronger Women, Stronger Nations programme as part of a transformative project funded by the UK FCDO.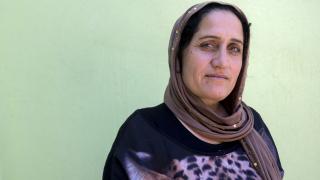 Our neighbour knocked at the door and asked 'Why are you not escaping?' She told us that they are kidnapping girls and killing men, so we decided to run away and not take anything with us.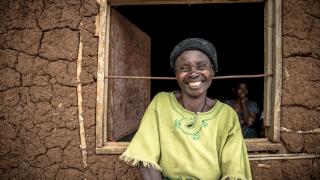 I know that I should take courage because I survived a hard situation. Every day, I have to wake up and pray and say, thank you God, for I'm still alive. It was hard but now I'm here.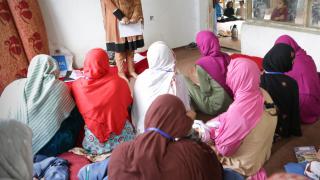 One of my friends told me about Women for Women International and how it provided training for women. That's when I learned that I wasn't alone in my suffering. There are other women, who have the same pain.