You are here:
Change Agents
WOMEN AS AGENTS OF CHANGE
Our Change Agent programme builds on our year-long programme by supporting groups of Women for Women International graduates to strengthen their leadership and advocacy skills. In particular, the programme helps women to identify issues in their communities and create action plans to challenge these issues. After the training, Change Agents form small groups that collectively advocate for changes in their communities.
We also work with local partners support the work of Change Agents in communities, for example, by facilitating access to local leaders or creating platforms for them to speak.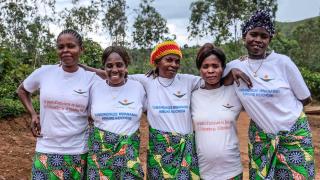 Taking Action
The Change Agents programme is a key part of our ongoing commitment to supporting women's participation in the decision-making that affects their lives. This briefing provides an overview of what our Change Agents programme has achieved to date.
Our change agent programme
The Change Agent programmes are developed based on the local context, but it includes 3 core components in every country:
Selection process: Change Agents are nominated by their peers from our year-long programme or women can also nominate themselves. Our trainers work with women participants to agree the nomination criteria for entering the Change Agent programme.
Training content: The Change Agent programme focuses on knowledge building and skills in leadership and advocacy. Each programme includes content on women's rights; gender and power analysis; problem solving; communication skills and planning for action.
Follow up: Change Agents meet regularly with our trainers to provide mentoring support as they put into effect their action plans. We also bring different groups of Change Agents together to share learning and provide any extra training.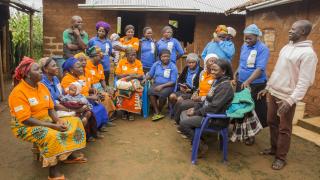 Using advocacy training to tackle violence against women in Nigeria
Change Agents in Nigeria are using the skills from our programme to challenge violence against women in their community. Zainab, our advocacy trainer in Nigeria, explains the impact of violence in Nigeria and how Change Agents are addressing the issue.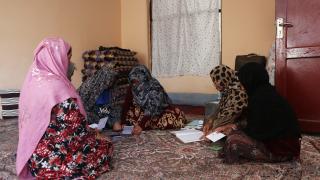 Change agents Meet First Lady Rula Ghani in Afghanistan
Using skills learned in our "Change Agents Programme," our graduates worked together with Women for Women International – Afghanistan and the Afghan Women's Network to create an opportunity to advocate for women's rights and opportunities in rural Afghanistan.
Community Change
By driving forward changes in their communities, the work of Change Agents is crucial to creating sustainable and long-term change.
Change Agents work with local community leaders and decision makers to ensure that the voices of all women are heard. This increases women's influence over decisions that are made in the community.
As active members of their community, Change Agents act as role models. By working with other community members, Change Agents can build networks and work together to challenge community practices that discriminate against women. This helps to create an empowering environment for women.
Change Agents also share their knowledge, skills and experience with other women in their communities. Thereby enabling more women to become more aware of their rights and understand how to overcome barriers and access support.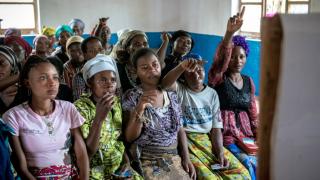 Change Agents Campaign
'Men can take many wives; we can't register our children': Change Agents in eastern DRC started a campaign to raise awareness of the importance of marriage registration and the impact it has on gender equality in the region.