You are here:
Sara Bowcutt Recommends: Books on Women in War
Sara Bowcutt Recommends: Books on Women in War
Recommendations from our Managing Director, Sara Bowcutt
I've been working in this sector for nearly 20 years now – and at Women for Women International for nearly seven. In this time, I've visited programmes in numerous conflict-affected countries and had the privilege of speaking to some of the women we've served – some of over half a million.  
These women have lived through some of the darkest and most uncertain of times. Every time I hear from them, I am blown away by their resilience to keep on going; to keep paving the way for a better life and world. All their experiences are different, but all remind me of the importance of our work. In the 17 conflict-affected countries where we work and elsewhere affected by instability, women's suffering and strength are too often ignored.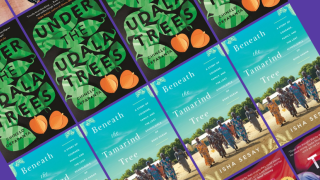 The women we serve often share their stories with us, and we share those with you - but there are countless others out there, too. Reading is one way, for me, that I connect with women survivors of war.
Books have the unique ability to transport us into the lives and emotions of others; to bridge borders and build empathy and understanding.
Here is a list of some books that have spoken to me – books written by women who have experienced conflict first-hand or from those who have witnessed the bravery of such women.
The first I'd like to share is The Place Between Our Fears: Life in Congo and Beyond. This story follows the friendship between the three authors – Argentine, Dawn, and Mapendo – and the power that community plays in helping women overcome barriers. The book begins with Dawn's experiences moving to Goma, a city in the Democratic Republic of the Congo.  
The Democratic Republic of the Congo is the first country in Africa that I travelled to, and it will always hold a very special place in my heart. Despite enduring years of ongoing conflict, the country, the people and the culture are all so vibrant.
There's a tangible sense of resilience and sisterhood among the women we serve in Women for Women International's programme, which reminded me of our organisation's roots.
Then there's The Last Girl: My Story of Captivity, and My Fight Against the Islamic State by Nadia Murad and Jenna Krajeski. Following the 2003 war and the rise of control by ISIS, Women for Women International has been working in Iraq, reaching Iraqi, Kurdish, Syrian and Yezidi women. In her autobiography, activist and Nobel Peace Prize Winner, Nadia Murad seizes and wields her own story to elevate the voice of Yezidis, capturing their history, culture, and the genocide they endured at the hands of ISIS. She recalls the atrocities Yezidis endured, from the massacre to the systematic sexual enslavement of thousands, in a call for justice. 
Beneath the Tamarind Tree by Isha Sesay, weaves together the stories of the 276 Nigerian schoolgirls kidnapped by Boko Haram. Isha's dedication to learn what happened to them and ensure that the world knows, too, speaks to the importance of sharing women and girls' experiences – of raising their voices and ensuring they do not go forgotten or ignored. This is something central to our mission at Women for Women International, and Nigeria is a country we've worked in since 2000. Our programme participants and team are affected by the Boko haram insurgency and other violent actors every day, and this book reveals the injustices these girls suffered not just by Boko Haram but by media and a system that decided girls weren't worthy enough to understand or remember. 
Isha's commitment led to her spending months with them and their families. She centres their story, their voices, and their strength. Throughout the book, Isha highlights the importance of investing in girls' education and power, pointing to her own mother as an example of what women can accomplish.
It's a project that resonates with me and our work deeply, and I am sure it'll speak to you as well.
This next book, Under the Udala Trees, is a recommendation from my team. Also set in Nigeria, inspired by its folktales and war, this is a fictional story that takes place years before the stories in Beneath the Tamarind Tree. It's one of a girl coming of age as her nation fights for independence. The author, Chinelo Okparanta, didn't live through the war herself, but her mother survived it. Tragically, her father did not. Her life, though, has clearly been shaped by her connection to Nigeria and conflict. This is a story that says what so many women survivors of war have told me, too: that life continues even as war wages on. People grow up and fall in love, they continue learning, get married, have children. Something like normal life goes on.  
And lastly (but certainly not least!), I have to recommend Dancing in the Mosque: An Afghan Mother's Letter to her Son. This book is a call to action to advocate for a peaceful and equitable Afghanistan. It begs for an Afghanistan that recognises the inherent value of women – and we know how desperately needed that change is. It is both tender and enraging and overflowing with true stories of extraordinary women and allies who are striving to change the course of their nation. I had the immense honour of speaking to Dr Quaderi about her book and about her experiences growing up under the Russian occupation in Afghanistan and fighting for women's rights. We spoke at an event for our incredible Power Up Club members, and it was just so moving. Women for Women International has been working in Afghanistan since 2002 and we've continued since the fall of Kabul in August 2021. We are committed to serving Afghan women and to raising their voices, and this is a book that really shines a light on how critical support and advocacy for Afghan women are today.   
These books all span different times and regions of the world, but they share some common threads: women's power, resilience in the face of conflict and love and humanity as the antidotes to violence. Some of these stories are hard to read, but though many themes are dark and heavy, I hope you will feel uplifted by the sisterhood and determination to build a more equal, peaceful and prosperous world despite it all. I'd love to hear what you think of them too.
Purchase these books (and any others!) via our Women for Women International storefront on Bookshop.org and we'll receive 10% in support of women survivors of war – at no extra cost to you.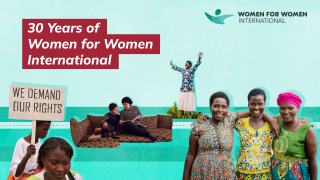 Over the last 30 years, we have helped over half a million women around the world rebuild their lives after surviving war and conflict.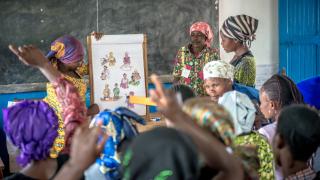 Learn more about the conflict-affected countries where we work around the world. Since our origins in Bosnia and Herzegovina, we have expanded and adapted our programmes to support 553,437 women living in some of the world's most challenging environments.
In recent years, refugee literature has provided a way of educating the public about the truth behind the refugee experience. Women for Women International believes that knowledge is power, so check out our World Refugee Day Reading List to grow your awareness and understanding of the refugee experience for your own personal reading and to share with others.