You are here:
Country Profile - Iraq
Women's rights in Iraq
Political tension and violence, a weakened economy and mass displacement continues to destabilise Iraq following the war in 2003, and the rise of ISIS in the years following.
During the enforced control of Islamic State of Iraq and Syria (ISIS), women were abducted and subjected to physical and sexual violence as the terrorist organisation targeted ethnic and religious minority groups for persecution and genocide.
Following the destabilisation of ISIS' control in Iraq and Syria, Iraq faces a displacement crisis. Iraqi civilians displaced by ISIS and refugees escaping the war in Syria contribute to the country's number of men, women and children forced to leave their homes.
After the breakdown of ISIS' control over Iraq and Syria, women account for the majority of 1.2 million displaced persons struggling to rebuild their lives in the aftermath.
In rebuilding their lives, women face discrimination and patriarchal norms, limiting their social and economic opportunities as they are expected to assume traditional roles.
For women refugees and the internally displaced, life in their host communities and refugee camps hinders their opportunity to receive an education or participate in income-generating activities.
Our work in Iraq
Since 2003, Women for Women International has worked on the ground in Iraq, reaching Iraqi, Kurdish, Syrian and Yezidi women
Our Stronger Women, Stronger Nations programme supports women as they build knowledge of their rights, develop businesses and vocational skills, and join networks of support and advocacy.
We also believe the inclusion of male family members and peers is crucial to break gender norms and achieve gender equality. For this reason, local staff lead our Men's Engagement Programme in Iraq. Through topics on the specific barriers women face in and beyond the household, men are guided through how they can support women's equality in economic and social contexts.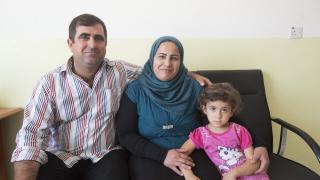 Impact of your support
Creating real change
Women averaged a score of 93% on a test measuring their knowledge of violence against women and human rights in a national context, compared to 77% at enrollment.
Women averaged a score of 73% on a test measuring their knowledge of health and well-being compared to 52% at enrollment.
12% of women reported that at least one household member ate a smaller meal than usual in the past four weeks due to limited resources, compared to 30% at enrollment.
Data collected from Women for Women International programme participants in 2022.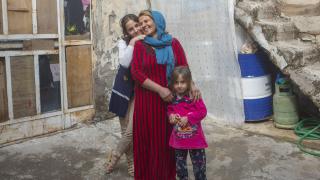 Syrian Refugees in Iraq
Stories of Strength and Resilience
We work with Syrian refugee women in the Kurdistan Region of Iraq (KRI) to empower them with the knowledge, skills and support they need to rebuild their lives after the devastation of war.
Watch this video to meet two strong and inspiring refugee women from Syria: Zubeida, our Stronger Women, Stronger Nations programme graduate and Nermin, who works for Women for Women International in Iraq.
Unable to find work as a refugee, Shireen desperately wanted to learn a new skill that could help her provide for her family. Shireen learnt how to sew, but she gained more than the ability to make clothes: she learnt about her worth and value as a woman.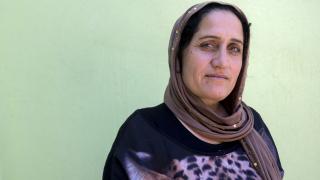 Our neighbour knocked at the door and asked 'Why are you not escaping?' She told us that they are kidnapping girls and killing men, so we decided to run away and not take anything with us.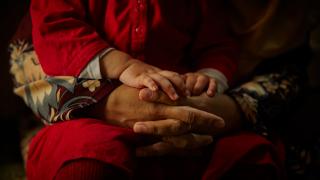 The friendly environment at the training centre and connections I made with other women changed my life.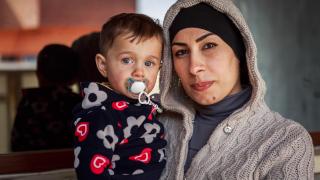 20 years since the war broke out in Iraq, we reflect on the impact of the war on women, our support over the years and hopes for the future.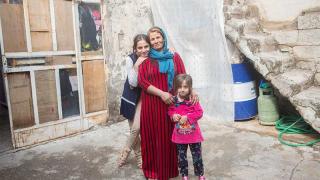 19 MARCH, 2020 | STYLIST

Shan Sherwan Hussein, our Economic Empowerment Manager, talks about how the courses she runs for women in our Iraq programme, equip them with the knowledge and tools they need to sustain an income.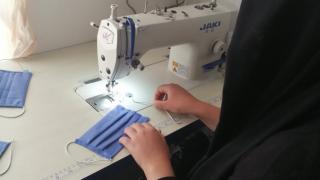 Women entrepreneurs in Iraq are preventing the spread of COVID-19.