You are here:
World Refugee Week Reading List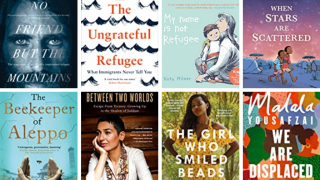 World Refugee Week takes place every year, starting on 20th June.
According to the UNHCR, there are over 100 million people around the world who have been forced to leave their home. This is more than the entire population of the UK (67 million people). Worldwide, one in every hundred people have had to flee their homes.
For women and girls, the challenges that come with displacement are compounded with additional risk, especially if they are unaccompanied, pregnant, disabled or elderly. 
In recent years, books about people seeking refuge have provided a way of educating the public about the truth behind the refugee experience. Women for Women International believes that knowledge is power, so here is our World Refugee Week Reading List to help grow your awareness and understanding of the refugee experience for your own personal reading and to share with others.
World Refugee Week Reading List
At the age of 21, founder of Women for Women International, Zainab Salbi, was in America because of the Gulf War.
Known as the pilot's daughter in Iraq, her father was the personal pilot for Saddam Hussein. With a privileged but troubled upbringing, Zainab presents the two worlds that she has lived in and what has made her the passionate advocate for women that she is today.
Thankful for all the help she received from strangers as a refugee, Dina recognises that times have changed and that life is more challenging for refugees today. Despite this, Dina remains defiant that refugees should not live their lives constantly having to say 'thank you'.
With a title that is meant to shock, Dina tells her story as a child refugee, her quest for acceptance in a new country and the refugee perspective that remains with her today.
A simple and easy guide that explains the journey some people seeking refuge make from start to finish.
Told through the eyes of a mother to her son, this book is a helpful starting point for any parent looking to explain the refugee experience to young children. 
Separated from their mother, Omar and Hassan are two brothers from Somalia growing up in a Kenyan refugee camp. Life is tough, but they are helped by Fatuma, a kind woman who acts as a foster mother to the siblings.
Illustrated like a comic book, this is a true story based on the experiences of the co-author of the book, Omar Mohamed, founder of Refugee Strong - a charity committed to the education of young people in refugee camps.
Nuri's happiness is shattered when the Syrian war breaks out. Along with his blind wife, Afra, he sets out on a journey to reach England.
As the book moves backwards and forwards in time, hinging on a single word, chapter by chapter, the perilous journey they undertake and the reasons behind their fractured marriage are gradually revealed.
Winner of the 2019 Victorian Prize for Literature in Australia and written during his time in a refugee detention centre on Manus Island, this memoir explores the human condition of refugees behind bars.
Drawing on his Kurdish-Iranian heritage, from which the book gets its title, Behrouz alternates between poetry and prose to produce a deeply moving account of prison life for refugees when there is no end in sight.
With neighbours disappearing and attempts to cover up the horror with tales of thunder, Clemantine's family could not hide the tragedy unfolding in Rwanda in 1994 in the wake of the genocide against the Tutsi. Clemantine and her sister found themselves fleeing through seven African countries in a quest for safety.
Finally granted asylum in the US when she was 12 years old, Clemantine, a human rights activist, has struggled to reconcile her new life with her formative years.
8. Refugee Tales III edited by David Herd & Anna Pincus 
The third volume in the series, this compilation of refugee tales told by refugees to writers looks at their detention experiences in the UK. Successive UK governments have followed an immigration policy with the sole purpose of creating a hostile environment. The pursuit and consequences of this goal can be seen in the stories of detention and the fear that remains after.
This book is a useful resource for better understanding the conditions refugees face in Britain.
Set in Vietnam and California, this fictional collection of stories looks at familiar themes experienced by refugees, from culture shock to estrangement between family members and the obstacles and hopes that come with starting life again in a new country. With a range of characters looking for fulfilment, the choices they make provide memorable characters and scope for reflection.
When Mahindan arrives with his son in Vancouver, after fleeing the Sri Lankan civil war, he and the hundreds of other refugees on the same boat appear to have left their troubles behind. But when suspicion mounts that the 'boat people' are not as harmless as they appear, but that among them are terrorists, it is not long before the refugees are seen as a threat to their new home. Thrown into detention, Mahindan must await his and his son's fate.
In 2012, Malala (only 15 years old) was shot in the head in Pakistan for speaking out about a girl's right to an education. After receiving urgent medical treatment, Malala underwent rehabilitation in the UK, before resuming her studies. Drawing on her own story of displacement, Malala shares the stories of other refugee girls forced to flee their home.
A fitting storyteller, Malala brings the experiences of other refugees to the forefront, in a world more familiar with statistics than the people behind them.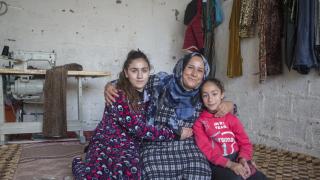 The amount of forcibly displaced people has reached a staggering number—over 100 million according to UNHCR—and the number only continues to increase. This World Refugee Day, learn about the state of refugees today.
Unable to find work as a refugee, Shireen desperately wanted to learn a new skill that could help her provide for her family. Shireen learnt how to sew, but she gained more than the ability to make clothes: she learnt about her worth and value as a woman.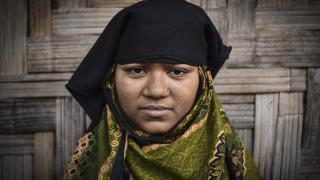 subtitle: In 2018, we launched a new conflict response fund — a separate funding pool to more rapidly help women who are caught in the current horrors of our time. To reach women in their most critical moments, we work with partners who can respond to conflict and
In 2018, we launched a new conflict response fund — a separate funding pool to more rapidly help women who are caught in the current horrors of our time. To reach women in their most critical moments, we work with partners who can respond to conflict and make an immediate impact.