You are here:
World Food Day 2021
Serving Up Sisterhood
Bringing more to the table than food
In October 2021 we honoured World Food Day (16th October) with our Serving Up Sisterhood campaign. We prepared a range of fun activities from a cookbook giveaway, cooking classes and tips on how to host your own dinner party.
Keep reading to see how our community got involved in Serving Up Sisterhood. 
How you got involved
Ditching takeaways for home-cooked meals and sponsoring a sister
Did you know that the average person in the UK spends a whopping £451 each year on takeaways?
Though a convenient option, it's not always the healthiest or most sustainable. This is why we called on our supporters to ditch the styrofoam containers and for £22 a month (less than your average takeaway for 2), changing the life of a woman survivor of war.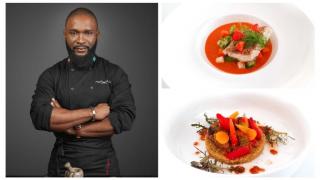 Virtual Cooking Class with Mick Elysée
To celebrate World Food Day and our Serving Up Sisterhood campaign we joined renowned Congolese-French Chef Mick Élysée in his kitchen for a virtual cooking class. Visit the event page for the delicious recipes Mick shared at the event.
Recipes to help you ditch the takeaways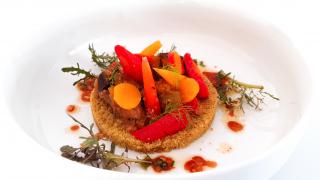 Fonio is an African heritage grain and is considered the continent's oldest cultivated cereal. It is a great alternative to quinoa or brown rice. Its nutty flavour will add a little je-ne-sais-quoi to your dish. This is a recipe for fonio served with vegetables.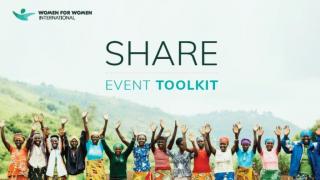 Download the Share event Toolkit
Host a dinner party to raise the £264 that will sponsor a sister on our year-long Stronger Women, Stronger Nations Programme.
Download our toolkit which gives you the materials, ideas, and recipes to make your dinner party a real success with your friends.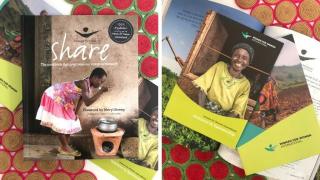 Share Cookbook giveaway
We gifted everyone who sponsored a sister between 1st-16th October a free Share Cookbook. 
The mouth-watering recipes in this uplifting book come from chefs, celebrities and women living in the war-torn countries where we work. The recipes are interspersed with beautiful photographs and stories from the women whose lives have been changed thanks to the support of our global community. Read the terms and conditions here.
How your support will make a difference
become a part of ripple effect of change
Thanks to your generous commitment, your sponsored sister will find the support, solidarity and practical tools to help her reclaim her power. She will learn to save money, build a business, understand her rights and improve her health. She will pass on this knowledge to her family and community – sharing her power to create a world that is more equal, peaceful, and prosperous for everyone.
Women participating in their social empowerment training on bakery skills in South Sudan. Photo Credit: Charles Atiki Lomodong

Pineapple juice produced by graduates of the Stronger Women, Stronger Nations programme in Rwanda. Photo Credit:Hazel Thompson

Women participants of our core programme learn vocational skills, such as bread making, to begin generating their own income. Photo: Ryan Carter

Raspberries grown by graduates of the Women for Women International programme in Kosovo. Photo Credit: Alison Baskerville

Programme participants on a demonstration farm in Nigeria, where they learn best practices for growing corn. Photo: Monilekan

Yoghurt produced by graduates of the Stronger Women, Stronger Nations programme in Rwanda. Photo Credit: Gabriel Dusabe

Caritas, a graduate of our programme in Rwanda with her beehives. Photo Credit: Harriet Tolputt

Regina from South Sudan holding an aubergine she grew on her plot of land. Photo Credit: Charles Atiki Lomodong

Programme graduates from Kosovo with a range of freshly baked breads. Photo: Simon Wheeler
Stronger Women, Stronger Nations programme
Our year-long Stronger Women, Stronger Nations programme is divided into four modules covering earning and saving money, learning about their rights, becoming decision-makers at home and in their communities and learning about health and wellbeing.
In the health and wellbeing module, women learn about the importance of food hygiene and nutrition – so they can healthily feed their families. Paired with business training and a vocational skill, women can use this valuable knowledge to start their own business – selling honey, making yoghurt, baking bread and farming their own land.