You are here:
Pumpkin, sage and chestnut soup by Skye Gyngell
Pumpkin, sage and chestnut soup
by Skye Gyngell
Warming soup recipe for the colder autumn days.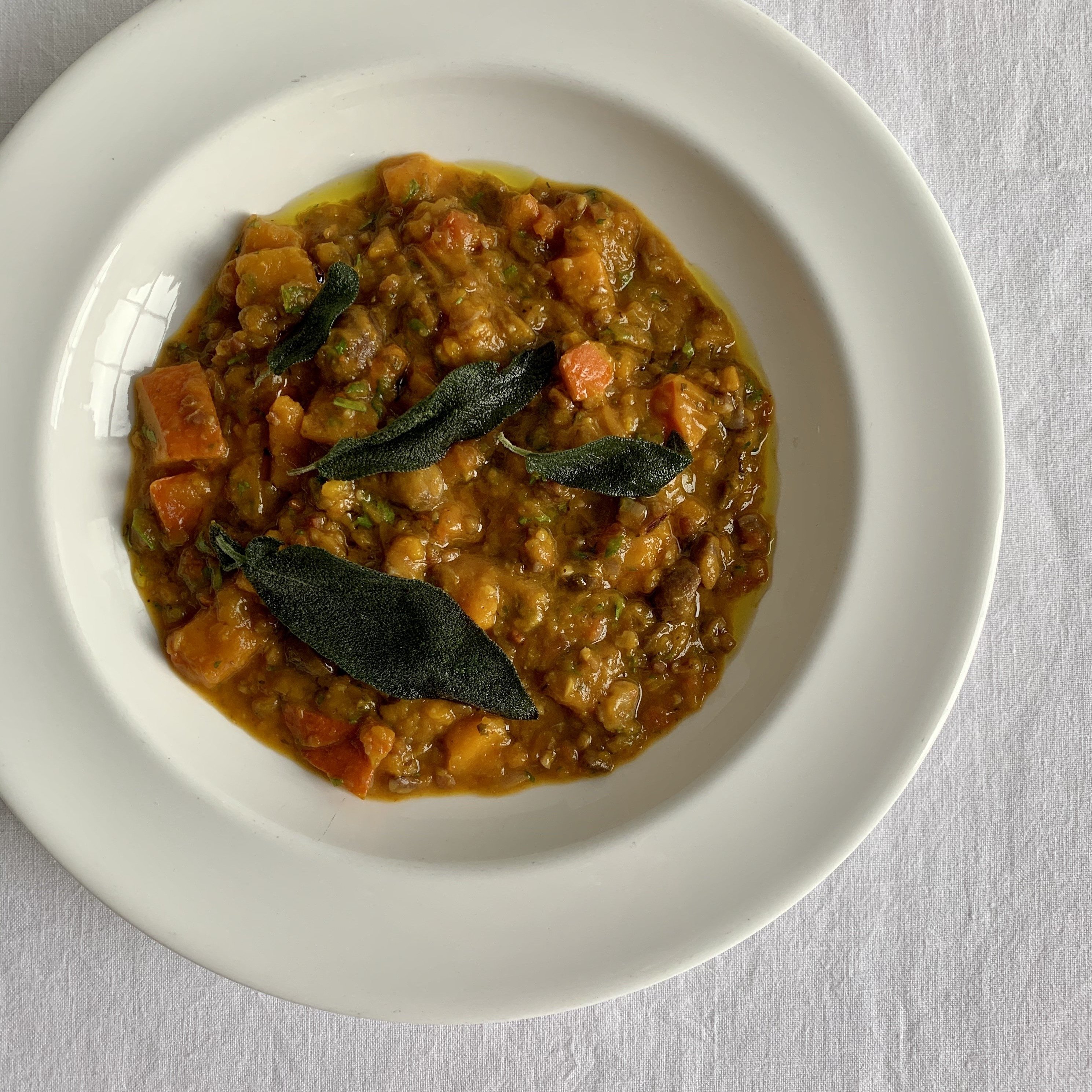 Ingredients
4 red onions, finely diced
5 sticks of celery, finely diced
A good handful of sage sprigs, tied with string
1 tbsp dried chilli flakes
5 cloves of garlic
5 onion squash
Two handfuls datterini or cherry tomatoes
500g cooked chestnuts
Two large spoons passata
Olive oil
Salt and pepper
Method
Place a large, wide, heavy-based pan over a low heat and add a good glug of olive oil. When it is warm, add the onions, garlic, celery and sage. Cook over a low heat, stirring from time to time, for about 25 minutes to soften; don't allow them to colour.
Meanwhile, slice the onion squash into 4cm pieces (don't bother to peel them as the skin lends a delicious flavour to the soup).
Add the datterini, passata, dried chilli and crumble over the chestnuts, stirring well to combine.
Cover with water and add two large pinches of salt (as onion squash absorb and need a lot) and a little pepper. Put the lid on the pan and cook for 40 minutes, stirring every now and then until the onion squash is tender and starting to fall apart.
When you are ready to serve, add the parmesan and lemon juice. Taste one final time and add what you feel is necessary – perhaps a little more pepper and a pinch or two of salt. Ladle the soup into warm bowls and serve.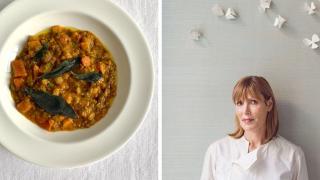 ABOUT Skye Gyngell
Originally from Australia, Skye Gyngell is now one of Britain's most respected and acclaimed chefs. After initially training in Sydney and then Paris, Skye moved to London to work at The French House and with a number of high-profile private clients before taking on the role of head chef at Petersham Nurseries. It was at Petersham that Skye became renowned for her distinctively seasonal, elegant cooking, creating dishes inspired by what she saw growing and blossoming around her.
Become a sponsor for £22 a month before midnight on 16th October and receive a free Share Cookbook.

Foreword by Meryl Streep

"We women used to rely on our husbands to provide funds, but through this project we have become self reliant, and at the same time we contribute to the wellbeing of our families, and strengthen our communities." - Programme Participant, Rwanda

Chocolate Layer Slice Recipe
Sponsor a sister and receive the Share Cookbook
The average person in the UK spends £38 a month on takeaways. We're serving up sisterhood – and healthier eating – this World Food Day (16th October).
Sponsor a woman survivor of war for £22 a month and receive a FREE copy of Share Cookbook.