You are here:
Pollock Fillet by Mick Elysée
Pollock Fillet
by renowned Congolese-French chef Mick Elysée
Serves: 4 persons
Level: Easy
Prep time: 5 minutes
Cook time: 15 minutes
Pescatarian and gluten-free. 
Ingredients
4 Pollock fillet
4 African eggplants
2 Medium sweet potatoes
1 Medium cassava
6 Okras
2 Small chopped shallots
1 Minced garlic clove
1 Minced ginger head
1 Bay leaf
1 Sprig of thyme
250ml liquid coconut cream
9 tbsp olive oil
1 tbsp tomato paste
Salt & peppercorns
Utensils
1 Deep pan
1 Frying pan
2 Medium bowls
Method
Vegetables
Chopp your veggies.
Heat water in the pan over medium-high heat then add salt and peppercorn.
Add the eggplants, sweet potatoes, cassava, okra, thyme and bay leaf. Cook until softened. Separate the vegetables from the cooking broth into 2 separate bowls. Then reserve.
Sauce
Heat 3 tbsp oil in the frying pan over medium-high heat. Add the shallots, garlic and ginger. Cook until softened but not golden.
Add the tomato paste then cook and stir occasionally for 2 - 3 minutes. Add the coconut cream and cook for about 3 more minutes then add the vegetable broth and cook for about 5 - 6 minutes then reserve.
Fish
Season your fish with sea salt and peppercorn.
Heat 3 tbsp oil in the frying pan over medium-high heat.
Fry for about 2-3 minutes on each side with a sprig of thyme until golden and voilà!
Note
Don't throw away your cooking vegetable water! Instead, save it in your freezer for your next dish. It will add a special touch to your dish that commercial stock can't recreate!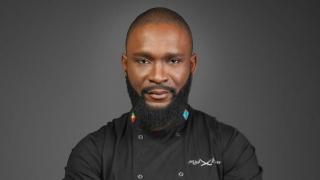 ABOUT MICK ELYSÉE
Mick Elysée is originally from Congo. He fled the civil war at 14 and found refuge in France. Mick enrolled in one of the best culinary schools in Toulouse where he opened his first restaurant at 22 years old.
Mick worked in Michelin-starred restaurants and hotels worldwide for 10 years. In 2015, he launched his private chef company in London. International media such as BBC and France24 were among many to show interest in his gastronomique way of showcasing African cuisine.
Today, Mick is developing YaSomo which is a range of Congolese condiments while traveling between Europe and Africa, for his events and TV shows.
Become a sponsor for £22 a month before midnight on 16th October and receive a free Share Cookbook.

Foreword by Meryl Streep

"We women used to rely on our husbands to provide funds, but through this project we have become self reliant, and at the same time we contribute to the wellbeing of our families, and strengthen our communities." - Programme Participant, Rwanda

Chocolate Layer Slice Recipe
Sponsor a sister
Mick Elysée joined our Serving Up Sisterhood campaign and shared his fantastic recipes to encourage you to ditch the takeaways and use the money you save to sponsor a sister instead. 
The average person in the UK spends £38 a month on takeaways. For just £22 a month you can sponsor a woman survivor of war and help her transform her life.