You are here:
Fonio Garden by Mick Elysée
Fonio Garden
by renowned Congolese-French chef Mick Elysée
Serves: 4 persons
Level: Easy
Prep time: 5 minutes
Cook time: 16 minutes
Vegan and gluten-free.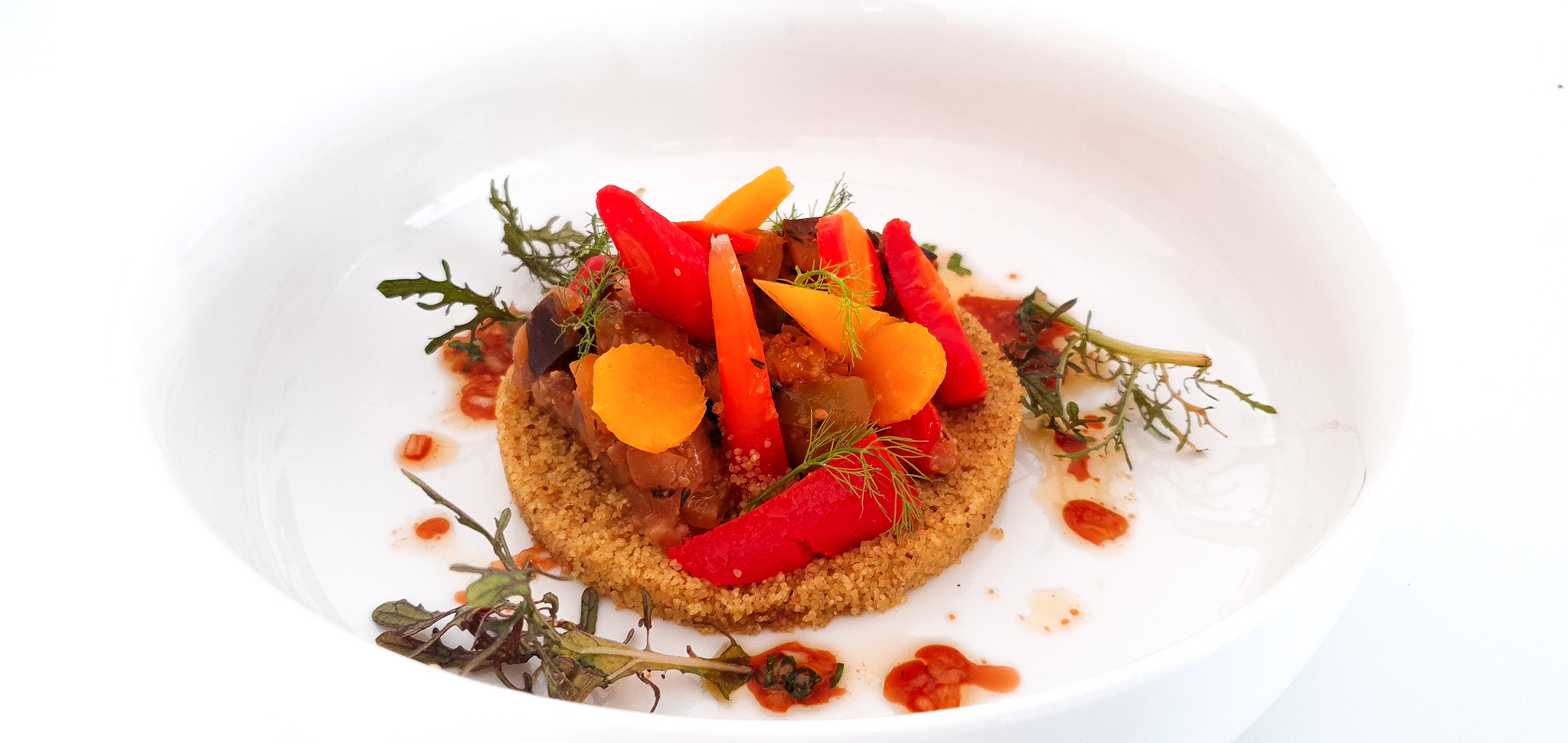 Ingredients
1 Cup Fonio
1 Big eggplant
1 Green pepper
2 Handful cherry tomatoes
3 Handful heritage carrots
2 Small chopped onions
1 Minced garlic clove
1 Bunch of minced coriander
1 Bunch of minced parsley
1 sprig of minced thyme
9 tbsp olive oil
1 tbsp unsalted soy sauce
2 tbsp ras el hanout
Salt & peppercorns
Utensils
1 Deep pan
1 Medium mixing bowl
1 Small bowl
1 Frying pan
Method
Vegetables
Chopp your veggies and slice carrots diagonally.
Heat 3 tbsp oil in the frying pan over medium-high heat.
Add eggplant, green pepper, cherry tomatoes, thyme, ½ of chopped onion and minced garlic. Season to taste then saute for about 4 minutes and stir occasionally until crisp and cooked.
Add 2 cups of cold water and cook for  about 3 minutes then toss in minced coriander. Saute till tender and reserve.
Dressing
In the small bowl combine 3 tbsp olive oil, 1 tbsp unsalted soy sauce, the rest of your chopped onions and parsley. Whisk vigorously then set aside.
Heat water in the pan over medium-high heat then add salt. Boil the carrots for about 7-8 minutes or until tender then reserve.
Fonio
Pour fonio in the mixing bowl, 3 tbsp olive oil, 3 tbsp ras el hanout and add 2 cups of boiling water. Mix well, cover the pot and cook for 5 minutes. Remove from heat and reserve covered for 10 minutes. Stir using a fork and voilà!
Note
Fonio is an African heritage grain and is considered the continent's oldest cultivated cereal. It is a great alternative to quinoa or brown rice. Its nutty flavour will add a little je-ne-sais-quoi to your dish.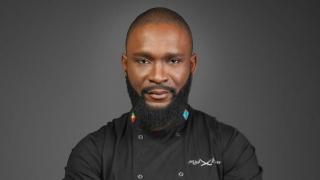 ABOUT MICK ELYSÉE
Mick Elysée is originally from Congo. He fled the civil war at 14 and found refuge in France. Mick enrolled in one of the best culinary schools in Toulouse where he opened his first restaurant at 22 years old.
Mick worked in Michelin-starred restaurants and hotels worldwide for 10 years. In 2015, he launched his private chef company in London. International media such as BBC and France24 were among many to show interest in his gastronomique way of showcasing African cuisine.
Today, Mick is developing YaSomo which is a range of Congolese condiments while traveling between Europe and Africa, for his events and TV shows.
Sponsor a sister
Mick Elysée joined our Serving Up Sisterhood campaign and shared his fantastic recipes to encourage you to ditch the takeaways and use the money you save to sponsor a sister instead. 
The average person in the UK spends £38 a month on takeaways. For just £22 a month you can sponsor a woman survivor of war and help her transform her life.