You are here:
Country Profile - Kosovo
Women's rigths and conflict in Kosovo
Ongoing political and ethnic tension, as well as controversy over the independence of Kosovo from Serbia, spurred the war in 1998.
Violence ensued as the use of military force against civilians in favor of Kosovo's independence led to violent clashes between the Kosovo Liberation Army and the Federal Republic of Yugoslavia's forces. During the conflict, 10,000 lives were lost, and 20,000 women were raped by armed forces.
We tried to stay in Kosovo for as long as we could. My husband and I fled our village to escape the violence. In April of 1999, things became too unstable and dangerous, so we left for Albania.
Even before the war, girls were often excluded from education, which has resulted in low literacy rates among women, especially in rural areas. This exclusion further constrains women's participation in government and other aspects of public life.
The war ended in 1999, yet it remains a patriarchal society where women struggle for economic and social equality.
Our work in Kosovo
In 2017, our Kosovo leadership established Kosova–Women 4 Women, a locally registered, independent sister organisation that continues to work closely with Women for Women International to serve marginalised women in Kosovo.
Through the Stronger Women, Stronger Nations Programme, participants join a network of support with other women as they receive vocational training, are instructed on how to run a business, and learn to earn and save money. They also receive information on their rights, how they can improve their health and well-being, and how they can become decision-makers in their homes and communities.
Kosova–Women 4 Women has also been focused on fostering a network of connections and support for our programme graduates, such as enhancing market access through networking by sector and supporting job placement. Graduates of the Change Agents programme also receive support through K-W4W as they use their training to advocate for women's rights in their communities.
The Men's Engagement Programme (MEP) in Kosovo provides men with the opportunity to learn from local leadership about how they can influence their community to become supportive of women's rights, and how they can become allies for women's rights and gender equality.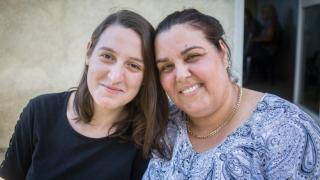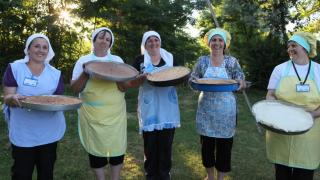 Impact of your support
Creating real change
Women averaged $394.25 in current household savings, compared to $109.27 at enrollment.
49% of women reported receiving earnings from income-generating activities, compared to 25% at enrollment.
90% of women were involved in decisions about family planning methods, compared to 79% at enrollment.
Data collected in 2022.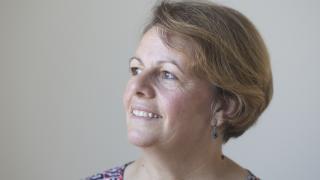 Joining the Women for Women International programme was the biggest change in my life. I found myself. I was convinced that I was alone, the only person who had experienced such difficulties.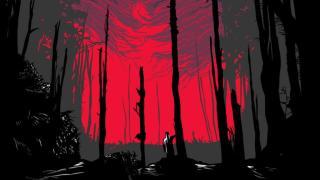 22 APRIL, 2019 | THE INDEPENDENT
This month's instalment in the Forgotten Women series features one of our programme graduates from Kosovo, Sihana, who was raped during the Kosovo war in 1999. Read her story as she talks about her experience of the war, the effect of it 20 years on and how it has changed her life forever.