You are here:
Power To Change
We all have the #PowerToChange
When we use our power together, we can change everything
Women have the power to change the world. We see it every day. In the face of inequality and conflict, the women survivors of war we work with rise up and transform not only their own lives but their whole communities.
They have the #PowerToChange, and so do you!
In March 2022, for Women's History Month and International Women's Day, we highlighted the power of women around the world and gave you opportunities to get involved in activities that helped you get inspired by change-makers around the world. Against the backdrop of the war in Ukraine and the humanitarian crisis in Afghanistan, we called on the international community to invest in women in fragile and conflict-affected areas - because they are the key to a peaceful future.
Each of us can make a difference, in big and small ways. Only by listening to women and recognising their enormous potential can we live up to our global responsibility to build a more peaceful and equal world. 
The feeling of helplessness is understandable – yet within each of us there is a spark that can help light a flame of hope. With every positive action (big or small), with every kind word shared, we can make a difference. 
No matter how dark the night may seem, we all have this power. Women's History Month is now over but we can all continue to use our #PowerToChange every day.
Start by joining our global community to stay updated on our events, campaigns and ways to support our work with women survivors of war.
The Power to Change Our World
When we seize our power
we speak with strength
we reclaim our rights
to protect and liberate one another
to rebuild a world that's just
and spark a flame to power change.
Commit to your part
big or small
stand up for women's rights
speak out against sexism
break down regressive, repressive social norms
share your story
support every woman
anywhere, everywhere.
Together, we will rebuild a world that's just
And spark a flame to power change.
Together, we will harness the power of women
for women.
>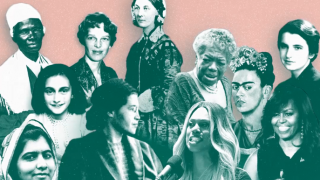 If you asked someone to name a famous woman from modern history, who do you think they would say?

Here at Women for Women International, we want to celebrate the lesser known women who used their #PowerToChange history. Learn about the incredible impact of women you might not have heard of with our
Women's History Month blog.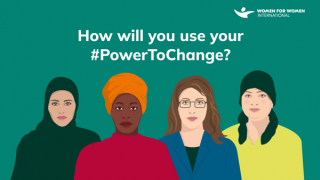 On International Women's Day 2022, we want to elevate the voices of the changemakers in the countries we work. These are women who are demonstrating their #PowerToChange social norms and are committed to creating a ripple effect for generations to come. Meet Khalida, Latifa and Zainab - women in our global team who have shared their inspiration, changes they've seen, and their hopes for the future.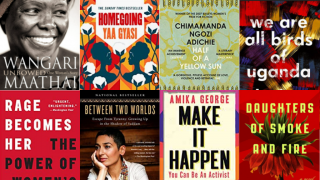 Feed your mind this Women's History Month with female authors whose powerful words and stories will inspire you to use your #PowerToChange.