You are here:
Women Leaders & Groups to Add to Your Women's History Month Celebrations
The history behind Women's History Month
In 1981, US Congress passed a resolution calling for a Women's History Week.
President Reagan announced that Women's History Week would be held on the week beginning 7 March 1982, in recognition of the contribution American women had made to the history of the US.
He acknowledged that their role had been ignored and encouraged the nation to plan and participate in activities.
Subsequent years saw more Women's History Weeks, until in 1987 after lobbying from the National Women's History Project, Congress passed a resolution for Women's History Month. In the years that followed more resolutions were passed by Congress, until in 1995, Women's History Month became an annual event.
Since then, Women's History Month has spread across the Atlantic and is now celebrated around the world.
In a world where women are still struggling for gender equality, and for the right to be respected for the multiple roles they play in society, it is essential that Women's History Month is remembered so that women continue to work for a better world.
At Women for Women International, we are marking Women's History Month by taking the time to celebrate known and less well-known women who have used their #PowerToChange lives and the world around them.
Here is a list of just a handful of women from across the globe who have defied expectations and used their #PowerToChange history.
Amelia Earhart (1897-1937)
"There's more to life than being a passenger"
Not content to sit in the passenger's seat, Amelia took up flying lessons and bought herself a plane. In 1932, she would make history by being the first woman to fly single-handedly across the Atlantic. A pioneer in women's aviation, she encouraged women to pursue flying and was the first president of the female aviation group, Ninety Nines. Full of ambition, Amelia decided to fly around the world in 1937, but disappeared over the Pacific. She was never found.
Sophia Duleep Singh (1876-1948)
"Taxation without representation is a tyranny…" 
Despite her links to high society, (as the daughter of a maharajah and with close ties to Queen Victoria, her godmother) Sophia was a fervent suffragette. She sold the group's newspaper and gave funds to the cause. As women were not allowed to vote, she refused to pay tax, and had some of her possessions confiscated. In 1910, she co-led the Black Friday protest march outside Westminster. The protesters were subjected to police brutality and assault.
Mary Slessor (1848-1915)
"When you think of the woman's power, you forget the power of the woman's God"
 A Scottish missionary to Nigeria, Mary helped to challenge the practice of infanticide. In Calabar, twins were killed due to the strongly held superstition that one of them must be a devil. The children were abandoned and left to die, with their mothers exiled from the community. Mary helped to rescue the children and provided help for the mothers. Over time, Mary gained the respect of the locals. She is held in high esteem by the Erik people today. Mary has also been commemorated on the £10 Scottish banknote.
Nadia Anjuman (1980-2005)
"One thought of the day I will break the cage makes me croon like a carefree drunk until they can see I am no wind-trembled willow tree— an Afghan woman wails and sings, and wail and sing I will!" 
A young and talented Afghan poet, Nadia defied Taliban rule by attending Golden Needle, a secret poetry group in Herat. In 2005, she published Gul-e Dudi (Dark Flower) which received much praise; the same year she was beaten to death by her husband. It is widely believed that her husband and family disapproved of her writing, which spoke about female oppression. Her tragic death has only highlighted the challenges faced by Afghan women and brought further attention to her poetry.
Frida Kahlo (1907-1954)
"I never painted dreams. I painted my own reality"
 More than a fashion icon, Frida Kahlo is one of the most famous women artists of all time. In 1946, she was awarded the National Prize of Arts and Sciences from the Ministry of Public Education. Despite a life marked by ill health, Frida held numerous exhibitions and was a political activist. She adopted the dress of a Tehuana woman, a culture which celebrates women as economic leaders. Her self-portraits reveal the extent of her suffering and talent. They have allowed other female artists to be open about their personal experiences.
Tsuda Umeko (1864-1929)
"Is it not time for the women of Japan to arise and realize what their husbands and sons are doing?" 
Born in Japan, Tsuda studied in America in the 19th century. On returning to Japan, Tsuda became deeply aware of the inequalities experienced by women. She became a pioneer for women's education. Tsuda set up a scholarship for women to study abroad and founded Tsuda College, one of the most esteemed universities in Japan. Image
Funmilayo Ransome-Kuti (1900-1978)
"As for the charges against me, I am unconcerned. I am beyond their timid lying morality, so I am beyond caring." 
A political activist and campaigner for women's rights, Funmilayo was the leader of the Abeokuta Women's Union. She campaigned against taxes which disproportionately fell on women traders, including a protest outside the traditional ruler's home which ended his reign. Not content with voting rights in the south of the country, she campaigned for all women in Nigeria independent of their ability to pay income tax to be given the vote. She was known as the 'Lioness of Lisabi'.
Wangari Maathai (1940-2011)
"When we plant trees, we plant the seeds of peace and hope."
Born and raised in Nyeri, a rural district of Kenya, Wangari Maathai set and broke records throughout her life.
 After obtaining her Ph.D. from the University of Nairobi, she became the first woman from East and Central Africa to earn a doctorate degree. 
She then became chair of the Department of Veterinary Anatomy and an associate professor at the same university, also becoming the first woman in the region to do so.
She stood up to unjust, powerful political forces in her country, including her president, to advance women's rights and environmental protections. 
Maathai went on to use to her passion for the environment to develop the Green Belt Movement, combining the idea of community tree-planting with poverty reduction—especially for women—and environmental conservation. 
In 2004, she became the first African woman and environmentalist to receive the Nobel Peace Prize. She then went on to start the Nobel Women's Initiative to bring awareness of women around the world working for peace, justice, and equality.
Noor Inayat Khan (1914-1944)
'Liberte'
Forced to flee her home after France was invaded by Germany in World War Two, Noor moved to England. There she not only joined the Women's Auxiliary Force but returned to France to spy for Britain. Captured in 1943 by the German secret police, she refused to reveal any information. She was tortured and sentenced to death in 1944. At the end of her life, she is reported to have cried 'Liberte'.
Ellen Johnson Sirleaf (1938- present day)
"Africa now knows what a woman President can do."
After two nearly consecutive civil wars in Liberia that not only tore apart the country for over a decade, took hundreds of thousands of lives, and inflicted sexual violence, slavery, and widowhood on the nation's women, Ellen Johnson Sirleaf did not have an easy task when she was elected President of the Republic of Liberia in 2005.
Besides being Africa's first democratically elected female head of state, she played a significant role as one of the leaders of the Women of Liberia Mass Action for Peace movement, which brought peace to the long conflict. Nicknamed "Africa's Iron Lady," President Sirleaf lived up to the name as she led Liberia through a steady recovery after the civil war and through the Ebola Crisis, while making women's rights among her priorities.
For her courage and commitment to Liberian and African lives, President Sirleaf was awarded the U.S. Presidential Medal of Freedom in 2007 and the Nobel Peace Prize in 2011, along with Leymah Gbowee, activist and one of the founders of the Women of Liberia Mass Action for Peace.
Guajajara 'women warriors' (present day)
"Why did we take the initiative? Because we are mothers. If we don't act, there would be no forest standing"
Over the last decade, the Caru Indigenous Territory has been devastated by land conflicts and the highest rates of deforestation in Brazil. To save the Amazon and its natural resources, the Guajajara 'Women Warriors' took matters into their own hands. 
Though many of the patrol groups are traditionally made up of men in their tribe, women decided to form their own group, joining forces with other indigenous women's groups to build collective power. 
Along with protecting their home, they've begun carving more opportunities for women in their communities. 
Together, the group patrols the 428,000 acres of the Amazon rainforest that they call home and enforces protections to stop loggers before they enter indigenous territory.
Miriam Coronel Ferrer (1959-present day)
"You can't really have a perfect agreement, but you make an agreement more imperfect if you don't have the women's perspectives."
Miriam Coronel-Ferrer has dedicated her life to public service and advocating for women's roles within peace negotiations and peace processes. 
In 2005, she was one of 27 Filipina women among the 1,000 women collectively nominated to receive a Nobel Peace Prize. 
In 2010, she was asked by Filipino President Benigno Aquino to join the Philippines' panel to negotiate peace with the Moro Islamic Liberation Front, a rebel group seeking autonomy for Bangsamoro people in the southern Philippines. 
Coronel-Ferrer advocated for more roles for women in the negotiations and protections for women's rights and societal inclusion, knowing that women's participation is critical to any post-conflict growth. She soon became the first chief female negotiator to sign a peace accord with a rebel group—after decades of conflict—and called it a landmark moment for women in the Philippines.
Use Your #PowerToChange
Recognized or unsung, women have always used their #PowerToChange the world. And it's more than just women's history: When women can use their power, we change the future to make it more equal, peaceful, and prosperous—for everyone. ⁠
You are a part of women's history—and our future—and you have the #PowerToChange.
Commit to use your power to support every woman, anywhere and everywhere.
Read more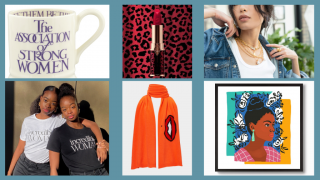 If you're looking for a gift for your mum this Mother's Day, wanting to celebrate the powerful women in your life for International Women's Day, or simply feel in need of a well-deserved treat for yourself during lockdown, why not shop with companies that are powering meaningful change for women survivors of war? Mark women's history month by using your #PowerToChange when shopping -because when we use our power together, we can change the world!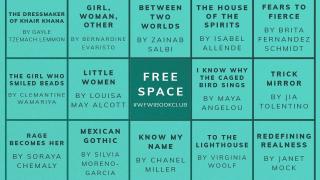 Play our bingo of must read books by female authors! How many of these books have you read? How many will you add to your list this Women's History Month? Feed your mind and get inspired by authors whose powerful words and stories will inspire you to use your #PowerToChange.