You are here:
Women for Women International Announces Global Rebrand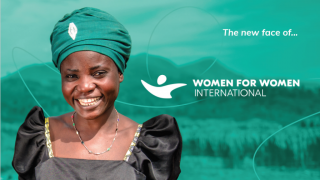 In 1993, after meeting survivors of wartime rape in Bosnia, Iraqi activist Zainab Salbi had a vision for an organisation where women could find support, solidarity, and practical skills to rebuild their lives after the ordeals of conflict.
Almost thirty years later, Women for Women International has reached over half a million of the most marginalised women in the world, helping them to access power and transform their lives and communities.
Meanwhile, an extensive body of research has established the wide-ranging positive impacts of investing in women – including reduced poverty; better healthcare, nutrition and education for children; and sustainable economic growth.
Spurred on by a resurgent women's rights movement, global leaders and the international community are beginning to recognise women's potential and listen to their voices – just as Zainab Salbi envisioned.
REPRESENTING WHO WE ARE TODAY
In 2019, as part of a ten-year strategy process, we decided to review our brand and consider how to refresh it. Over the past three decades, our organisation has evolved and grown; from distributing essential supplies to a handful of women in Bosnia, to delivering training programmes to build women's social and economic power across eight conflict-affected countries worldwide. During all that time, we had not once updated the look and feel of our brand, and how we display ourselves to the world.
We wanted our brand identity to embody the transformative potential of women survivors of conflict, and our growing global community of supporters who are striving for a more peaceful, prosperous, and equitable society. During 2019 and 2020, we consulted our supporters and staff around the world to inform this new version of our brand.
So, what has evolved?
A dynamic logo
As our global network grows and reaches new audiences, we want women's power and agency to be at the forefront of everything we do.
The gradient shading and leftward tilt characterise transformation and forward momentum. Teal symbolizes peace and trust. The essence of our founding brand remains to remind us of our roots in the transformative power of women.
Spreading the word
Our brand narrative and messaging has also been updated to reflect our organisation today, and the women we serve. Our narrative helps us communicate our vision for the future and how our work and global community will help us achieve our collective goals.
Women have the power to transform the world. But across the globe, our voices are silenced, our role is ignored, and our contributions are undervalued.
Conflict and war deepen these injustices towards women. A woman who survives violent conflict is then forced to rebuild her life in communities who put her needs last. As conflicts rise, so does the number of women brutalised. This must end.
From war-torn towns to the halls of the United Nations, our global community invests in women survivors of war and conflict, connecting them with each other through our Stronger Women, Stronger Nations programme to realise their own power. Together, they learn to save, build businesses, understand their rights, improve their health, and change societal rules. They pass on this knowledge to their families and communities, creating a world that's more equal, peaceful, and prosperous.
That is the power of women, for women.
Putting the power in women's hands
Our social and economic empowerment programme is the core of our work with women survivors of war. A
recent independent study
proved its effectiveness in creating measurable and meaningful change in women's lives: graduates of the programme reported increased earnings and savings, ability to provide food for their families, and improved confidence and agency.
During their time in the programme, women build lasting connections that develop into sustainable cooperative businesses, graduate networks and advocacy alliances – catalysing a positive ripple effect for women's rights and opportunities.
We've given our programme a new title to reflect its scope and impact, fuelled by women participants and graduates. The 'Stronger Women, Stronger Nations Programme' captures the determination of women survivors of war to rebuild their lives, communities, and nations.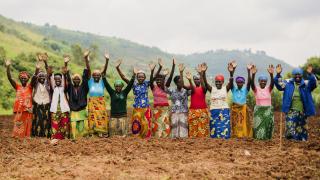 Delivering impact for women survivors of war
In our first rebrand in 27 years, we have an opportunity to clearly define our values and vision, at a time when progress on women's rights is coming under increasing threat.
A new brand allows us to build a platform for reaching and connecting an even wider global community, so we can ultimately serve more women survivors of war.