You are here:
12 books to help you find your purpose and make a difference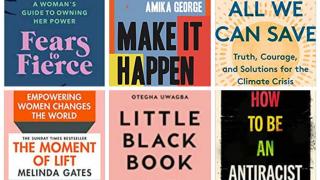 The start of a new year is the perfect time to re-evaluate your priorities, reconnect with what's important, and commit to making a change – however big or small.
This inspiration-filled reading list will help you tap into your inner strength and transform the world around you.
From self-care tips, to personal stories of courage and hope, to practical resources for activists, these incredible authors will give you the boost you need to be your bravest, boldest and best self in 2021.
YOUR FEARLESS READING LIST
1.
Fears to Fierce: A woman's guide to owning her power
 by Brita Fernandez Schmidt – In her first book, Brita (Executive Director of Women for Women International – UK) shares inspiring stories, personal insights and practical tools to help you harness your power and overcome your fears. 
2. Kind Words for Unkind Days by Jayne Hardy – In these difficult times, taking care of your mental health should be a top priority. This guide will help you feel happier, healthier and calmer in 2021.
3. Make it Happen: A handbook to tackling the biggest issues facing the world in 2021 by Amika George – Amika successfully campaigned to get the government to fund free period products in every school across England. Her guide to being an effective activist is essential reading for aspiring changemakers.
4. Little Black Book: A Toolkit for Working Women by Otegha Uwagba – A practical handbook for the world of work filled with top tips and motivation for building the career you want.
5. No Such Thing As Normal by Bryony Gordon – This honest, down-to-earth book about mental illness and mental wellness offers support and advice to help you build resilience and feel less alone.
6. The Education of an Idealist by Samantha Power – From war correspondent in the Balkans, to the youngest ever US Ambassador to the United Nations, to her recent appointment to lead the US Agency for International Development, Samantha Power's passion for human rights has shaped a remarkable career. Her story is an inspiring example of following your purpose and making a difference in the world.
7. All We Can Save: Truth, Courage. and Solutions for the Climate Crisis by Ayana Elizabeth Johnson and Katharine K. Wilkinson – This anthology of women's writings on climate change is an urgent, uplifting call to action. Showcasing the importance of community, creativity and compassion to heal our planet, it is brimming with a diversity of ideas and perspectives that are often missing from mainstream debates on climate change.
8. Stronger by Poorna Bell (coming in April 2021) – We can't wait for this new book from award-winning journalist and author Poorna Bell. Part memoir, part manifesto, it follows Poorna's journey to get physically strong after her husband's death, challenging social norms about women, strength and fitness along the way. Even if deadlifting isn't your thing, this book promises to help you discover what being strong means to you, and feel empowered to reach your goals.
9. The Moment of Lift: How Empowering Women Changes the World by Melinda Gates – As co-chair of the Bill and Melinda Gates Foundation, Melinda Gates is one of the most influential philanthropists on the planet and a committed advocate for investing in women and girls to build a better future. In her first book, she shares stories and lessons she's learned over two decades travelling the world championing gender equality and working on global development issues.
10. How to be an Antiracist by Ibram X Kendi – In his electrifying memoir, historian Ibram X Kendi explains that when it comes to racism, neutrality is not an option: until we become part of the solution, we can only be part of the problem. As well as sharing his personal journey of awakening, Ibram offers a clear, accessible analyis of systemic racism and practical resources for taking action to build a more equitable society.
11. The Fear-Fighter Manual: Lessons from a Professional Troublemaker by Luvvie Ajayi Jones (coming in March 2021) – In her second book, acclaimed author, activist, speaker and podcast host Luvvie Ajayi Jones urges us to become professional troublemakers: people who are committed to not letting fear talk them out of the things they need to do or say. Perfect for cultivating a fearless mindset and blazing a brave new path.
12. The Last Girl: My Story of Captivity and My Fight Against the Islamic State by Nadia Murad – Nobel Peace Prize-winner Nadia Murad brought the plight of the Yazidi people to the world's attention and laid bare the devastating impact of sexual violence as a weapon of war. Her courage, resilience and determination to bring justice to fellow survivors is truly inspirational.
If you are thinking about buying any of the books listed above from Amazon UK, make sure to use Amazon Smile and choose Women for Women International as your selected charity. We receive a 0.5% donation from the price you pay, at no extra cost to you.
In the past 3 months we've received an amazing £643 from supporters' purchases on Amazon Smile - so these small amounts really do add up to make a big difference!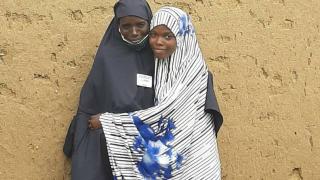 Every woman has the power to transform her own life — and the lives of girls around her. On International Day of the Girl Child, we are spotlighting the barriers to equality facing girls in Nigeria and the women working to clear the way.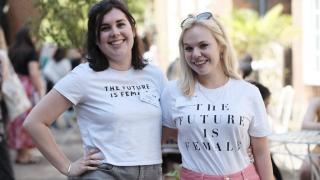 Inspired by our Stronger Women, Stronger Nations programme for women survivors of war, the Power Up Club is a space for committed supporters to come together, develop their knowledge and skills, and drive the changes they want to see in the world.
In recent years, refugee literature has provided a way of educating the public about the truth behind the refugee experience. Women for Women International believes that knowledge is power, so check out our World Refugee Day Reading List to grow your awareness and understanding of the refugee experience for your own personal reading and to share with others.