You are here:
#SheInspiresMe LIVE Feminist Reading List
Has #SheInspiresMe LIVE left you hungry for more fearless, furious and funny feminist voices in your daily life?
This summer, we are bringing back #SheInspiresMeLIVE in our first-ever online, live-streamed festival on Saturday 20th June 2020. Get your tickets here. 
In 2018, we held our #SheInspiresMe LIVE event, packed with great speakers, workshops, and discussions. One of the attendees, Rosie, shared her experience of the day in a blog post. Our wonderful speakers covered an array of different topics, from everyday activism to the importance of sharing our stories. We compiled this reading list for everyone who is looking to further explore their ideas, learn something new, or needs a gentle nudge to get started on their plan of action.
Add these books to your list and jumpstart your thinking and activism!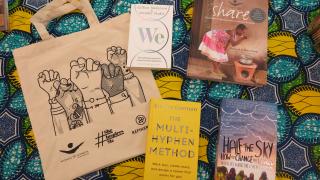 Books by our #SheInspiresMe LIVE Speakers
We hope you got inspired by our wonderful speakers. Many have put their ideas down in writing – so you can spend some more quality time with them by making a trip to your nearest bookshop:
'Diversify - Six Degrees of Integration' by June Sarpong
'Attack of the 50 Ft. Women: How Gender Equality Can Save The World!' by Catherine Mayer 
'Eat Sweat Play: How Sport Can Change Our Lives' by Anna Kessel
'Enslaved: The New British Slavery' by Rahila Gupta
'The Multi-Hyphen Method' by Emma Gannon
'We: The Uplifting Manual for Women Seeking Happiness' by Gillian Anderson and Jennifer Nadel
'To My Trans Sisters' by Charlie Craggs
Coming Soon: watch out for Nimco Ali's first book – 'Rude: There Is No Such Thing as Over-Sharing', coming out in February 2019!
Our Speakers' Recommendations
We asked our speakers to recommend books that sparked their feminist awakening, or the authors they turn to when they need inspiration, advice and encouragement. These books are tried-and-tested activist tools!
Emma Gannon: 'Everyday Sexism' by Laura Bates
Hannah Price: 'Good Girls Revolt: How the Women of Newsweek Sued their Bosses and Changed the Workplace' by Lynn Povich
Charlie Craggs: 'What a Time to be Alone: The Slumflower's guide to why you are already enough' by Chidera Eggerue
Hannah Little: 'Women & Power: A Manifesto' by Mary Beard
Munroe Bergdorf: 'Redefining Realness' by Janet Mock
David Brockway: 'Testosterone Rex' by Cordelia Fine
Brita Fernandez Schmidt: 'Ain't I a Woman?' by bell hooks and 'Your Silence Will Not Protect You' by Audre Lorde
Finally, if you are stuck for time, not sure where to start, or perhaps a little intimidated, I recommend '50 Shades of Feminism' edited by Lisa Appignanesi, Rachel Holmes and Susie Orbach.
It's an anthology that brings together a diverse array of contributors, from politicians to actors to scientists, who each reflect on what feminism means to them. It's perfect to dip into during your commute to work and start the day with a dose of inspiration and spur to action.
If you are thinking about buying any of these books from Amazon UK, make sure to use Amazon Smile. Just sign in as usual and then choose Women for Women International as your selected charity. We receive a 0.5% donation from the price you pay, at no extra cost to you.
Continue reading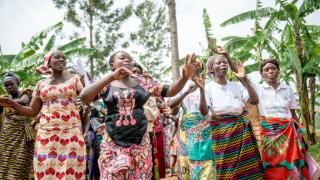 600 of our programme participants in the DRC have graduated from our 12-month social and economic empowerment programme. It was a chance for our programme graduates to reflect on their journey and share their achievements with their classmates, families and wider communities.
This World Humanitarian Day, we are reminded of our shared responsibility to support those caught up in global crises. Find out three ways you can exercise your humanitarianism from our Executive Director, Brita Fernandez Schmidt.