You are here:
Humanitarianism: A Daily Workout
When I read about the White Helmets in Syria, about medical teams struggling to contain the Ebola epidemic in the Democratic Republic of Congo, or when our director in Afghanistan tells me about the latest bombings in his neighbourhood and death threats against his staff – my first reaction is to be filled with the deepest admiration for their bravery and commitment… often followed by the thought: "I couldn't do that".
World Humanitarian Day, on 19th August, is dedicated to honouring those who work to save lives and alleviate suffering in some of the most difficult situations on earth – whilst at the same time, remembering our own responsibility to support those caught up in global crises.
Sometimes, I think these two important messages can work against each other. We idealise heroic 'Humanitarians' – aid workers, medical staff and volunteers who risk their lives for others with the purest of motivations –  and humanitarianism becomes more distant from our everyday lives.
Few people will say that they don't want to help those suffering in the world. But the daunting proliferation of armed conflicts, mass displacement and environmental disasters –  and the courage and selflessness that this act of helping seems to demand – can make humanitarianism seem like a superhuman task, rather than a human one.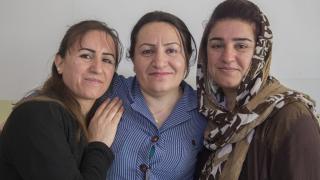 For me, making humanitarianism personal, practical and urgent starts with remembering that those humanitarian workers we see on the news are NOT superhumans – they are ordinary people like you and me.
This is not to diminish their actions – in fact, it makes them all the more remarkable. Humanitarianism is not a special gene, an innate talent or magical quality that some are born with.
It's an extension of the small acts of kindness and compassion we all practice already, every single day, with our friends and family, the people we know and love. Extending our remit to care and protect others, beyond our own 'tribe', to encompass strangers – to encompass the whole of humanity – requires attention, focus and hard work. But it's something we are all built to do.
So, instead of a lofty and unattainable ideal, I want to try thinking of humanitarianism as exercising a muscle that all of us have in our bodies. Those working on the frontlines of conflict and poverty may be the Olympians, but we can all train these muscles to make them stronger and more effective at doing their job.
Inspired by my Women for Women International co-workers in conflict-affected countries, and all of those who dedicate their lives to humanitarian work – these are my three key exercises for building some humanitarian muscle in our daily lives.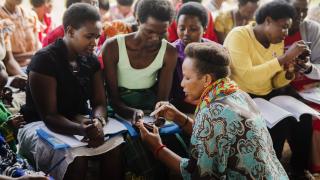 Exercise 1: Expand your bubble
With a 24-hour news cycle and social media reaching every corner of the globe, we are constantly being bombarded with vast amounts of information about the world around us. But sometimes this can make us feel more distant and disconnected.
There are too many demands on our attention, too many depressing news stories – it can be overwhelming, or emotionally paralysing. There's a temptation to shut down, turn inwards, to create our own safe and familiar bubble. It seems easier to engage with our own 'tribe', whose problems may seem more tangible and immediate, and where we think perhaps our limited resources will go furthest.
We need to develop our humanitarian muscle to fight against this way of thinking. You don't have to choose between dealing with the issues on your doorstep and extending your horizons to problems in another country. You have the capacity to devote attention and energy to both – and understanding the connections between them is vital to creating real change in the world. 
Being a humanitarian means seeing the world as a smaller, more intimate space that we all share – it means expanding your bubble. We can all cultivate this way of thinking. It's about making the effort to stay engaged, stay curious, and not turn away. It's about pushing back against simple narratives of 'us' and 'them'.
It becomes easier and more instinctive to act in other peoples' interests when they are part of your 'tribe'. Humanitarians see all of humanity as their 'tribe'. When you read or watch the global news, stop for a moment and consider: these people you're learning about are just like you and me, they have dreams and aspirations.
Those dreams connect us. Think of them as your sisters. That's the starting point for feeling a sense of responsibility, and ultimately, taking action on behalf of people you don't know.
At Women for Women International, we talk about Sisterhood as a movement for equality and social change that welcomes all genders and identities, and is built on solidarity, human connection, and optimism for a better future. Seeing yourself as part of a global movement can be a source of strength and reassurance when problems feel overwhelming – as well as an important reminder you that others need you, too – including people you've never met.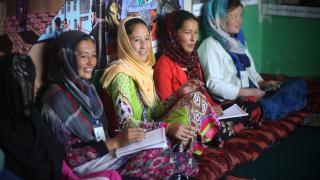 Exercise 2: Be an ally, not a hero
Effective humanitarians think carefully and critically about HOW they can help – they don't just wade in with their own ideas and preconceptions. We often think of humanitarians as action heroes, but action is secondary to listening, practicing empathy, and building understanding of other peoples' realities.
To truly help others, we need to listen to what they need, rather than assuming we know what is best for them. Being an ally starts with creating opportunities for marginalised and vulnerable people in our global community to speak up and be heard.
This week, I am visiting the Democratic Republic of Congo (DRC), where Women for Women International is conducting a 5-year project focussed on building marginalised women's leadership and advocacy. As part of this project, a group of women from South Kivu have been trained as 'Change Agents'.
They consult with women in their communities on the challenges they face, and the changes they want to see. They advocate on their behalf – holding negotiations with community leaders and administrative authorities, and conducting radio campaigns to influence the wider public. They also support their peers with information, skills and advice to tackle these problems in their homes and communities.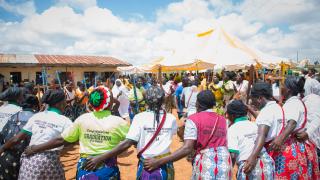 Women in South Kivu identified land rights and reproductive rights as the major obstacles in their lives – they know that without control over the land they farm, and without control over their own bodies, poverty and inequality will always persist. So, the Change Agents have been focussing on shifting these underlying barriers – building awareness of the issues within the community, lobbying decision-makers, and equipping women to take action themselves.
One of the women who participated in a recent training course run by her community's Change Agents is Jacqueline. She told my colleague, Aloys: 
To me, the success of this project shows how effective humanitarianism – the kind that creates sustainable change for those in crisis situations – begins with listening to those affected, and providing support to help them to empower themselves. This means being an ally, not a hero.
Be an ally by taking the time to dig deeper and understand the broader picture. Listen to the voices that are often silenced. Give them a platform to speak for themselves. Rather than dividing the world into humanitarians and recipients of humanitarian assistance, remember: we're all in this together.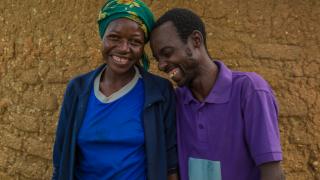 Exercise 3: Affirm our common humanity
It's vital to acknowledge our differences and not assume that everyone thinks and wants the same things. But at the same time, focussing on our similarities and shared humanity is a powerful tool for combatting apathy, creating a sense of shared purpose, and taking responsibility for helping others.
My humanitarian muscle gets a workout whenever I meet women in Women for Women International's programmes around the world – last year, I was lucky enough to visit training groups in Kosovo, Rwanda and north-central Nigeria. We may all live in very different circumstances, and have contrasting life experiences, but what binds us together is more important.
For twenty-five years, since the Bosnian war, Women for Women International has run a sponsorship programme to connect women affected by conflict with supporters around the world. Sponsors provide financial assistance to fund a year of training towards social and economic self-reliance, but they also provide another vital resource: a human connection and support network that money can't buy, showing a woman isolated by war and poverty that someone believes in her and cares about her future.
Many sponsors write letters – over 893,900 have been exchanged since 1993. It may sound unlikely, but whenever I meet women enrolled in our programmes, I hear how just a few words from a stranger, thousands of miles away, can make a profound difference. It reminds her that she is never alone, forgotten or powerless – she is part of a global sisterhood.
My sponsored sister, Yudita, constantly reminds me that our similarities are more powerful than what separates us, and that I can make a difference in someone's life – even when the scale of the world's problems seems unsurmountable.
Often, people caught up in conflict, poverty and disaster are portrayed as a faceless, voiceless multitude – as representatives of the 'crisis' they find themselves in, rather than individuals with hopes and dreams, with loved ones they care about, with stories to tell. We need to use every fibre of our humanitarian muscle to recognise ourselves in others and focus on these shared connections.
You can practice doing this by seeking out those personal stories and looking for the points of connection. By using your imagination. By changing the language you use. Think of it as a challenge, the next time you open a newspaper or turn on the TV news. As a humanitarian, your job is to re-humanise when faced with statistics, generalisations and jargon.
One thing is certain – the world today could do with more humanitarians. So let's broaden the definition and step up to the task ourselves. This World Humanitarian Day, why not join me, skip the gym and work on your humanitarianism instead.
Continue reading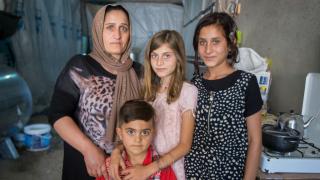 Our Director of Fundraising, Marketing and Communications, Shivonne Graham reflects on the Sinjar massacre and our work in response to the crisis.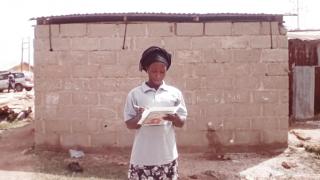 "I saw my husband dying. It was very painful to watch," shares Rose. She has lost her husband, her community, and her home to violent conflict, but nothing can stop Rose from rebuilding her life.