You are here:
FCDO Jo Cox DRC
Our new project funded by UK aid and the Jo Cox Foundation
Empowering marginalised women in Democratic Republic of Congo (DRC)
Women for Women International UK is thrilled to announce the launch of a new multi-year project, funded by the UK government's Department for International Development (DFID) - now known as the Foreign, Commonwealth and Development Office (FCDO) as of 2 September 2020 - through their Jo Cox Memorial Fund. Starting in October 2019, we began implementing a transformative programme in Democratic Republic of Congo (DRC) supporting women survivors of war to rebuild their lives and create meaningful change in their communities.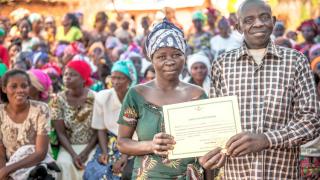 In DRC we are providing 1,200 women with our 12-month social and economic empowerment programme, whilst also focusing on strengthening the capacities of three local Civil Society Organisation partners. We are doing this by building an advocacy alliance that mobilises communities in South Kivu to actively promote women's rights.
Women for Women International believes that locally led advocacy action is pivotal to advance gender equality in communities and elevate the voices of the most marginalised women at higher levels. Our grassroots activity will also work to ensure appropriate services are provided to sustainably improve women's lives. Harnessing the collective power of women, and with 600 men as key allies, we are building strong community networks that tackle issues such as violence against women and land rights more effectively. Throughout this exciting project we will be building a space for action and accountability for women's rights.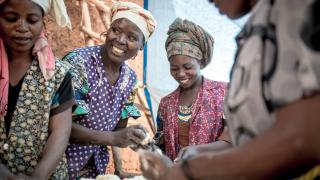 Our local partners for this project are: Caucus des Femmes Congolaises du Sud Kivu pour la Paix (CFCP), Levain des Femmes du Sud-Kivu (LDF), and Innovation et Formation pour le Développement et la Paix (IFDP).
As with our FCDO-funded project in Nigeria, this project will assess how we work with women with disabilities. Women for Women International looks forward to improving our ability to serve the most marginalised of women. Thanks to the support of the UK aid from the UK government and the Jo Cox Memorial Fund, we can develop a programme that is more inclusive and tailored to the needs of disabled women in DRC.
This project was funded with UK aid from the UK government.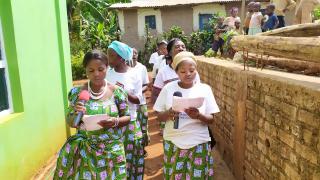 In the Democratic Republic of Congo, graduates of our programme are organising 'Community Forums' to educate and engage local leaders on women's rights issues, and find solutions to the major barriers women face.
On July 18, the World Health Organisation declared that the Ebola outbreak in the Democratic Republic of the Congo to be a Public Health Emergency of International Concern. Learn more about how we are protecting and preparing our programme participants.