You are here:
Changing social norms one conversation at a time
Community Forums in the Democratic Republic of Congo
In eastern Democratic Republic of the Congo (DRC), 120 graduates of our year-long training programme have been trained as 'Change Agents' - advocates for women and girls in their communities, who are leading efforts to combat violence against women and improve women's economic participation. Change Agents work in groups within their village, identifying the key barriers facing women and advocating for change.
We saw in the previous blog in this series how unregistered marriage is a major barrier to women in eastern DRC, depriving them of legal protections enshrined under national law, and leaving them vulnerable to harmful and discriminatory patriarchal customs – including early and forced marriage, polygamous unions, and women's exclusion from owning land.
Change Agents are working within their communities to raise awareness of these of negative effects, and to promote civil marriage as a means for women to access vital legal safeguards that will make them less vulnerable to poverty and violence.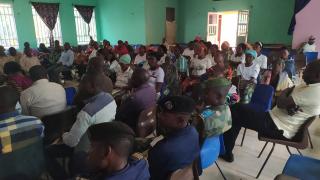 The forums encourage open, participatory discussion about key topics relating to women's rights. They create a space where information and first-hand testimonies can be shared by Change Agents and women's groups, as well as invited speakers such as legal or medical experts. Those who hold influential positions in village life bear witness to the challenges facing women and girls in their communities, and work with them to come up with solutions.
Crucially, the meetings put marginalised women at the centre of decision-making and give them a real say on the issues that affect their lives.
Involving men in the conversation
Change Agents often work in partnership with graduates of our Men's Engagement Programme (MEP) to convene and moderate Community Forum discussions.
These male leaders are essential allies in championing women's rights and gender equality, leveraging their authority to amplify the issues and bring other men on board.
Creating change in Kamanyola
A recent community forum organised by Change Agents and MEP graduates in Kamayola - a village in South Kivu, eastern DRC -  focused on the issue of unregistered marriage, which poses a threat to women's legal rights and economic security.
During the discussion, MEP graduates came forward to explain that some of the members of their group were living in non-legalised unions with their wives. Several forum participants cited the cost of marriage registration as a major impediment.
As a result of the session, the district administration agreed to reduce the registration fees, making the process more accessible to all couples in Kamanyola. The group also committed to integrating messages on the importance of marriage registration into churches, schools and local security councils.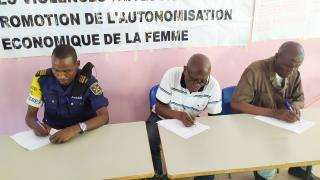 In addition to removing practical obstacles to obtaining a marriage certificate, the group also agreed on a set of commitments aimed at tackling the deeper issues behind women's exclusion from property ownership, inheritance, and decision-making. These included:
Issuing formal instructions to village chiefs to involve women in decision-making meetings on inheritance after the death of a relative
Setting up a group to ensure the inclusion of girls in written wills
Making efforts to appoint women into local administrative roles and select women as candidates for local elections
Impact of community forums
Since the Kamanyola meeting, seven members of the men's group have gone with their wives to legalise their marriages at the Registry Office, acting as role models for the other couples around them. In discussions with the Registrar for the area, he reported marked increase in marriage registrations and attributed the progress to the efforts made by the group.
Over the next few months, Change Agents will be meeting with representatives of each of the signatories, and gathering feedback from local women's networks, to evaluate the implementation of their commitments.
Sikitu is one of the Change Agents in Kamanyola who organised the forum and is in charge of holding the leaders accountable. Since graduating from our year-long programme, she has set up her own business and is now earning an income for the first time. When asked about what she took from the training, Sikitu looks beyond the individual economic benefits:
The final blog in this series will look at how Change Agents like Sikitu are supporting other women to create change in their lives, and steadily shifting deep-rooted gender norms in eastern DRC.