You are here:
Swarovski Foundation
WORKING WITH THE SWAROVSKI FOUNDATION TO HELP SUPPORT WOMEN SURVIVORS OF WAR
We are so grateful to have been in a long-standing partnership with the Swarovski Foundation for the past seven years. Since 2014, they have invested where inequality is greatest by helping women who are forgotten – the women survivors of war and conflict. Thanks to the Swarovski Foundation, over 1000 women in rural Nigeria have been able to form support networks, learn to earn an income and save money, and gain knowledge and resources about health and their rights.
In July 2019, we were delighted to continue our partnership by enrolling a new cohort of 150 marginalised women in Nigeria into our Stronger Women, Stronger Nations programme. 
Over the years, Swarovski has supported our fundraising events through sponsorship, providing auction items and goody bags. Swarovski sponsored our high-profile Catwalk Show and Auction in November 2014 and our #SheInspiresMe Lunch in June 2016. Since 2018, the Swarovski Foundation has participated in our annual one-of-a-kind fashion extravaganza, the #SheInspiresMe Car Boot sale and Virtual Car Boot Sales, which have raised vital funds to support women survivors of war.  
Nadja Swarovski, Chair of the Swarovski Foundation, is an Ambassador for Women for Women International, helping us to bring global attention to the realities of women's lives in conflict-affected countries.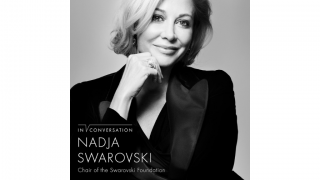 International Women's Day 2021
On 10th March, Swarovski Foundation held an 'in Conversation' event to celebrate International Women's Day.
Swarovski Foundation's Chair Nadja Swarovski had an insightful conversation on the resilience of women with Natalia Kanem, Executive Director of the United Nations Population Fund and Brita Fernandez Schmidt, Executive Director of Women for Women International – UK.
About the Swarovski Foundation
Swarovski Foundation was incorporated in 2013 to pursue charitable goals to honour the philanthropic spirit of Daniel Swarovski, who founded the crystal business in 1895. Since then, five generations of the Swarovski family have reinforced the company's commitment to philanthropy and charitable giving. The Swarovski Foundation's mission is to build on this heritage by supporting charitable initiatives and organizations working in three areas.
Fostering Creativity and Culture by promoting the arts, advancing education, supporting cultural institutions and innovative projects with cutting edge talent; Promoting Wellbeing, supporting initiatives on women's empowerment, access to health and education and assisting the advancement and development of young people and communities; and Conserving Natural Resources through water sustainability and environmental projects to promote the conservation, protection, and improvement of the physical and natural environment. The Swarovski Foundation Board of Trustees is chaired by Nadja Swarovski.