You are here:
#SheInspiresMe Car Boot Sale 2022
#SheInspiresMe Car Boot Sale 2022
Thank you for joining us for the chicest car boot sale ever!
On Saturday 14th May the doors opened to Selfridges car park for the #SheInspiresMe Car Boot Sale. With a superstar line-up of 25 boots, this really was the chicest car boot sale ever. So far we have raised over £240,000 to support women survivors of war.
If you are interested in taking part in the next #SheInspiresMe Car Boot Sale, please contact Head of Special Events & Philanthropy, Zoe at zelliott@womenforwomenuk.org to find out more.
THANK YOU
THANK YOU SO MUCH TO EVERYONE WHO MADE THE #SHEINSPIRESME CAR BOOT SALE 2022 POSSIBLE
#SheInspiresMe Car Boot Sale Committee
Alex Eagle, Alexandra Smet, Alice Temperley, Anna Jones, Basma Khalifa, Charlotte Olympia, Daniela Agnelli, Eshita Kabra-Davies, Eugenie Niarchos Heta Fell, Hikari Yokoyama, Indre Serpytyte, Jasmine Hemsley, Jeannie Lee, Joanna Payne, Lisa Smosarski, Mafalda Borea, Maria Kastani, Maureen Tadros, Mimma Viglezio, Miranda Almond, Niomi Smart, Noor Fares, Philomena Kwao Pippa Vosper, Sandra Choi, Tiphaine de Lussy, Yana Peel, Zara Martin, Zeena Shah, Zoe Kuipers
All the wonderful booters, brand and individuals who have generously supported us
111SKIN, Adriana Degreas, Alexander McQueen, Alice Edwards, Anya Hindmarch, Bamford, Burberry, By Rotation, Cambridge Satchel Company, Camilla Lowther, Candice Lake, Catharine Alen-Buckley, Chanel, Charlotte Chamberlin-Taylor, Charlotte Tilbury, Chinti & Parker, Coach, Cordelia Groes, Daisy Hoppen PR, Dame Helen Mirren, Dancing Leopard, Deanne Oliver-Evans, Dr. PAWPAW, Electric Sunshine, Elizabeth Saltzman, Emma Woolley, Ernest Leoty, Fabric PR, Figgydoo, Flora Huddart, Florence Godsell, FRAME, Gillian Anderson, Grace Burt, Hunza G, Jane Carr, Jenna Coleman, Jenny Packham, Jimmy Choo, Kate Groes, Kate Spade, Katie Hillier, L.K. Bennett, Laura Bailey, LUCA & LUCA, Lucid, Maeve, Manolo Blahnik, Margherita Missoni, Marguerite, Marie-Chantal, Maxime Fisher, Mini Rodini, Mint Velvet, Molly Goddard, Nails Inc., Naomi Denziloe, Neal's Yard Remedies, Needle & Thread, Nicole Degreas, Olivia von Halle, OSKIA, Pepa & Co, Perihan Bassatne, Pippa Harris, Rainbowwave, Reformation, Rejina Pyo, RESELLFRIDGES, Riley Studio, RIXO, Romilly Wilde, Rosie Huntington-Whiteley, Rupert Sanderson, Sandy Campbell, Sara Blonstein, Sarah Harris, Selfridges, Serena Bute, Simone Rocha, Skye McAlpine, Slip, Something Borrowed, Sophie Goodwin, Sophie Turner, Strathberry, Stylist, Swarovski Foundation, Temperley London, THE OUT, THE OUTNET, The Vampire's Wife, Venetia Berry, VILD House of Little, Weekend House Kids, Winser London, Yalea Eyewear, Yasmin Sewell, YOLKE, Zoe Communications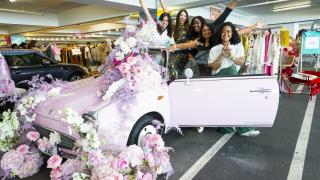 This is not your average Car Boot Sale
This year's #SheInspriresMe Car Boot Sale welcomed 1,500 shoppers to Selfridges car park to shop 25 fashion and beauty car boots!
MEET OUR HOST
Alex Eagle is an Ambassador and trailblazer for Women for Women International. She has championed the #SheInspiresMe Car Boot Sale from the beginning and is instrumental to the success of the event.
Alex is driven by a fascination for timeless objects and fashion that eschews trends, rather focusing on provenance and expertly crafted design. Honed by a career spanning magazines and fashion PR, Eagle's eye and passion for original and masterfully made items has created the distinctive ethos of the Alex Eagle Studio.
WITH THANKS TO OUR SPONSOR