You are here:
#SheInspiresMe Wellness
#SheInspiresMe Wellness
Women for Women International hosted our very first celebration of wellness on Saturday 20th March kindly supported by imayla beauty. The all-day event featured 18 sessions created by 25 wellbeing experts including inspiring talks, workshops and strength-building workouts. #SheInpsiresMe Wellness left attendees feeling strong, inspired, re-energised and empowered!
100% of the proceeds from ticket sales went directly to support our work with women survivors of war.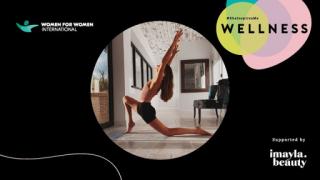 18 workshops, workouts and masterclasses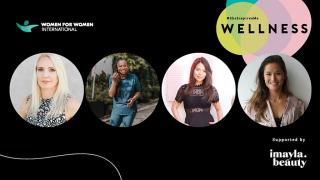 25 wellbeing and fitness experts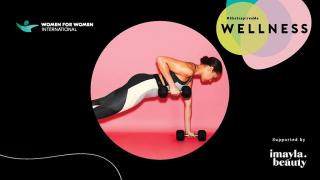 Everything you need to know
THANK YOU
Thank you to our fabulous line-up of wellbeing and fitness experts
Adrienne Herbert, Alex Eagle Sporting Club featuring: Amy Nelms founder of Flatiron Pilates x Alexandra Agoston; Bodhimaya; Ester Lim & Nathalie Harrison, AllBright, Chloe Brotheridge, DanceBox, Detox Kitchen, Emma Obayuvana x Stylist Strong Women Training Club, Jasmine Hemsley, Jo Manoukian, Kimberley Wilson, Michael James Wong founder of Just Breathe, Niomi Smart, NRG barrebody, Poppy Delbridge, Rachael Morley & House of Wisdom Style Me Sunday, Zeena Shah.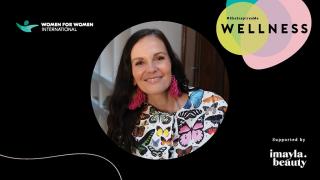 Our host
Change-maker and author of 'Fears to Fierce' Brita believes that every woman has a fierce power to fulfil her dreams. She coaches women to help them transform their lives by awakening, and acting on, the power they have within. Brita is an advocate and promoter of women's power, women's rights and equality. She is also a firm believer in taking time out for wellness!
What is #SheInspiresMe Wellness?
#SheInspiresMe Wellness was our very first all-day online festival, designed to restore mind, body and spirit. Tickets gave access to over 15 talks and masterclasses across the whole day. We cherry-picked the very best health, wellbeing and fitness experts to create excusive content just for you. The online sessions were split across two virtual rooms -  'Inspiration' and 'Strength'.
INSPIRATION ROOM
Designed to offer some solace in uncertain times and wintry days. From a sound bath to a cook-along to a guided meditation, these uplifting and restorative sessions promised a renewed sense of wellbeing.
STRENGTH ROOM
Our pool of experts taught us how to channel our energy positively, empowered our minds, boosted our confidence and built physical fitness through exercise. From dance workouts and Pilates to strength-based weight training, these uplifting sessions left us with a smile and a spring in our step.
SUPPORTED BY
Empowering individualism through clean makeup and skincare.