You are here:
#SheInspiresMe Wellness: Meet Our Speakers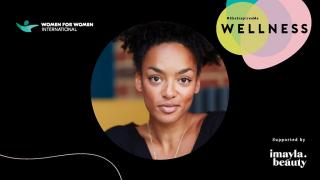 Adrienne Herbert
Wellness expert, international TEDx speaker, podcast host, author and marathon runner Adrienne will motivate you to make the most of your day. Join Adrienne as she shares tips on how to reclaim your morning, achieve goals, improve mindset and focus on purpose!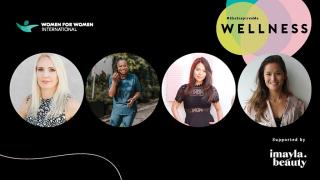 AllBright
Join AllBright co-founder, Anna Jones as she meets three female leaders to examine how we can safeguard and optimise our wellbeing and overall happiness at work. Joining Anna will be Olivia Ferdi, founder of Trip; Nicky Bamgbade, certified personal trainer; and Mo Seetubtim, CEO of The Happiness Planner.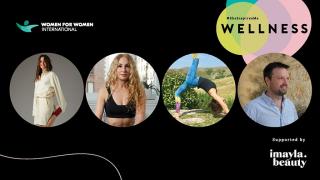 Alex Eagle Sporting Club
Alex Eagle Sporting Club presents a Reset Hour of Pilates, yoga and meditation. Women for Women International ambassador Alex Eagle introduces Amy Nelms, founder of internationally-respected Flatiron Pilates, with supermodel Alexandra Agoston; Ester Lim who has taught yoga for 30 years all over the world from Ibiza to Madagascar to Triyoga in London; and founder of Bodhimaya retreats, Cornelius O'Shaughnessy, will close the hour with a mindful meditation.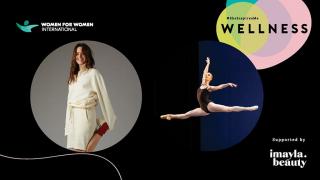 Alex Eagle Sporting Club
English dancer Nathalie Harrison has been a First Artist of The Royal Ballet for the past 18 years. Women for Women International Ambassador Alex Eagle will introduce Nathalie who will teach classic ballet technique to improve coordination, flexibility, posture and strength.
BRITA FERNANDEZ SCHMIDT
Change-maker and author of 'Fears to Fierce' Brita believes that every woman has a fierce power to fulfil her dreams. She coaches women to help them transform their lives by awakening, and acting on, the power they have within. Brita is an advocate and promoter of women's power, women's rights and equality. She is also a firm believer in taking time out for wellness!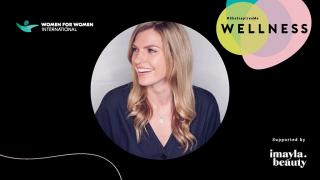 Chloe Brotheridge
Join hypnotherapist, coach, author and host of 'The Calmer You' podcast Chloe Brotheridge for a calming hypnotherapy session designed to leave you feeling more relaxed and full more confidence.
DanceBox Power House
Illana Gambrill is a professional dancer and has been teaching for over 10 years. She believes that teaching people how to move with music makes people remember who they are and move confidently through life! Join Illana for this empowering DanceBox Power House!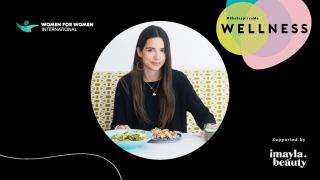 Detox Kitchen
Eat. Feel Good. Repeat. That is the philosophy of Detox Kitchen. Detox Kitchen believe that the food we eat can have a powerful effect on our health. Join founder Lily Simpson for this cook-along. See you in your kitchen!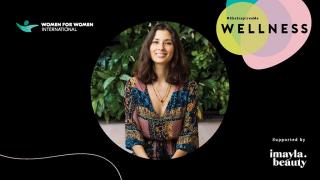 Jasmine Hemsley
Women for Women International Ambassador Jasmine Hemsley is a best-selling author, chef, wellbeing expert and the Founder of East by West. Jasmine uses her platform to promote a 360-degree approach to health and encourage a return to a simpler, more mindful way of life. Jasmine is leading a guided sound bath meditation. Get cosy and get relaaaaaxed.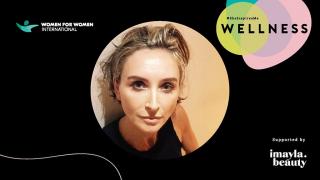 Jo Manoukian
Conscious of the lack of confidence that can accompany participation in a "dance class", Jo's philosophy will instead leave you feeling energised and empowered. As Jo says "Let's not dance, let's instead consciously inhabit our bodies using movement and music. I want to share the powerful and positive feeling when you use your body as a vessel for expression and release."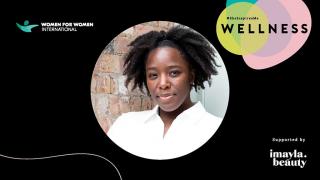 Kimberley Wilson
Kimberley Wilson, Chartered Psychologist, author of How To Build a Healthy Brain and former Bake Off finalist, will be sharing practical tips to ease anxiety and improve mental strength. With a nutritional focus, Kimberley will bring you everything you need to build a healthier brain and a stronger mind.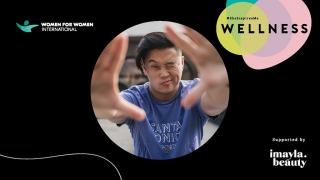 Michael James Wong
Michael James Wong, founder of Just Breathe, is a leading voice in the global movement for modern mindfulness, a community activist, yoga and meditation teacher, speaker and author. Used to bringing together more than 1,000 people for mass meditations, Michael will share his personal stories, guidance, and techniques to guide you through this mindful meditation.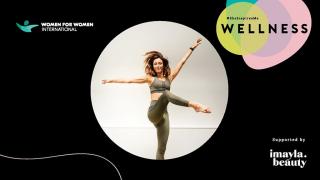 Nathalie Errandonea-Mewes
Nathalie Errandonea-Mewes is a former classically-trained dancer and founder of NRG barrebody. Nathalie's class will help you improve strength, stability, and better alignment. Get ready for high-intensity yet low-impact class that will leave every muscle feeling energised!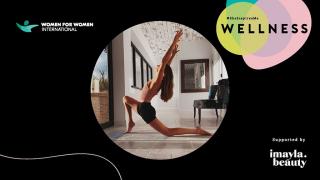 Niomi Smart
Women for Women International Ambassador Niomi Smart will lead this calming vinyasa yoga class. As a wellness and lifestyle content creator, best-selling author and founder of Smart Skin, Niomi inspires a global audience of more than 4.6 million people to look, live and feel better.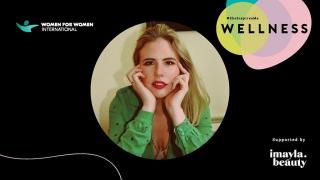 Poppy Delbridge
Creative businesswoman, success mentor and founder of RAPID TAPPING® Poppy Delbridge is passionate about activating positive emotional change. Poppy will lead this masterclass in Rapid Tapping, named as the top wellbeing trend for 2021 and featured in the Sunday Times Style for clearing emotional blocks.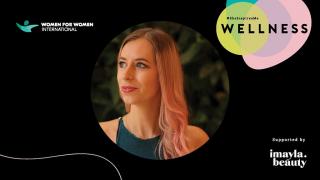 Rachael Morley & House of Wisdom
Rachael Morley is a Herbalist, Meditation Teacher and an Intuitive Guide at the House of Wisdom. Rachael's session will provide an immersive experience connecting you back to your own natural energetic rhythm through visualisation, sound, and Reiki. This allows the body to go deep into a state of rejuvenating rest.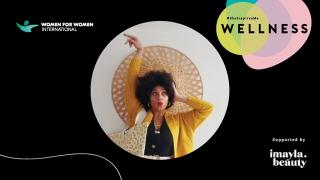 Style Me Sunday
Digital creator Natalie Lee, aka Style Me Sunday, is a big advocate of encouraging women to feel comfortable in their skin and likes to stick a middle finger up to society's standards and norms. Natalie will be hosting a journaling session to provide space to take some time for yourself, reflect and unlock the power of writing to gain clarity and focus.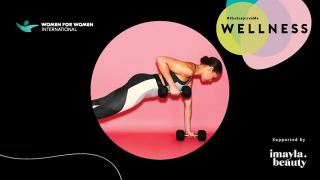 Stylist Strong Women Training Club
Get your endorphins flowing with a 30-minute strength training class designed to give you a full body workout while relieving stress and boosting motivation. Join Strong Women trainer Emma as she takes you from warm up to cool down in this session that will introduce you to the benefits of strength training.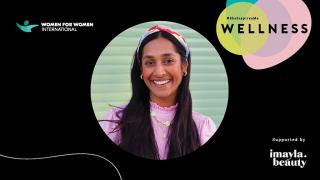 Zeena Shah
Zeena Shah is an East London based Art Director & Stylist. Author of How to Print Fabric and the Lifestyle Blog Heart Zeena, where she shares her passion for a colourful OOTD and her equally colourful interiors addiction. Zeena is a colourful content creator inspiring colour positivity and joy! She will inspire us to have fun and get creative at home during her Mindful Crafting workshop.
SUPPORTED BY
Empowering individualism through clean makeup and skincare.