You are here:
Daniella - DRC
My name is Daniella
Daniella has always dreamt of owning a tailoring workshop, but for years she didn't have the skills or the start-up money. Since completing our programme, Daniella has turned her dream into a reality.
Before joining the Women for Women International's Stronger Women, Stronger Nations programme, I used to work in the fields every day. Most days I started work at 5am and returned home at 3pm. But the only time I could generate some income was at harvest time, which is only twice a year. Life was not easy at all.
As a farmer, I could not support myself – I could only cover my basic needs. I knew it would be almost impossible to reach my dream of opening a tailoring workshop to generate enough income to allow me to move out of my current family home, into my own house.
I always dreamt of having my own tailoring workshop.
I heard about Women for Women International from other women in our community who were part of the training programme. I saw how their lives changed, and these changes inspired me to join.
After obtaining my certificate from Women for Women International, I started practicing what I learned from the programme - tailoring.
I rent a space with a group of women I met in training and we work doing tailoring. I am also involved in a savings group which we formed during the programme.
Through my participation in the Stronger Women, Stronger Nations programme, I have more friends to share my personal problems with. There are members of my group who I consider as sisters. Whenever I have a problem or when they have a problem, we meet outside our regular meetings, in private, to discuss and support each other. When I gave birth, they came to the maternity ward to visit me and helped me pay the transport home.
My future is assured because I have just opened my tailoring workshop last month and started applying the knowledge gained from both vocational training and in the participants' support group. I have started generating some revenue which is helping me to feed my family.
I believe in a bright future.
Now, I am achieving one objective which is to own a tailoring workshop, and I will keep working hard to increase my income revenue. Also, I hope one day to be a trainer and to inspire other women in the community.
Women for Women International's work in the Democratic Republic of Congo is generously supported by players of People's Postcode Lottery.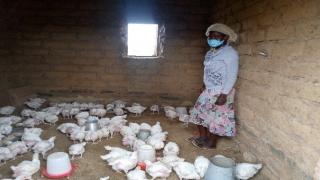 Aged 31, mother of 3 and now a proud farmer and business owner - this is Josephine's story of success and self-reliance. She shared: "I am grateful to Women for Women International for reviving my hope from a very unclear path and putting me on the path of growth."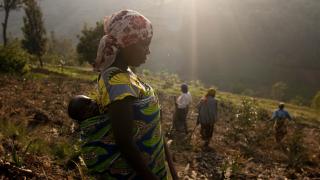 There are many young girls who come from my village who are rape victims. When they come I try to encourage them, telling them "You still have life, one still has value." I tell them that they should hope for the future.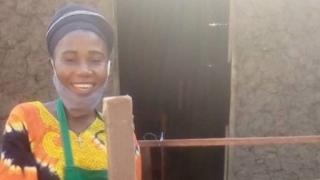 24 years old, proud mother, leader and trainer – Marie is changing the way her community treat people with physical disabilities, one soap bar at a time.