You are here:
Your Meaningful Holiday Gift Guide
The spirit of giving back during the holiday season rings true more than ever this year.
This holiday season, treat your loved ones (and yourself!) to gifts that have the power to transform lives. We've put together a list of meaningful gifts for our global sisterhood that donate a percentage to our work with women survivors of war. There's something for everyone!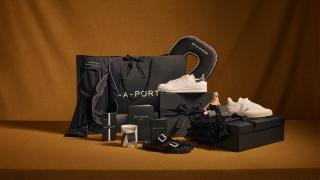 NET-A-PORTER
Our incredible partner NET-A-PORTER has teamed up with designers including Jason Wu, Smythson and Veja to create an exclusive collection, with 20% of profits donated to our work helping women living in some of the world's most dangerous places.
NET-A-PORTER will also be supporting us with 100% of profits from their very own branded masks and a bespoke Instagram Stories filter. Every time the filter is shared via Instagram, £1 will be donated to our vital work. Stay tuned for more information!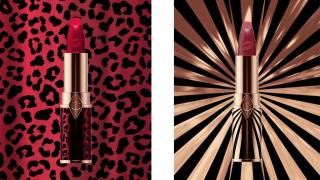 Charlotte Tilbury
Charlotte Tilbury's #HotLips 2 collection is the perfect gift: with 11 nuanced shades inspired by 11 icons, there is a shade for everyone! By purchasing a #HotLips 2 lipstick, you will not only spread #LIPSTICKCONFIDENCE but also support the women we serve.
In 2019, Charlotte Tilbury pledged a life-changing £1 million to our work with women survivors of war. Shop with Charlotte Tilbury to give back this holiday season!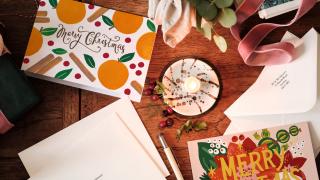 Papier
We are delighted Papier is once again supporting the women we serve this holiday period by donating 5p from every Christmas card sold.
Share messages of festive cheer whilst supporting our work helping women survivors of war rebuild their lives.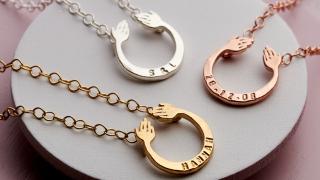 Posh Totty
Inspired by Posh Totty founder Alice's visit to meet women survivors of war in Kosovo, the beautiful Share A Hug collection is a thoughtful gift for a loved one.
You can show someone how much they mean to you by personalising the Share A Hug necklaces and bangles!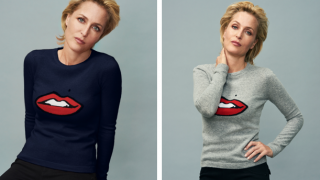 Winser London
What better way to keep warm this winter than by treating yourself to a cosy cashmere blend jumper? With an iconic design of our wonderful Ambassador Gillian Anderson's lips, this chic jumper by Winser London will also help to transform a life.
20% of net sales will be donated to our work helping women build a better future for themselves and their families.
By Malene Birger
A warm and comforting knitted blanket is a must have in any home! Why not choose a blanket that gives back? Danish brand By Malene Birger is supporting the women we serve by donating 100 DKK/£12 from the sale of the blankets to Women for Women International.
Keep an eye out, the blankets will launch on 29th November for a limited time only!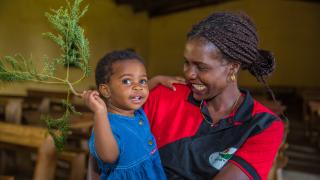 Give the Gift of Sponsorship this Holiday Season
As we face the possibility of a holiday season in lockdown, you might not be feeling very festive this year. Which is exactly why sharing a connection and a dose of kindness wherever we can is more important now than ever.
This festive season give your loved ones something unforgettable and help to change the life of a woman survivor of war at the same time.
For £264 you can sponsor a woman in honour of someone special to you. Over the course of a year, your loved one will be able to form a connection that transcends continents by sharing messages of support with their new 'sister', as she learns the skills to rebuild her life through Women for Women International's 12 month training programme.
At a time when we are all feeling more isolated than ever, your gift will send a powerful message of support, letting a woman survivor of war know she is not alone. Thanks to your kindness we can make next year both life changing and life saving!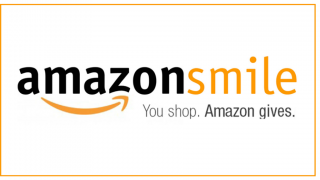 AmazonSmile
If you are thinking about buying your festive presents from Amazon UK, why not switch to AmazonSmile? Just sign in as usual and then choose Women for Women International as your selected charity. We receive a 0.5% donation from the price you pay, at no extra cost to you.
Give As You Live
Alternatively, you can shop with Give As You Live at over 4,000 stores (Boots, John Lewis, ASOS, M&S, Booking.com and more) and raise free funds for women survivors of war with your everyday shopping. Simply choose Women for Women International as your charity of choice when you sign up, then get online shopping.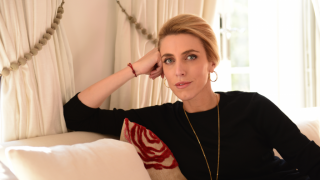 We are thrilled to announce Clarissa Ward, CNN's chief international correspondent, as our newest Ambassador. Here she shares her advice for staying connecting and using your voice to create change.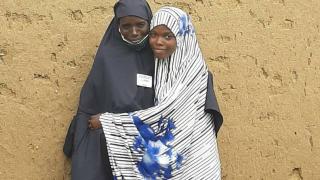 Every woman has the power to transform her own life — and the lives of girls around her. On International Day of the Girl Child, we are spotlighting the barriers to equality facing girls in Nigeria and the women working to clear the way.
This month, students across the UK are returning to the classroom after the long COVID-19 shutdown – and in the conflict-affected countries where we work, women are also being reunited at our training centres after months apart. In Iraq participants enrol in online classes as COVID-19 lockdowns continue.