You are here:
Back to school, with a difference
Participants in Iraq enrol in online classes as COVID-19 lockdowns continue
This month, students across the UK are returning to the classroom after the long COVID-19 shutdown – and in the conflict-affected countries where we work, women are also being reunited at our training centres after months apart.
With national restrictions gradually being relaxed, we've been able to resume in-person training in most areas. Our classrooms may look slightly different – with social distancing, face masks, and handwashing stations in place to protect our programme participants and trainers – but the supportive group atmosphere is just the same, and it is proving more important than ever.
For women struggling with increased financial hardship and emotional stress caused by the pandemic, coming back to class and being face-to-face with their friends again has been a powerful boost to morale. It is also an opportunity for women to continue building vital skills for income generation and saving, access information and resources for issues such as domestic violence and mental health, and restart advocacy activities to help their communities build back stronger after COVID-19.
However, in the Kurdistan Region of Iraq, it's a very different story. After a recent surge in COVID-19 cases, which is overwhelming the national healthcare system, strict lockdowns have been reinstated – dashing our participants' hopes for a return to face-to-face training.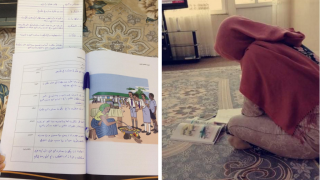 Online classes
Despite these challenges, lessons are continuing using mobile technology. In contrast to many other countries where we operate, in Iraq the majority of our programme participants have smartphones and internet access. Our team have adapted their usual face-to-face curricula and materials for the online environment, creating audio recordings of lessons which can be shared via messaging apps such as Viber and WhatApp, allowing women to follow along at home. Staff have also distributed handbooks for both the economic and social empowerment curricula, with infographics, written exercises and activities to enhance learning.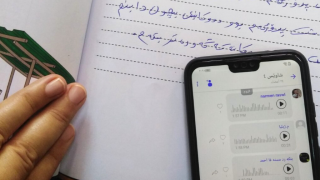 Using mobile phones
Our trainers share audio recorded lessons via mobile phone so that women can learn at home, in their own time. This participant is taking part in a business skills class. In her handbook, she has written about her proposed project. She wants to open a shop with her mother in order to earn a profit and support her family. She writes about her plans to expand the business in the future.
Continue reading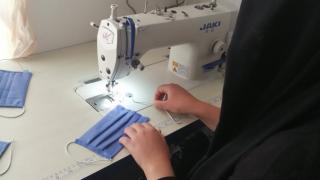 Women for Women International is responding to the COVID-19 crisis by helping the world's most vulnerable women survive. As the current situation forces many people into isolation, our global community is steadfast in our mission to support women. Across our country programmes, all of our in-person trainings were temporarily suspended to protect the health and safety of women we serve and our staff, and in compliance with government measures.