You are here:
Working Together for Change: Men Supporting Women
Men and women working together is the only way to change the traditions and social norms that discriminate against women and restrict their freedoms.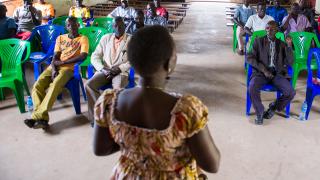 Accelerating gender equality requires breaking the silence on unacceptable norms. It is essential that women have the tools to stand up for themselves, their sisters and their daughters. Our Stronger Women, Stronger Nations programme teaches women to understand their rights, while also equipping them with the skills to stand up for them – for what they need, deserve and believe in. But women can't do it alone – especially in some of the world's more conservative communities.
While men still hold too much of the power, ending gender-based violence and achieving gender equality will only be possible when more men stand up and support what's right. We have seen this in the communities we work with. Where our Men's Engagement Programme is delivered, complementing our Stronger Women, Stronger Nations programme, the women we work with have higher class attendance rates and increased value as decision-makers within the family.
#ItsNotOK in Nigeria
No country has yet achieved gender equality, but depending on where in the world you are, the issues facing women today will be different.
This year for 16 Days of Activism Against Gender-Based Violence, a worldwide campaign that begins on the International Day for the Elimination of Violence against Women (25th November) and runs until World Human Rights Day on 10th December, we ran a global campaign to say #ItsNotOK to normalise violence against women.
As part of the campaign, our staff, programme participants and international community shared pictures of themselves completing the sentence "It's not okay…". From our team at Women for Women International – Nigeria, these statements included:
"It's not okay to applaud harmful traditional practices against women"
"It's not okay to force young girls into marriage"
"It's not okay to deprive women from earning a living to transform their lives!"
"It's not okay to deny girls their right to education"
"It's not okay to deny women antenatal care"
Our team in Nigeria train the women in our programme to understand these rights, how they are protected by the law, and how best to realise and defend them. This helps the women survivors of war we work with to rebuild their lives, to support their families - including protecting their daughters - and to improve the lives of other women in their communities. 
Nigeria's Bauchi State is one of the regions where we run our Men's Engagement Programme, educating men to understand women's issues and teaching them to be supporters of and advocates for the women and girls in their lives.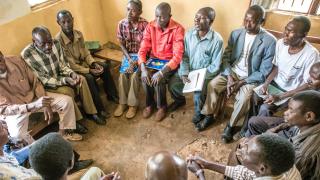 Because we work with different communities around the world, our programme differs slightly place to place. The details depend on the culture of the community, the laws in place and the issues that women are facing. In Bauchi State, Nigeria, men's training covers a whole host of issues, led by our social and economic empowerment trainers, and also bringing in some of the more vocal women within the community to share their experiences directly.
According to some of the women who joined a group recently, the most important issues discussed during these sessions included: the role of men in combatting rape in their community, widows' rights to inheritance, girl-child education, how to seek redress when rights are violated, the role of both parents in homemaking and discipline in the family. Both the men and women shared ideas on how to complement each other's weaknesses for better relationships in the home – and, importantly, for the overall growth of their community.
'Voice of the Male Champions'
Across our men's engagement activities in Nigeria, as well as in Afghanistan and Eastern Democratic Republic of Congo, men were 80% more active in supporting women's rights at graduation compared to enrolment. More men have also reported developing dialogues in communities that bring men and women together to make decisions and create joint solutions.
This summer, graduates and current participants in our men's programme engaged male listeners over the radio, creating a programme dubbed 'Voice of the Male Champions'. They shared their learnings and experiences alongside select experts from various sectors, discussing vital issues around tackling gender-based violence and women's participation in social and economic activities. They invited legal practitioners, doctors, religious and traditional leaders to address those tuning in to listen and add their voice to the conversation.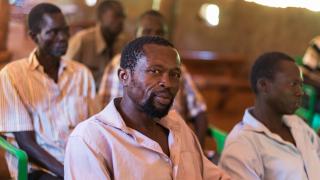 Presenting on the radio programme, a current participant shared that even though he hadn't had the opportunity to extend his education beyond primary school, the Men's Engagement Programme challenged him to believe in education for his children – boys and girls. He said:
"I don't just keep this knowledge to myself, I and my group which consists of four other participants encourage other men during our evening hangouts on the need to pay attention to their children's education, specifically the girl.  We will continually sensitize men on the importance of girl education."
Others encouraged parents who were listening in to keep their girls in schools to help reduce their risk of facing rape, and to increase economic stability within the home and the community.
Our team at Women for Women International – Nigeria reported that the topics covered were extremely informative.
A standout issue was the lack of awareness of a State law prohibiting the withdrawal of girls from primary or secondary school. This law has been in place since 1985, but many listeners, including a headmaster, weren't aware that it existed. Now, he will be able to enforce the retention of girls in school with the weight of the law behind him – protecting girls from early marriage, which is all too common in the community.