You are here:
We all are connected around the world - Messages of Hope from Iraq
Zina  
"I am wishing you good health and hopefully your country will be free of coronavirus soon and your normal life will resume. So far I have learned a lot form the classes including valuing and respecting each other, it gave me a chance to be able to get out of my house, the lockdown has been difficult on me to be away from my friends and the wonderful trainers." 
Khanzad  
"Thank you so much for supporting me, during the lockdown I was making flowers for cloth decoration. I am very happy because I am a participant in this programme. I am wishing you never ending happiness because you make us happy." 
Jawahir 
"Before this programme my life was staying at home, looking after my husband and children. I had very limited social connections, but after joining this programme, my social network expanded, I have learned a lot of things such as how to manage household finances, save money for emergency also how to solve problems in order to keep my family a happy one. I am asking God to protect you and your family from this virus and look over you."   
Read More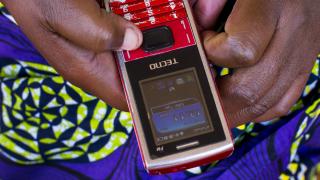 Due to the coronavirus crisis, many of the women we serve have had to stay at home, unable to make money for their family and attend training at Women for Women International. Our team knew that these women would still need support, so they looked to mobile phones for solutions.