You are here:
Connected Without Contact
From the Classroom to the Community
The coronavirus pandemic has meant that women in our programme could not meet for in-person trainings. Despite this, we have seen how they carried the lessons learnt and friendships formed out of the classroom to protect each other and their community. No one knows how to do this better than graduates of our training programme, who have also taken the courageous step of putting their knowledge, skills, and connections into practice.
As bad news about COVID-19 poured into our country offices, good news from graduates gave us hope. Women who have realised that they have power are using it to keep their communities safe and healthy.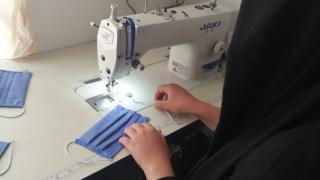 Mobilising for masks in Rwanda, Bosnia & Herzegovina and Iraq
In Rwanda, one of the earliest countries in Africa to report cases of COVID-19 along with one of the strictest lockdowns, graduates at the Women's Opportunity Centre mobilised to make masks.
Across the world, masks became a valuable resource. Recognising the need for its own people, the Rwandan government worked to find and collaborate with producers who could make reliable masks that met safety standards. The Women's Opportunity Centre stepped up and joined the government effort.
Tailoring is a popular vocation across country programmes. Women learn to stitch a future for their families. Now, they are sewing a shield to protect their communities from disease.
In Bosnia & Herzegovina, graduate sewing groups were among the first to take action. Masks they made went to many people on the frontlines of coronavirus: hospital workers, police officers, local government workers. They also shared masks with those most vulnerable, such as the elderly – and anyone else who might need them.
We've heard similar stories from Iraq. Entrepreneurs who graduated from our programme and secured start-up capital to invest in a tailoring business are also sewing and donating masks to their community.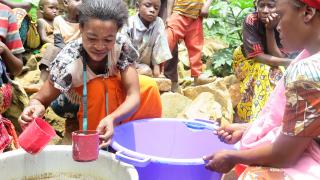 Soap and Solidarity
Hygiene and handwashing also play important roles in defending against disease.The looming threat of Ebola in the Democratic Republic of the Congo prepared our team to deal with infectious disease and to equip participants.
Soap-making is a popular and critically important vocational skill for participants in the DRC. Like many of the places where we work, conflict has decimated health care systems, making prevention crucial to women's safety and health. Women stepped up their soap production, with support from our teams, and shared them with other participants and graduates to protect each other.
Local Leaders
Women are more than just protectors: they're leaders. Change Agents in Nigeria are leading the fight against misinformation around the disease and educating their community about coronavirus and its prevention. As experts on what women need to know, they met with the deputy chairman of Pankshin.
The local government saw the power and benefit of having leaders trained in advocacy and invited the Change Agents to join a committee of representatives from the ministry of health, traditional and religious leaders, and Hausa-Fulani herders.
Change Agents travel to different districts. After a visit to the house of each district's head to drop off flyers about coronavirus, Change Agents use a truck with a mounted loudspeaker to broadcast information about the pandemic. They also dismount to demonstrate and educate people about social distancing, handwashing, and wearing face masks to contain the spread of disease.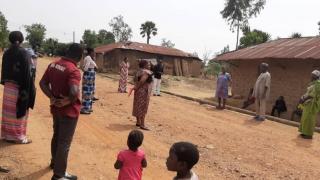 From mask making to soap production to leadership, participants and graduates of Women for Women International show that the bonds women form in the programme go beyond the classroom. Their connections hold even across social distancing to create networks that protect and support each other and their communities during crisis.