You are here:
The Importance of Counting Our Sisters in the Global Goals: Top 10 Highlights
Women for Women International is committed to increasing the visibility of the most marginalised women affected by conflict. But we know that their realities and experiences are unlikely to be captured in official, national-level data.
Without data on the realities and experiences of some of the world's most marginalised women survivors of war, it is hard to have a full and clear picture of our collective progress on the UN Sustainable Development Goals (SDGs) - or to develop a nuanced understanding of where further investment is needed. 
Since 2017, we have been publishing our annual monitoring and evaluation data on how our work aligns with the SDGs. By making our analysis of this data publicly available, we highlight the realities for women before they enrol in our year-long programme, as well as the progress they have made by graduation. Sharing data that spotlights the experiences of the most marginalised women is essential for increasing their visibility. 
Working within the framework of the SDGs, our data also powerfully demonstrates how tracking progress towards gender equality, particularly in conflict settings, requires measuring changes across a range of indicators - including food security, income, employment, perceptions, attitudes and social norms.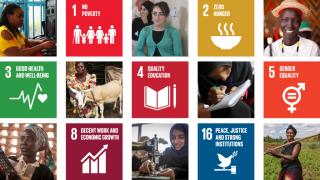 Read our top ten highlights from our 2020 data:
1. Investing in women and their resilience can prevent food and economic insecurity.
In Rwanda, 99% of graduates of our programme reported saving a portion of their earnings, compared to 59% at enrolment. Upon graduating from our programme, 68% of women in Rwanda reported having sufficient food supply in their homes over a period of four weeks - this increased from 33% at enrolment.
2. The number of women saving a portion of their earnings in our programmes in Afghanistan increased from just 1% at enrolment to nearly half at graduation – 44%.
3. Across Nigeria, Rwanda and the Democratic Republic of Congo (DRC), over 96% of graduates reported saving a portion of their income.
The percentage difference between enrolment and graduation in these countries emphasises the value of investing in the power and resilience of women.
4. Our findings highlight the impact of integrating gender into efforts to improve food and financial security.
Taking a holistic gender-transformative approach to the SDGs is fundamental for their implementation.
5. Our findings in Iraq emphasise the importance of context-specific approaches to women in fragile and conflict-affected countries.
We saw a decrease in savings among women in Iraq. 31% reported saving a portion of their earnings at enrolment, but this fell to 21% at graduation. This decline is partly due to the financial pressures of COVID-19.
Context-specific approaches must respond to the unique needs of women who are affected by conflict.
6. Despite positive changes from enrolment to graduation, the relative portion of women facing food insecurity at enrolment has significantly increased in the DRC from 2017 (18%), 2019 (47%) to 2020 (91%).
The heightened food insecurity in the DRC emphasises the need for context-specific analysis of COVID-19's secondary impacts.
7. There is a disconnect between women's perceived self-efficacy, which has consistently improved, and their ability to speak out publicly against violence.
A woman's perceived self-efficacy is her self-confidence and agency, her belief in herself, her ability to succeed and negotiate, and her ability to make decisions about her own future. This consistently improves for women in our programme.
Despite this, in the DRC, Iraq, Afghanistan and Nigeria, women's ability to speak out publicly against violence remains at less than 25%. This is unsurprising. We know that achieving gender parity and ending violence against women requires more than placing the burden on women alone to speak up - it also requires us to address the harmful social norms and patriarchal legal and political systems that normalise violence.
8. Women create more opportunities to listen to each other following our programmes.
In all of the countries we work in, our programme showed significant progress from enrolment to graduation in encouraging women to discuss community issues with each other.
In 2020, these percentage increases ranged from 46-55% in Rwanda, 75-93% in Nigeria, 41-58% in the DRC, 8-31% in Afghanistan and 51-52% in Iraq.
9. Girls' education remains a priority for Afghan women.
A relatively high portion of women report that girls are enrolled in and attending school (39-49%) in comparison to other SDG metrics. This must remain a priority.
10. The enrollment data from our programme in Afghanistan about financial earnings, savings (1-3%) employment (4-8%) and speaking out against violence (2-8%) remains lower than in the other countries where we run our programme.
We cannot give up now on sustaining Women for Women International's holistic programming for these Afghan women who – no matter the crisis – are clearly invested in making changes to grow their self-efficacy and overall welfare.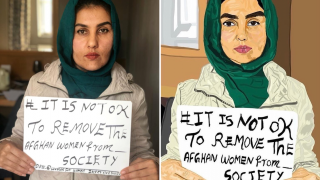 Latifa Faqirzada worked for Women for Women International - Afghanistan for nearly four years. With the help of the UK government, she left Kabul in August 2021 during the final days of the US/UK troop withdrawal. She is currently residing in London and advocating for the women who remain in Afghanistan. This blog is her personal story.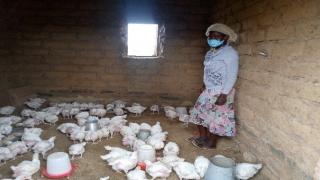 Aged 31, mother of 3 and now a proud farmer and business owner - this is Josephine's story of success and self-reliance. She shared: "I am grateful to Women for Women International for reviving my hope from a very unclear path and putting me on the path of growth."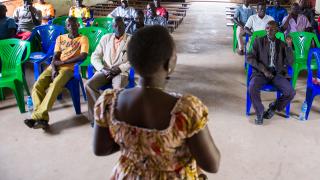 Accelerating gender equality requires breaking the silence on unacceptable norms. Women must have the tools to stand up for themselves, their sisters and their daughters. But women can't do it alone – especially in some of the world's more conservative communities. Men and women working together is the only way to change the traditional and social norms that discriminate against women and restrict their freedoms.