You are here:
How sponsoring a woman survivor of war changed my life
Building a personal connection with my sponsor sister, Amela, became a source of strength for me
Almost ten years ago, in 2009, I sponsored my first woman through Women for Women International's year-long training programme. Her name was Amela. I remember receiving her photograph in the post. I instantly felt a connection – a sense that, although we had vastly different life experiences, we might be friends.
We exchanged several letters over the course of the year, as Amela took part in the training programme. She told me about the skills she was learning, how they were helping her to start her own business and earn an income to support her family. She told me about the new friendships she was making with the women in her class – they shared their problems and were always willing to help each other out.
The women behind the news stories
Inspired by her first sponsor sister, Amela, and the resilience of the women in our programme, Brita talks about our work with women survivors of war and how we all have the power to reach out and connect with women.
As she prepared to graduate from the programme, Amela wrote to me:
She told me she had used some of her savings to buy tulip seeds to plant in her garden, so she would always remember me.  
Amela inspired me, and gave me hope – she was incredibly hard-working, determined, and optimistic about the future. I knew she would achieve her dreams, and I felt so lucky to be able to help her on her way and be a small part of her journey. Over the years, I have often wondered how she was doing. 
A few weeks ago, I found myself standing at Amela's front door. I was in Bosnia to visit Women for Women International's sister organisation, Zene za Zene. My colleagues had managed to track Amela down, and she invited us to her house for tea. After almost a decade, we were going to meet face to face.
The door opened, and I recognised Amela instantly from the photograph I received all those years ago. We hugged – both in tears – before sitting down on her porch to talk, with the help of a translator. I could see the tulips in her garden – she told me they still bloom every year, a colourful reminder of our friendship.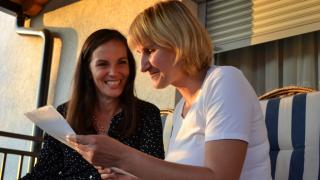 When I signed up to sponsor a woman, I saw it as a chance to make a tangible change in someone's life. I knew that my contribution of £22 a month was giving Amela the opportunity to take part in the training programme – and to hear about the impact of it in her own words was such a privilege.
However, what I didn't expect was how my connection with Amela would enrich my own life and change my perspective on the world. She taught me that you can love someone without meeting them, and that we truly have more in common than the things that divide us.
Right now, the demand for Women for Women International's programmes has never been greater. We desperately need more sponsors to help us enrol more women and give them an opportunity to transform their lives.
Sponsoring a sister is so much more than a financial donation. Building personal connections between women around the world, and reaching out to say, 'You are not forgotten', is at the heart of Women for Women International.
Amela told me that when she was younger, she dreamed of having friends from all over the world – then, when she received my letters from London, it felt like this dream had become a reality. Knowing she had an ally who believed in her potential gave her confidence in her own abilities – just as Amela's resilience became a source of strength for me.
Please sign up to sponsor a sister today. You could help to change a woman's life – and she could also change yours.
continue reading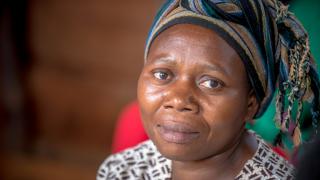 Our Executive Director, Brita Fernandez Schmidt, reflects on the awarding of the 2018 Nobel Peace Prize to Nadia Murad and Denis Mukwege for their work towards eliminating sexual violence in conflict. How can we make this award meaningful for the millions of women who are the target of horrific violence around the world?