You are here:
Women for Women International Graduates Meet First Lady Rula Ghani in Afghanistan
We are proud to announce that a group of our Afghan programme graduates were able to secure a personal meeting with Afghanistan's First Lady, Rula Ghani.
Using skills learned in our "Change Agents Programme," our graduates worked together with Women for Women International – Afghanistan and the Afghan Women's Network to create this opportunity to advocate for their sisters' rights and opportunities in rural Afghanistan. Despite continued attacks and insecurity in Afghanistan, they travelled from several remote communities to speak with Ms. Ghani about the problem of gendered discrimination and domestic violence. They voiced their concerns and shared thoughts on potential solutions.
One of the Change Agents from Kapisa province, named Latifa, described how Women for Women International has compelled women to become more active in her community and that she herself was able to arrange advanced numeracy training for Women for Women International graduates in collaboration with the Department of Agriculture in her province. This numeracy training is invaluable for investing in marketable trades and building a stronger economic future for the women and their families.
Razima, from Nangarhar province, spoke about the importance of security and peace. She argued that lack of safety and security is linked to poverty and violence at home, telling Ms. Ghani, "the unstable security condition is due to lack of education and poor economy which affects children, women, family and [the whole] community."
Another Change Agent who travelled from Parwan province, advocated for men's engagement programmes and creating markets for women to sell their products. She explained, "If you train men, bring changes in their attitude, and provide them with work opportunities, it will affect women's lives."
Nesa, a graduate of our programme from Kabul, spoke about the vital need for investing in creating markets for women. She said that many women in her community have a good supply of products to offer but are not able to sell them in local markets because of insecurity, lack of safe spaces for women, and poverty.
To conclude the meeting, a Women for Women International staff member spoke about our history and work in Afghanistan and our continued commitment to helping Afghan women as they rebuild their lives. She also thanked the Change Agents for their courage, commending them for acting as bold voices for other women in their communities.
This blog was written with support from Women for Women International – Afghanistan staff who are not named due to security concerns.
About the Change Agents
Our Change Agent programme provides select women graduates of our core programme with advanced training in leadership and advocacy to build their capacity to identify women's rights issues in their communities and to take action on those issues. Change Agents are nominated for the programme by their peers (i.e. their classmates in the core programme) and provided with ongoing support after training to help them to implement their advocacy action plans. The connections with our advocacy partners (e.g. AWN) are critical to ensuring that the voices of the marginalised women we serve are heard at the national level as well as providing further advocacy and leadership opportunities for Change Agents. In Afghanistan, we have trained 160 graduates to be Change Agents over the last two years (with another 80 to be trained next year).
Our work with Change Agents in Afghanistan is part of a 5-year project funded by The Netherlands Ministry of Foreign Affairs' Funding Leadership and Opportunities for Women (FLOW) programme – which aims to strengthen marginalised women's self-reliance and tackle violence.
Continue reading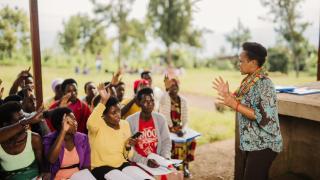 Sylvia, our Fundraising Projects Assistant, was born during the civil war in Sierra Leone. She shares why peace matters whether you're in Sierra Leone or South London.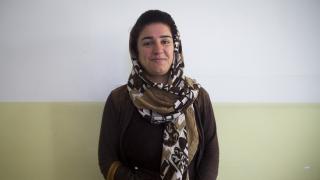 Kabira fled from Syria to Iraq where she joined a programme funded by Women for Women International. Read about her experiences overcoming isolation and trauma as she rebuilds her life.