You are here:
Finding Hope
She lost her husband, her community, and her home to violent conflict, but nothing can stop Rose from rebuilding her life
My name is Rose Ibrahim Boyi. I am 33 years old, and was born in Rarin-sho, Plateau State, central Nigeria.
I am a widow. I was blessed with five children, four boys and one girl. The oldest is 19 years old and the youngest is 3 years. My husband was killed three years ago, during the crisis that engulfed our village in 2015.
My husband was a farmer. We were very happy, and we had great plans for our children, but all of this was shattered when the violence erupted.
Before the crisis we were living happily in our community, co-existing peacefully with our neighbours. We lived happily for years alongside the Fulani people. Everyone could practise their religion with respect and dignity, free from fear and intimidation.
We started to hear of conflicts arising in neighbouring villages, caused by misunderstandings between farmers and herdsmen over the invasion of farmlands by cattle belonging to the herdsmen. When this started to happen, there was mistrust amongst us. People began to disappear; every day you would hear that two or three people had gone missing.
Several days later you would hear that their corpses were found in the bushes. The level of insecurity was high, you could hear the sound of gun shots in the afternoon and attacks were carried out any time. This situation brought out hatred for one another.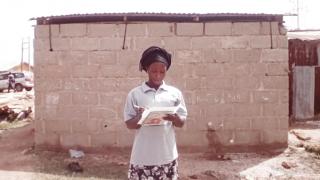 One Sunday, we were going to a communion service at the local church. I was late to arrive at the assembly place, because I needed to pack extra clothes for the baby, who was three months old. The roads were dangerous due to disappearances of people in the community, so the church had requested security escorts to the communion service.
As I arrived late, the vehicle taking us to church was full. I decided to go back home, but my husband's friend offered a lift on his bike. My husband gave me his place in the car and took the lift on the bike.
On our way to church, there was an ambush. My husband and his friend on the bike had taken a bend to avoid the bad road. Not long after they took the bend, we heard a gunshot. I saw my husband dying. It was very painful to watch. 
After that, I couldn't stand to stay. Security was not assured and almost everyone was leaving the village. I moved with my children to Barkin Ladi town.
Life here is very difficult. All we had on the farm was destroyed by herdsmen, so we have to buy everything we need: water, food, firewood. In the village we could cut firewood, grow our own food and collect water.
Many people have moved to Barkin Ladi for safety, and that has contributed to making everything more expensive.
The Women for Women International programme had a great impact for me. The crisis and trauma I experienced was a real setback for me, but the programme has given me hope to forge ahead and move on with life.
After the crisis, I started a piggery to help me earn an income. With the monthly stipend I receive from Women for Women International, I have been able to expand my piggery.
I chose poultry as my vocational skill to learn on the programme, to learn the skills for earning an income from poultry rearing. When I am able to raise enough capital, I want to start keeping poultry and generate enough income to meet the demands of my family.
I am excited that the programme is putting a smile on my face. I am very happy to be in this programme and still learning. I wish that other women can also have this opportunity.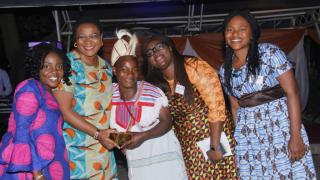 We are incredibly proud and inspired by two of our programme graduates in Nigeria who have been recognised for their outstanding achievements marketing and selling clean energy products in their communities.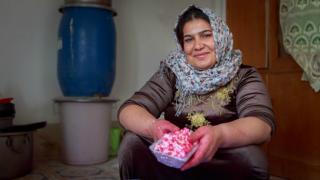 The harsh conditions of conflict and displacement in the KRI have forced families and communities to allow women to engage in economic activities. This necessity can be a window of opportunity.
In November 2017, Laurence Greening, Women for Women International - UK's Sponsorship and Database Coordinator, visited our programme in Rwanda.