You are here:
Visiting the Democratic Republic of Congo
Anne Smith shares her experience of visiting the DRC to see the impact of the Salisbury Rotary club's sponsorship of 25 women through our one-year programme.
Being an active Rotarian in Salisbury, I was alerted to the many challenges women in conflict-affected countries face when I attended an international seminar where Women for Women International was showcasing their work. The Salisbury Rotary Club agreed to sponsor a group of women in the Democratic Republic of Congo (DRC) and, together with a grant from the district, we approached Women for Women International in London to fulfil this commitment.
We received quarterly reports on the progress of the 25 women taking part, but it was important for the Rotary Club to see the work and progress of the group directly. We agreed that I would visit the Democratic Republic of Congo accompanied by Katie Hughes and Paulina Stachnik, who work in Women for Women International's London office. The trip would incorporate visits to the local office, training centre and attendance at the women's graduation ceremony.
With visa obtained and given three days' notice, we set off and flew to Rwanda via Brussels, crossing into the Democratic Republic of Congo after an early morning domestic flight. As soon as we crossed the border, I was struck by the limited infrastructure – the roads were rough and full of potholes. We met Women for Women International's local staff and were given a security briefing at the main office. It made me realise how difficult it must be to live with the constant threat of armed violence, and how much we take for granted living in the UK.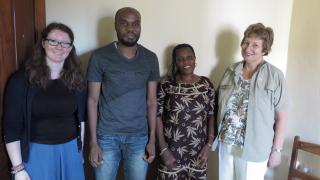 I was so excited to travel to Women for Women International's Birava training centre, where the class we sponsored was based. We travelled in a land rover with security and extra communication aids in case of problems. Once we left the city, the roads were very uneven. It was like being shaken up in a washing machine and left me with friction marks where the seat belt was fitted. The countryside was lush, with women working in fields of coffee beans, haricot beans and cassava. However, the poverty in the countryside was dramatic, many people we saw were barefoot, and there was limited access to electricity, clean water and sanitation.
After two hours we finally arrived at the training centre in Birava, lots of children and women crowded around to greet us. We joined a class, and our translator explained the lesson content to us. The trainers were able to interact with all the students present, mothers with babies being breastfed carried on regardless. We were taken to the soap making area where the whole process was demonstrated. The women in the class had formed a group business, producing and selling soap, and were also collectively saving their profits. It was a special day for the students as on the eve of their graduation they were going to receive the fruits of their labours from their group saving scheme.
It was a joy to see how proud they were of their efforts and singing and dancing ensued. We interviewed four ladies who explained their experiences and hopes for the future. Each one wanted to utilise what they had learnt and work towards a better future, building a home, educating their children and improving the communities they lived in. This year-long course had achieved its goal! All of these women recognise the importance of their new skills and can and will improve the lives of their families and communities.
A look inside the classroom in Birava
A Women for Women International classroom in the DRC where the programme participants learnt about their rights in the household.
We visited two women's homes. They were simple houses constructed with wood and mud, and with planks of wood used as benches, table and beds. I felt deeply humbled. These women work tirelessly every day, and now they've taken part in Women for Women International's programme, they have hopes and aspirations and more importantly the knowledge, confidence and skills to build a new future.
On the second day, we travelled back to Birava - it was graduation day for 300 women. All the students were dressed in their best. The ceremony was held in the church and local village chiefs, army, police and church representatives were present. I was able to express our congratulations on completing the programme. For all of the women, it was one of the most important days of their lives and they were so excited and happy. They survive daily but they now have the opportunity for advancement.
These two days of meeting with the women we supported were such a highlight – to experience first-hand their country, culture and ways of life. In the Democratic Republic of Congo they do not have a life as I know it, they have to survive the harshest of conditions. I am deeply gratified to know that Salisbury Rotary Club has made a difference to 25 women, their families and their communities.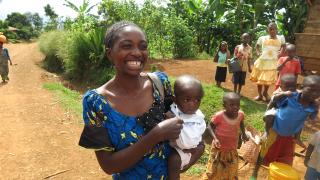 None of this would have been possible without Women for Women International. My fervent hope is that I can raise awareness of their work, give more women the opportunity to obtain the training and skills which in turn will benefit all around them. It was wonderful to see how passionate and committed the staff in the Democratic Republic of Congo were to improving women's lives. In conclusion, I come from a working-class background with a secondary school education. My parents instilled in me to work hard, just as they had. Working hard brings results. I could relate totally to this training programme and the women it was aimed at. I applaud the efforts of both the students and staff, and maybe one day I could return to see how much of a difference our sponsorship made.
Graduation Ceremony: A time of celebration
Women for Women International - DRC programme participants celebrate their graduation through song and dance.