You are here:
8 Books Breaking the Silence on Violence Against Women
8 Books Breaking the Silence on Violence Against Women
help end gender-based violence by reading survivors' stories, raising your voice and breaking the silence
Since 1991, 16 Days of Activism Against Gender-Based Violence has taken place every year between 25th November (International Day for the Elimination of Violence against Women) and 10th December (Human Rights Day) to raise awareness of and prevent violence against women and girls.
Violence against women takes many forms – from harassment to intimate partner violence to sexual violence being used as a weapon of war.
Women for Women International was established in 1993 to help survivors of sexual violence during the 1992 - 1995 conflict in Bosnia and Herzegovina, in the belief that stronger women build stronger nations. We continue to work with the most socially excluded women in countries affected by conflict across the world.
Most of the women we work with are affected by gender-based violence, including sexual violence. It is an obstacle in allowing them to live dignified lives, free from fear. The stigma surrounding such violence means that people are often too afraid to speak out, and this silence enables the violence to continue. 
Here are 8 books sharing stories about violence against women to help break the silence and end this global injustice.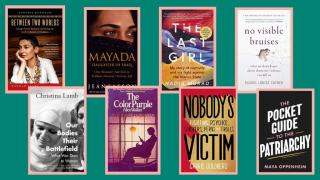 Content warning: some of these books contain graphic detail of sexual violence, loss of children and mentions of torture.  
A member of one of the most distinguished and honored families in Iraq, Mayada grew up among royalty. But when Saddam Hussein's regime took power, she was thrown into the infamous Baladiyat prison with seventeen other nameless, faceless women – each with their own story to tell.
These "shadow women" spent their days passing the time by sharing their stories and experiences with each other. Now, through writer Jean Sasson, Mayada is able to tell her story, and the stories of these other women too. 
The Color Purple depicts life for African-American women in early twentieth-century rural Georgia, America. It tells the story of two sisters separated as children through a series of letters spanning twenty years.
This is a powerful book that breaks the silence around domestic and sexual abuse, sharing the lives of women through the good and the bad – their pain, companionship, growth, resilience and bravery.
At the age of 21, founder of Women for Women International, Zainab Salbi, was in America because of the Gulf War. Known as the pilot's daughter in Iraq, her father was the personal pilot for Saddam Hussein. With a privileged but troubled upbringing, Zainab presents the two worlds that she has lived in and what has made her the passionate advocate for women that she is today.
In her striking memoir, Zainab speaks to both the pain she experienced and the power that she found as a young woman. The silence that had kept her alive as a girl made way for a powerful voice that she used to grow beyond her personal suffering and fight for women survivors of war everywhere. 
Carrie Goldberg invites her readers to the courtroom, on the front lines of the war against sexual violence and privacy violations as she sues tech companies, schools and sexual predators. 
This book details her client's experiences from victimhood to fighter and survivor. Goldberg also shares her own story that inspired her career in law, becoming the advocate and fighter she herself needed. 
Christina Lamb has worked in war and combat zones for over 30 years. In Our Bodies, Their Battlefield she elevates the voices of women experiencing conflicts, exposing how rape is used by armies, terrorists and militias as a weapon to humiliate, oppress and carry out ethnic cleansing. Speaking to survivors first-hand, Lamb encounters the suffering and bravery of women in war and meets those fighting for justice. From women who survived the Rwandan Genocide, World War II, the invasion of Iraqi communities by ISIS and more, Lamb shares powerful stories of heroism and resistance.
Award-winning journalist Rachel Louise Snyder once believed all the common misconceptions about domestic violence, but her perception changed when she began talking to the victims and perpetrators whose stories she tells in this book.
Reporting from the front lines of what the WHO has deemed a 'global epidemic', Snyder interviews men who have murdered their families, women who have nearly been murdered, and a range of professionals in advocacy and law enforcement, painting a vivid and nuanced picture of what happens when relationships go badly wrong.
Nadia Murad is a courageous young woman. She has lost eighteen members of her family and survived degradation through sexual enslavement to ISIS. But she has fought back. This inspiring memoir takes us from her peaceful childhood in a remote village in Iraq through loss and brutality to safety in Germany.
A Nobel Peace Prize nominee, the first Goodwill Ambassador for the Dignity of Survivors of Human Trafficking of the United Nations and winner of the Vaclav Havel Human Rights Prize, Murad shares her story of courage and resilience. 
In this practical and informative guide, Maya Oppenheim explores the current status of women's rights, spanning topics from women's health to the criminal justice system. The Pocket Guide to Patriarchy is filled to the brim with shocking statistics, enlightening anecdotes and expert rebuttals ready to counter any defence of the patriarchy.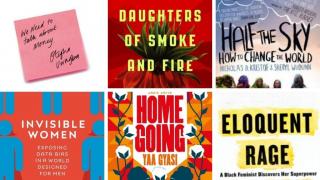 Our feminist summer reading list is here! Take your first step towards healing the world with a summer reading list that expands your horizons and ignites your passion for change.
In recent years, refugee literature has provided a way of educating the public about the truth behind the refugee experience. Women for Women International believes that knowledge is power, so check out our World Refugee Day Reading List to grow your awareness and understanding of the refugee experience for your own personal reading and to share with others.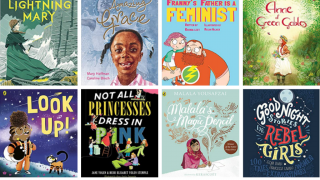 Celebrate International Children's Book Day with the gift of a book. We know that the books that we read in childhood, stay with us for life. Check out our children's feminist reading list and celebrate girl power!