You are here:
COVID-19 RESPONSE
WHAT WE ARE DOING TO HELP
Your support has helped us provide women with the accurate information and health resources they need to prevent the spread of disease. From handwashing to hygiene kits, women across the world are better prepared to protect themselves, their families, and their communities from coronavirus, with many drawing on the power and leadership they learned during the programme to educate others.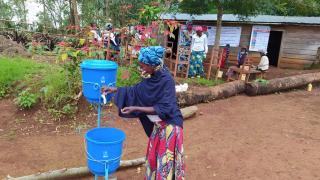 We are ensuring the safety and health of the women we serve by: 
Distributing over 5,900 hygiene kits and 99,731 masks and bars of soap to the communities we serve
Organising women to sew masks and produce soap for their communities
Broadcasting radio programmes which reached more than 1 million people in remote and rural places
Continuing to deliver cash assistance to 6,190 women
Breaking isolation by helping women use mobile phones to set up groups and establish communication trees to stay connected. We have reached 5,443 programme participants through messaging platforms 
Across our country programmes, all of our in-person trainings were temporarily suspended to protect the health and safety of women we serve and our staff, and in compliance with government measures.
We are constantly monitoring the local situation. As contexts around COVID-19 change in some locations and governments can ease restrictions, in-person trainings will carefully and gradually resume so women can continue their journey of transformation. In the face of this dynamic pandemic, we are taking every precaution to ensure everyone's health and safety, which requires flexibility with training schedules and may mean rolling closures. But we remain committed to supporting women in the middle of crisis.
We've started this process in the Democratic Republic of the Congo and Nigeria, where we are gradually inviting women back into training sessions. For now, we are prioritising women who have already been enrolled to continue their training. Sponsors whose sister returns to continue her training will be able to continue sponsoring the same woman. With your help, we can continue to support women in staying safe and healthy during this crisis — and to stand by them as they rebuild their lives afterwards.
We are urgently appealing for more funds to support our programmes in conflict affected countries during this difficult period. There is a critical need to provide women survivors of war with the skills, resources and confidence to help them and their communities survive through the pandemic and build back better.
Read Our COVID-19 Blogs & Updates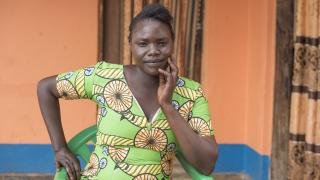 The Coronavirus pandemic has highlighted an increased need for our work with women survivors of war. Donate today to help the women we serve survive COVID-19 and your gift will be matched at no extra cost to you.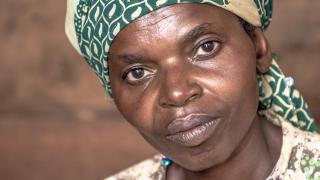 2020 was due to be the critical year for women's rights, with an unprecedented number of global gatherings and political milestones.
Distance Won't Stop Our Support
Across all our country programmes, our teams have innovated solutions that help women protect against coronavirus while supporting them with the many other pressures that come alongside crisis.
In countries such as Rwanda, the Democratic Republic of the Congo, Iraq, and Bosnia & Herzegovina, women in our programme and graduates are using tailoring skills to sew masks. In many of these countries, they send masks to support local efforts, such as health workers and police officers, along with their own family and neighbours.
Our DRC team has collaborated with women who produce soap by providing them materials, purchasing soap from them, and distributing them to other women in the programme who need it.
Graduates of our programme have joined the local government response in Nigeria to educate people on COVID-19.
Distributing Life Saving Resources
We have distributed over 4,700 hygiene kits to women in Afghanistan, providing them with soap, hand sanitiser, masks, gloves, toilet paper, and even leaflets to remind them of how to prevent spreading the disease.
Where possible, our teams have also continued providing women with their cash stipend. In South Sudan, women also receive bars of soap when they pick up their cash stipend.
In some countries, women receive their stipends remotely through banks and mobile money transfers.
Technological Innovations
Our team has been using technology to stay connected to women's needs and provide women with trustworthy, accurate health and hygiene information.
Through cellphone groups on social media and apps like Viber, women in our Iraq programme have been able to stay in contact and be each other's support system. These groups have been crucial to addressing rising violence against women.
Where women have less access to cellphones, our teams have worked with groups to set up communication trees to stay informed.
Radio programmes are both a popular and trustworthy medium in communities where we work. We have collaborated with health experts from the local government and NGOs to educate women and their communities on the pandemic through these programmes.
In Kosovo, though, where many women have more access to technology, our trainings have transitioned digitally, so women can continue learning remotely.