You are here:
How are we #AloneTogether with women in Iraq?
Due to Coronavirus (COVID-19) we had to suspend in-person training in Iraq. Our passionate and dedicated staff are continuing to work from home and doing all they can to equip women to protect themselves and their families from disease. Before in-person training was suspended our teams taught women about health, hygiene, and social distancing.
Although Iraq is in lockdown our team continues to stay in touch with the women. Shan, our Economic Empowerment Manager has been making calls and using social media to send women important news about health, government resources, and especially to make sure women know they aren't alone.
We wanted to share with you some of the conversations Shan had with programme participants, and give you a glimpse of how this outbreak looks for women in Iraq as they navigate these challenging times.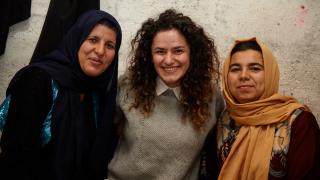 Bahar*
A married mother of four, Bahar was happy to receive a call from Shan. She and her family have been following health guidelines, such as staying at home, to protect themselves and loved ones. Still, she wonders and hopes for the day when the training center will open again.
She added, "The sessions weren't only good for teaching, but for me as a housewife, it was a way to get out of the house and control my daily struggle and sadness."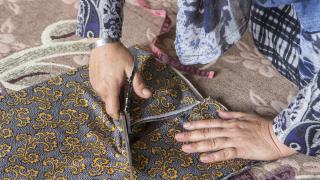 Practicing skills during the lockdown
Many women who have already taken part in tailoring classes have let our team know that they are using this time to practice their sewing skills.
Nasreen*
Nasreen was very happy to be checked on. Since starting the programme in December, she says her leadership skills have increased greatly. Nasreen has stood up and advocated for her friends and neighbours, who are beginning to run out of food. Ultimately, they are all thankful and just want to be safe during this health crisis.
Nasreen is eager for this crisis to pass as she looks forward to attending her classes again. She values having learned a lot about her rights. She spreads love among family members, and feels better equipped to raise her four children and be a better parent for them.
Thanks to her lessons about daily expenses and saving money, Nasreen had prepared a financial safety net. During this time, Nasreen's family has had to dig into their savings and is using the money that they have saved over the past few months.
Nasreen is counting the days until she can start trainings again, because she plans to learn to sew and continue supporting her family.
Shireen*
Shireen joined our programme this past December in Sheikhan, and is looking forward to returning and learning to sew. Until then, she stays at home and follows health guidelines from Iraq's Ministries of Interior and Health.
Shireen said, "I learned how to better my communication with others in Women for Women International's course. My teacher writes on the board, and it helps me remember lessons."
Before the COVID-19 outbreak, our trainers in Iraq taught women hygienic handwashing. "I wash my hand one hundred times a day," Shireen joked.
As she said goodbye, Shireen sent good wishes for everyone to stay safe and healthy.
Zainab*
Zainab also joined our programme this past December in Sheikhan. The sound of her children playing in the background carried through the phone call, and she had been playing with them.  
Currently, Zainab's husband is the sole breadwinner in the family as a taxi driver. But with a government-ordered lockdown due to the outbreak, no one is permitted to use taxis anymore, diminishing his income. "This difficult time has shown me more than ever how important my contributions can be to the financial well-being of our household," said Zainab. 
In the coming months, Zainab also hopes to learn to sew. With the self-confidence she gained from the programme, she aims to start her own tailoring business to make money and support her family. 
Through the programme, Zainab also gained friends with whom she keeps contact. "Before this programme, the only people outside of my immediate family who I really knew were my in-laws. But now I have made friends. I call them to check up on them, and I am very happy to have a wider network of friends." 
While at home during the lockdown, Zainab follows the news and has taken time to reflect on her sessions at Women for Women International. So far, she has used some of her time to write a letter about what she has learned and thanking the staff for their work.  
Before ending the call, Zainab expressed, "What would we do if you are not there? We want you to start again, and very soon." 
Hear more from Shan in this Instagram Live conversation with our Executive Director Brita.  
* Name has been changed to protect participant's identity.
Continue reading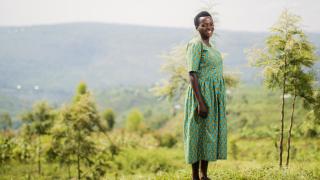 BEYOND THE HEADLINES OF THE CORONAVIRUS PANDEMIC
To instil a sense of hope during the Coronavirus pandemic, we are collating this hub of inspiring stories from members of our global sisterhood.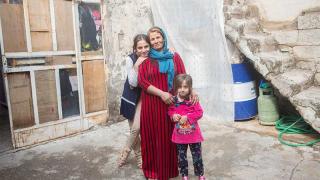 19 MARCH, 2020 | STYLIST
Shan Sherwan Hussein, our Economic Empowerment Manager, talks about how the courses she runs for women in our Iraq programme, equip them with the knowledge and tools they need to sustain an income.