Supporting Rohingya Women and Girls in Myanmar
More than 1 million Rohingya Muslims living in Myanmar were chased from their homes by the army and allied militias in 2017 and in more recent crackdowns. The Rohingya refugees' accounts of rape, murder and mutilation continue to shock the world.
As of 22 March, 2022 the U.S. formally determined that the atrocities committed against the Rohingya people by Myanmar military forces are acts of genocide.
The 600,000 stateless Rohingya remaining in Myanmar face discrimination and overwhelming human rights abuses. Women and girls are especially at risk.
Through our partnership with the Centre for Social Integrity (CSI), a locally registered NGO, we are supporting Rohingya women and adolescent girls to improve their basic literacy, numeracy skills and to build their capacity to become more meaningfully engaged within their communities. 
Empowering Rohingya Communities Through the Teaching of Women and Girls 
To date, we have trained and mentored 6 local teachers and provided 30 women and 75 girls a free education they would otherwise not receive.  
Attendance in these programmes alone is a revolutionary declaration to families and communities that Rohingya women and girls have the right to leave their homes.
The Rohingya population remaining in Myanmar either live in government-controlled detention camps, or in outlying villages under severe restrictions.
Conservative cultural and traditional norms within the Rohingya community also prevent access to education for most adolescent girls and women, and they are often secluded within their homes. At CSI's community learning centres, women and girls have the opportunity to gather together, sometimes for the first time in their lives. They also learn and develop skills, which empowers them to play a more active role in their families and communities.  
Through CSI's project in Northern Rakhine State, advocacy meetings are held with parents and religious leaders to explain the importance of education for women and girls and rebuilding their communities. Changing traditional perceptions around the role of women is a difficult process, and lengthy conversations to address community concerns are a necessary part of the programme.
Training Teachers Leads to Wider Community Acceptance 
The programme hired and trained local community teachers able to speak both the Rakhine and Rohingya languages in September and October 2021. Mentoring continued during the educational sessions that followed at CSI's community learning centres in Min Ga Lar Gyi, Shwe Zar and Pan Taw Pyin.  
The teachers were enthusiastic and constantly strived to improve their implementation of lessons and deepen their community connections. Their devotion to the students and their parents not only increased student engagement but also acceptance of the women's and girls' education programme by the community. 
In February 2022 local teacher training resumed with further emphasis on social cohesion, gender awareness and inclusion, women's empowerment, women's health and hygiene and gender-based violence.
Myat, a 23-year-old teacher, credits her Women for Women International-funded training for not only improving her skills and giving her more confidence to teach in remote areas but also how to teach social problem-solving. She said, "When I learned about social cohesion, I realised that we need to have good relationships with people from a different community, and respect each other in order to create a peaceful society."
Weaving Change for Rohingya Women and Girls 
Classes to enhance literacy, numeracy and life skills for both women and girls began in November 2021. All students received books, pens, pencils, erasers, sharpeners, rulers, T-shirts and umbrellas.  
The foundational skills classes for 30 Rohingya women met 2-3 hours per day, five afternoons per week to cover basic numeracy and literacy. While 41% improved their reading and writing skills and 27% improved their numeracy skills, the classes made important contributions to breaking down social restrictions.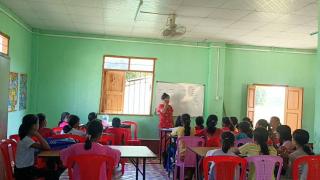 Life skills classes for adolescent girls met three hours per day, five mornings per week. The classes covered: 
Social cohesion 
Civic and environmental education 
Sustainable livelihoods 
Health 
Family management 
Women's empowerment 
Habiba, a 13-year-old student in the programme who had to drop out of school after third grade due to the 2017 conflict, dreams of being as educated as her teacher. She also reported learning how to communicate better with people. 
Along with our partner, Women for Women International will continue to encourage Rohingya women and girls to further their education, and to challenge existing social norms that prevent them from doing so.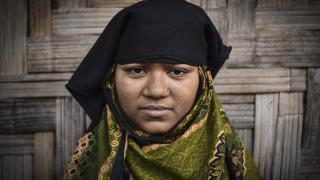 subtitle: In 2018, we launched a new conflict response fund — a separate funding pool to more rapidly help women who are caught in the current horrors of our time. To reach women in their most critical moments, we work with partners who can respond to conflict and
In 2018, we launched a new conflict response fund — a separate funding pool to more rapidly help women who are caught in the current horrors of our time. To reach women in their most critical moments, we work with partners who can respond to conflict and make an immediate impact.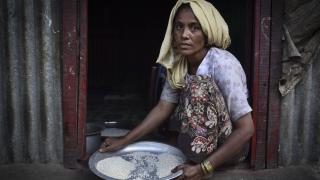 Since August 2017, Myanmar has forced over 700,000 Rohingya refugees, mostly women and children, into makeshift communities at the border of neighbouring Bangladesh. Our Conflict Response Fund, launched in May 2019, is helping Rohingya women to regain stability for themselves and their families.