You are here:
Through Dada's eyes
Greetings!
My name is Dada and I live in a place called Bauchi in northern Nigeria.
I would like to share a little bit about myself and show you how your support is helping me and my community make big and positive changes.
We came to Bauchi when my husband's friend was killed by Boko Haram insurgents. My husband is a retired policeman and he heard he was next in line, so he fled. Later that night, my two little girls and I heard gunshots and ran too.
Everyone in my community in Bauchi is an internally displaced person. I enrolled in Women for Women International's Stronger Women Stronger Nations programme because I heard from a graduate how it changed her life. Women living in rural areas face many problems. There is constant conflict and all forms of violence, including rape, poverty and food insecurity. Many young girls are forced into child marriage which limits their ability to go to school and earn an independent income.
But thanks to the programme, I am learning so many things: how to make a nutritious breakfast for my family, why my daughters should go to school, how to expand my business of selling rice and save money for the future. I dream of having my own shop someday.
The impact of the training goes far beyond me. All 25 women in my class are learning to support each other. Thanks to Women for Women International, even our husbands, fathers and brothers are starting to change how they think and are including us in family decisions.   
Come, see how my life is.
You can watch a day through my eyes. See my home and meet my family.
As we say in Hausa, our local language, na gode! (thank you!)
In sisterhood,
Dada
Dada's Journey
from conflict to confidence
Watch our 360° virtual reality film to experience a day in the life of Dada, a woman enrolled in our Stronger Women, Stronger Nations programme in Nigeria. 
Join Dada to witness the transformational power of our global community's support in action. 
Top tip: Use the settings toggle on this YouTube video to increase the quality to 2160s. And remember to use your mouse to move around the screen for a fully immersive experience! 
Do you own a VR Headset?
Watch through a headset for added impact
Find the 'YouTube VR' app on your headset
Click in the search bar and type: 'womenforwomenuk'
Find the film called 'Through Dada's Eyes' – if you filter results to see 360 films only, you will find it there
Make sure you have enabled subtitles on the video 
Press play to join Dada in Bauchi, Nigeria – and enjoy!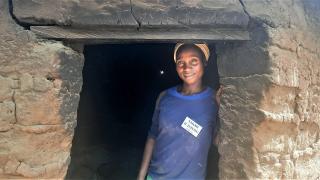 The Women for Women International programme was my ray of hope. It felt like I was finally completing my education which was cut short by poverty.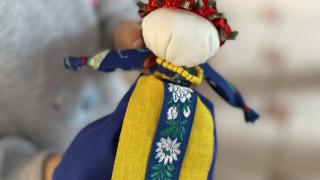 If someone had told me in the past that I would need to restart my life from scratch, I couldn't believe it. But that is what happened to me when I needed to flee to Poland with my son.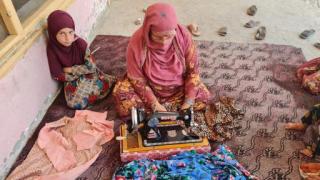 Being in the programme, I enjoyed having the space to connect with other women in the skill-building and social empowerment classes. I was learning things that I never imagined I would have the opportunity to learn in my life.