You are here:
Our campaigns
#PowerToChange
The challenges facing women are great, but our power is undeniable. When you use your own power, you can change anything. When we use our power together, we can change everything. Read the commitment and add your name to the pledge to commit to using your #PowerToChange.
About the global sisterhood
From women survivors of war, to our closest friends and family, the #SheInspiresMe campaign celebrates the vital contributions that all women make. Elevating women strengthens the social fabric of societies everywhere. If you believe this too, join the sisterhood today.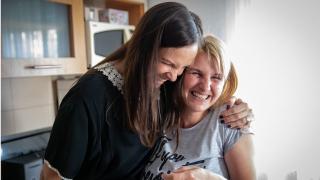 #HopeInSisterhood Campaign
In 2009, Brita Fernandez Schmidt signed up to sponsor her first sister through Women for Women International's one-year programme. They exchanged letters, including one where Amela told Brita that she had bought tulip seeds and she planted them in her garden so she would always remember her. In 2018, Brita and Amela met in person for the first time. Watch their story.