You are here:
Donate - Power Up Club
Join our Power Up Club Today
Become a member of the Power Up Club by committing to donate £7 or more per month* to Women for Women International. You'll join a group of generous, passionate people just like you. Together, you will create a world that is more equal, peaceful and prosperous for all.
*If you are an existing monthly donor, giving under £7 a month or if you sponsor a sister you can top up your donation to join the Power Up Club.
Monthly Donation Form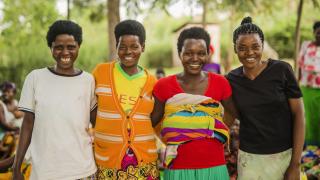 STRONGER WOMEN, STRONGER NATIONS
The Power Up Club is inspired by our Stronger Women, Stronger Nations programme, which builds women's self-reliance in four key areas: earning and savings; rights and decision-making; health and wellness; and support networks.
By joining the club, you will empower yourself and women survivors of war living in some of the world's most dangerous places.