You are here:
Is UK Aid good at lifting people above $1.90 a day?
What is the International Development Committee and why is this inquiry so important?
The International Development Committee (IDC) is a parliamentary committee tasked with the responsibility of monitoring and evaluating the way that UK Aid is spent. Because the majority of UK Aid is spent by the Foreign, Commonwealth and Development Office (FCDO), these annual enquiries are often a deeper look into its policies, programmes and funding. The IDC's latest inquiry posed the question "Is UK Aid good at lifting people above $1.90 a day?", offering civil society the opportunity to comment on the impact of UK Aid spending against its objective of reducing and ending extreme poverty.
Women for Women International contributed to this inquiry by sharing our own evidence and expertise on investing in the social and economic power of marginalised women living in extreme poverty in fragile and conflict-affected states (FCAS). Below are some highlights from our formal submission which recognised certain strengths of the UK Government's approach to ending extreme poverty, but also suggested tangible recommendations for improved action and risk mitigation.
The good news: The UK Government has taken some steps toward a more integrated and multi-dimensional approach to tackling gender inequality and poverty.
We recognise that UK Government strategies, policies and funding initiatives have had some positive impact on tackling gender inequality and alleviating poverty. Achieving gender equality requires long-term investments in changing the structural barriers and harmful social norms that women and girls face, particularly in conflict and crisis. This is recognised in the FCDO's Strategic Vision for Gender Equality and its National Action Plan for Women, Peace and Security (2018-2022). To an extent, it has been translated into action. For example, last year – as host of the 2021 G7 Summit – the UK Government garnered support for the Girls' Education Declaration as part of its strategy for addressing extreme poverty globally. The UK Government has also demonstrated a renewed commitment to the What Works to Prevent Violence programme through a 7-year £16 million investment in evidence based violence prevention research. 
However, the UK Government still approaches its objectives of advancing gender equality and reducing extreme poverty through separate agendas. It's time that we see a UK Aid and UK Government international development strategy that matches its rhetoric of integration and intersectionality. 
The not-so-good news: Risks to achieving the objectives of UK Aid.
These investments in and positive steps toward an integrated approach to poverty reduction signal a positive shift in the UK Government's strategy toward its development objectives. However, threats still loom over the UK Government's ability to meet its commitment to tackling and reducing extreme poverty.  
In 2021, the UK Government reduced their aid budget by £4.5 billion. This decision was made with no civil society consultation and was deeply disappointing in its disproportionate impact on women and girls. Cutting aid has meant that the UK's contributions and commitments towards the global Sustainable Development Goals have been undermined.  
At Women for Women International, we were part way through our programme in Bauchi State in Nigeria when the cuts were announced. Our Nigeria Country Director, Bukola Onyishi, shared her thoughts on the impact of the cuts:  
Decision-makers at FCDO might forget that there are real people behind the figures, but I will never reduce women to numbers in a spreadsheet… The UK Government allowed us to offer them hope for a brighter future, and now we are being told to snatch that offer of hope away.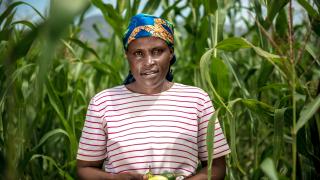 COVID-19's long-term impact
In addition to the impact of UK Aid cuts, COVID-19 and its long-term effects pose a significant threat for increasing the number of women and girls living in extreme poverty worldwide.  
At Women for Women International, we annually track our programme outcome data against the indicators of the Sustainable Development Goals (SDGs) - the same goals which should inspire UK Aid's own objectives. When analysing our programme data between 2017 and 2020, we observed the weakest outcomes for women in 2020 following the onset of COVID-19 and associated lockdown measures. For example, in the Democratic Republic of Congo, women participants in 2020 experienced a gradual decline in food security rather than the significant increase we have seen between enrolment and graduation from our Stronger Women, Stronger Nations programme in previous years. Similarly, in Iraq we saw a drop in savings for women between enrolment and graduation. 
These are just two examples of the internal and external factors that pose risks to the UK Government fulfilling its commitment to eliminating extreme poverty and advancing gender equality, especially for marginalised women and girls affected by conflict. 
Mitigating these risks: Listen to women
While these risks pose a serious threat to our poverty reduction goals, there is still hope. 
In our submission to the IDC inquiry, we urgently called for the UK Government to better consult with women and girls in conflict-settings throughout the planning and implementation of UK Aid programmes. To fully address the needs of women and girls living in extreme poverty, the UK Government will need to meaningful consult with - and actually listen to - those women and girls. Failing to do so will have a direct consequence on the UK Government's ability to design programmes and policies that have impact.  
In 2020, civil society and NGOs observed the merger of two key UK Government departments – the Foreign and Commonwealth Office (FCO) and the Department for International Development (DFID). This took place with little to no consultation with civil society. 
To show a real commitment to future inclusion, Women for Women International recommends that FCDO use the Beyond Consultations tool - which we designed in collaboration with the Gender Action for Peace and Security (GAPS) network and others – to support tangible shifts toward consultative processes. 
We also believe that addressing the drivers of extreme poverty cannot happen in isolation from addressing causes and symptoms of gender inequality – though both objectives are listed as separate goals in the SDGs and UK development agendas. What is needed is a multi-dimensional, gender-sensitive and holistic approach to extreme poverty and gender which recognises that gender equality is not merely a women's issue. Rather, advancing gender equality and investing in women is a fundamental strategy toward the eradication of extreme poverty. 
--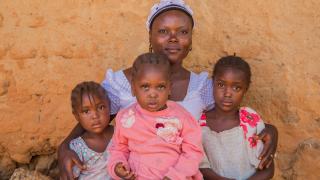 Women for Women International fed into this joint-briefing, led by CARE International, contributing our own analysis and two case studies from our programmes that had been cut.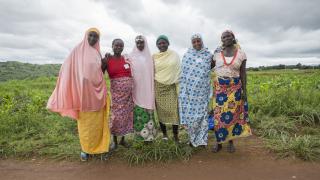 In May 2021, the UK Government announced that it was making substantial cuts to UK Aid. This included cuts to Women for Women International's own programming in Afghanistan and Nigeria. Since then, we have been working with others to raise awareness of the impact of the cuts, promote transparency and hold the UK Government accountable.
The realities and experiences of the most marginalised women affected by conflict are unlikely to be captured in official, national-level data. That's why we started publishing data from the women in our programmes in 2017 - increasing their visibility. Read our top 10 highlights from our monitoring and evaluation data on how our work aligns with the UN Sustainable Development Goals.