You are here:
"There is so much left to fight for" - Sara Bowcutt on International Women's Day
Today is International Women's Day. It is 2022 and not a single country has achieved gender equality according to UN Women.
I don't think this comes as such a shock to women in the UK as perhaps it would have in the years before the pandemic.  
Working for Women for Women International, we've struggled with bridging the empathy gap between 'us' and 'them' for years. We are all too familiar with the argument that there is no problem in the UK, 'women have achieved equality'.
But times have changed.
Women are acutely aware of how much we have in common the world over. And how much we still need to fight for.
The Covid-19 pandemic has exposed structural inequalities across every sphere, from health to the economy, and from security to social protection. This year, women across the global north understand more than ever how precarious our hard-fought rights actually are.
Since the pandemic, violence against women and girls has intensified (UN Women). A woman is murdered every three days in the UK (Femicide Census). This isn't just a number – it is a very real danger, but what I ask you to think about are the individual women behind those numbers; think about what this means to the day-to-day lives of women.
Think about how we feel every day - on the bus, walking home, out with friends, on a run. We mourn the tragic killings of Sarah Everard, Sabina Nessa and too many more, knowing that we could be next. Online we face abuse, and women and children are reporting sexual assault in the Metaverse (USA Today).
We must not be naïve, and we must not be complacent.
We share many of the same concerns. But the dangers are even more pronounced in countries affected by conflict. When society and social norms break down, women's lives are put in grave danger.
We need to accelerate gender equality.
So, what can we do?
Against the backdrop of the war in Ukraine and the humanitarian crisis in Afghanistan, we call on the international community to invest in women in fragile and conflict-affected areas - because they are the key to a peaceful future. Without being asked, women are the ones to hold communities together in the face of crisis and rebuild them after wars that they have no hand in starting. They are still there when the eyes of the international community have turned their attention elsewhere. Currently, at Women for Women International we are mobilising our Conflict Response Fund to support local organisations in Ukraine.
Only by listening to women and recognising their enormous potential can we live up to our global responsibility to build a more peaceful and equal world.
I know this is a challenging time – poverty, insecurity and gender-based violence are spiraling.
Women for Women International was founded in response to the needs of women survivors of the Bosnian War, decades ago. Sadly, tensions in Bosnia and Herzegovina are mounting again; a young graduate of our affiliate organisation's programme there tells us that she is anxious as talk of war resurfaces.
The inclusion of women's perspectives, voices and capabilities is vital if we are going to build long-lasting equitable peace agreements and policies. Data shows that real, meaningful involvement of women in these discussions leads to longer-lasting stability (UN). And the same applies to minority groups. The active representation of the entire population is critical for sustainable peacebuilding. So why isn't this happening?
We recently launched a report on Afghanistan, No One Hears Our Voices, to speak to women who are often only spoken about. The Afghan women we interviewed call for women's rights, inclusion in public life, urgent economic relief and for the international community to step up in solidarity with them.
This is urgent and essential.
Now is arguably the most important time for women's rights since the adoption of International Women's Day by the United Nations in 1975. This is the moment for us all to raise our voices, to use our power and to support each other as change-makers in our own lives and for our wider societies.
Every day, in the face of inequality and conflict, we see the women in our programmes rise up and take control of their lives.
They make small, positive changes which in time have a lasting effect on their families, on their communities and on their nations.
These are ordinary people, just like you and me.
They are proof that the power to make a small but mighty difference lies within us all. They inspire me every day.
Women around the world have rallied. We have built a transformative and inclusive movement for change – and now is the time to act.
Commit to using your power to change the world for all women – from the UK, to Ukraine, to Afghanistan. Anywhere, and everywhere. Join us.
USE YOUR #POWERTOCHANGE TODAY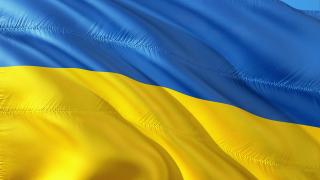 In just a few days, the lives of millions of Ukrainian people have been shattered by the Russian invasion. You can support our response by donating to help some of the most marginalised women affected by the war in Ukraine.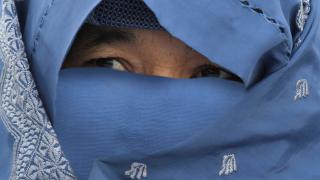 Between December 2021 and February 2022, we conducted phone surveys and interviews with our Stronger Women, Stronger Nations Programme participants and graduates across Afghanistan, as well as with Afghan women's rights activists and organisations. In their own words, Afghan women share their hopes and fears. Read the report.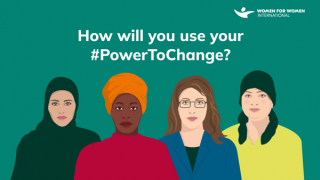 On International Women's Day 2022, we want to elevate the voices of the changemakers in the countries we work. These are women who are demonstrating their #PowerToChange social norms and are committed to creating a ripple effect for generations to come. Meet Khalida, Latifa and Zainab - women in our global team who have shared their inspiration, changes they've seen, and their hopes for the future.