You are here:
Refugee Women You Need to Know About
Meet seven incredible refugee women – from Syrian activist Waad al-Kateab to actress and singer Marlene Dietrich – who have used their power to make a difference.
When war and conflict take hold, women bear the heaviest burden. And as violence and armed conflicts continue around the world, this burden only continues to grow.
Today, around 50 per cent of the world's 100 million refugees are women and girls. Women refugees and internally displaced women in particular face incredible challenges: discrimination, inequality, physical harm and injury, and risks of exploitation and gender-based violence. These harms threaten their rights and their lives.
Yet with the right tools and support, they can overcome these challenges, realise their power and rebuild their lives and communities. To create a better world for us all.
As we celebrate World Refugee Week, meet six incredible refugee women you need to know about.
Waad al-Kateab
SYRIAN ACTIVIST AND AWARD-WINNING FILMMAKER
Waad al-Kateab is a Syrian activist and award-winning filmmaker whose debut feature film, For Sama, won a BAFTA for Best Documentary and received a nomination at the Academy Awards 2020.
Waad, who lives in London with her family, works as a filmmaker/reporter for Channel 4 News and a mentor for female journalists, and dedicates time to her advocacy campaign, Action For Sama, which was set up to turn the worldwide reaction to For Sama into positive action for Syrians.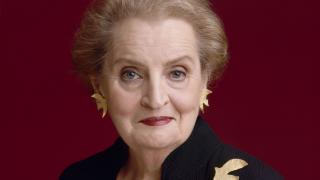 Madeleine Albright
The first female US secretary of state
Madeleine Jana Korbel Albright was a Czech-born American politician who served as the first female US Secretary of State.
After a few early positions in politics, her career took off in 1992 when she was appointed Ambassador to the United Nations by President Clinton. A few years later, she was nominated to the position of Secretary of State, making her the first female US Secretary of State and the highest-ranking woman in the history of the US government at the time of her appointment.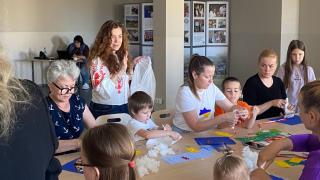 Kateryna Shukh
Ukrainian artist and psychologist
Kateryna Shukh is the co-founder of Bereginja – Mariupol's Women's Association, one of our local partners supporting women affected by the war in Ukraine.
Since fleeing Ukraine in February 2022, Kateryna has been using her skills as a trained trauma therapist to help women refugees living in Poland come to terms with their loss and reimagine their futures using art therapy. As women create art together, they are also building a new sense of community and belonging.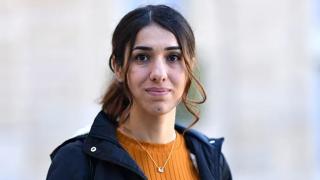 Nadia Murad
Human rights activist and 2018 Nobel Peace Prize Winner
Nadia Murad is an Iraqi Yazidi human rights activist who lives in Germany.
In 2014, she was kidnapped from her home in Iraq by the Islamic State and held captive for three months. Since her escape, she has become a powerful advocate for women in conflict settings and survivors of sexual violence and has been awarded a Nobel Peace Prize for her work. She is the first Iraqi and Yazidi to be awarded a Nobel Prize.
She is also the founder of Nadia's Initiative, an organisation dedicated to providing advocacy and assistance to victims of genocide.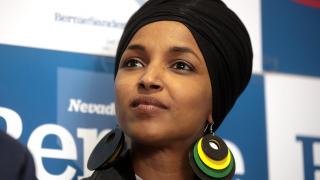 Ilhan Omar
US Congresswoman
Ilhan Abdullahi Omar is an American politician serving as the US representative for Minnesota's 5th congressional district since 2019.
When she was still a child, Omar and her family fled Somalia to escape the Somali Civil War and spent four years in a refugee camp near the Somali border. Her family secured asylum in the US and arrived in 1995.
Having been born in Somalia, she is the first Somali American and the first naturalised citizen of African birth in the United States Congress. She is also the first woman of colour to represent Minnesota and one of the first two Muslim women to serve in Congress.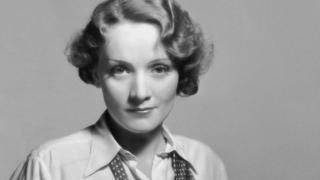 Marlene Dietrich
German-born American actress and singer
Marie Magdalene "Marlene" Dietrich was a German-born American actress and singer, known as one of the most popular film and music stars of the 1930s and 1940s. In 1930, her performance in the film The Blue Angel brought her international acclaim, after which she moved to Hollywood and became a popular actress.
During the Second World War, she became an American citizen and dedicated herself fully to the war effort, performing for the allied troops, helping to raise war bonds and volunteering at canteens. For her work improving morale during the war, she received several honours from the United States, France, Belgium and Israel.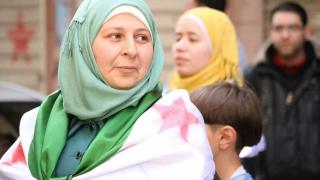 Afraa Hashem
HUMAN RIGHTS CAMPAIGNER AND POLITICAL ACTIVIST
Motivated by her beliefs in the principles of freedom, dignity and social justice, Afraa chose to remain in Aleppo with her family during the war to help those around her. She opened several schools and worked both as a school director and a supervisor in psychological support centres. She now dedicates her time to advocacy campaigns that raise awareness of the situation in Syria, one of which is Action For Sama.
Afraa moved to London in 2020 to work for the campaign and advance her studies. Later that year, she was reunited with her husband and children when they were finally granted asylum in the UK.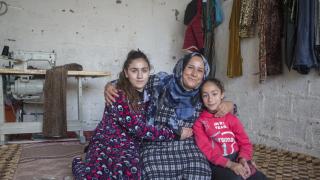 The amount of forcibly displaced people has reached a staggering number—over 100 million according to UNHCR—and the number only continues to increase. This World Refugee Day, learn about the state of refugees today.
In recent years, refugee literature has provided a way of educating the public about the truth behind the refugee experience. Women for Women International believes that knowledge is power, so check out our World Refugee Day Reading List to grow your awareness and understanding of the refugee experience for your own personal reading and to share with others.
Unable to find work as a refugee, Shireen desperately wanted to learn a new skill that could help her provide for her family. Shireen learnt how to sew, but she gained more than the ability to make clothes: she learnt about her worth and value as a woman.